You might not know Dean Barnes, but you might have seen his collection. It recently traveled the country as part of the NHL's Black Hockey History Tour.
Meet Dean:
"My name is Dean Barnes. My parents emigrated to Canada from Jamaica via England in the late 1960s, and I was born in Hamilton, Ontario. I'm passionate about education and learning, mental health and well-being, and sports. I was a multi-sport athlete, including hockey, when I was younger. The highest level I reached was playing for the University of Waterloo in 1989-90. I continue to play in a men's league and also pick-up with friends I grew up with. I hold a PhD in Education from the Ontario Institute for Studies in Education at the University of Toronto. I am a former high school principal, and I am a Superintendent of Education at a school board in the southern part of Ontario. I'm a fan of the Toronto Maple Leafs, Toronto Raptors, Toronto Blue Jays, Toronto FC, and the Buffalo Bills."
Getting Started:
"I began collecting cards when I was seven with the spare change that my dad gave me. I would purchase cards at the Jug Milk variety store in Burlington Ontario, which was a short bike ride from my house.
"Many of my hockey teammates and friends at school collected hockey cards. There were no other players of color like me when I played hockey, but I remember having cards for Mike Marson, and Bill Riley, the second and third Black players to play in the NHL, in my collection. I was not aware of Willie O'Ree at the time. Like many young Canadian children in the early 1980s, I was amazed by the talent of Wayne Gretzky and very soon became aware of his equally talented All-Star teammate, Grant Fuhr, the first Black goalie in the NHL. I wasn't aware at the time, but Tony McKegney and Gretzky played together on a line with Wayne Babych on the 1978 Canadian World Junior hockey team. McKegney was the first NHL Black player I saw in person and on the ice in 1982. My friend and I were lucky enough to help out with the younger players at a Buffalo Sabres camp for kids at the local Kiwanis Arena, and we earned tickets to see a Sabres game as part of our pay."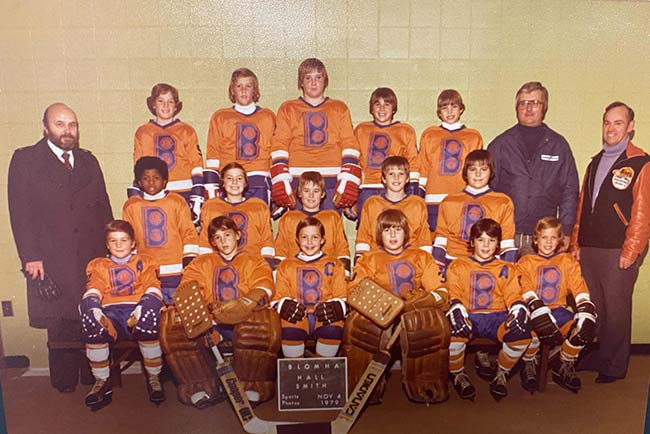 Back in the Game:
"As I moved on to high school I sold the majority of my cards. I did keep Gretzky's 1979-80 O-Pee-Chee Rookie Card, along with a third of the cards from that set.
"Fast forward to March 2020. When the pandemic and health restrictions limited access to many activities such as my men's hockey league, I decided to complete my 1979-80 OPC set. I wound up purchasing close to 200 cards off eBay to finish it off.
"During this time, the world became more attuned to social injustices faced by Black people and people of color following the George Floyd death. I reflected on the importance of representation and greater inclusion and acceptance of Black people and other people of color in the NHL. I knew how important it was for me that I had Tony McKegney and other players I could look up to when I was playing hockey. So, as I finished off the OPC set, I also began to collect the Rookie Cards of notable Black NHL stars like Fuhr and Jarome Iginla. I was aware that Willie O'Ree did not have a Rookie Card from his 1958 season with the Boston Bruins, but did have cards made for him by Upper Deck in the 2000s so I tracked those down. I ordered and reclaimed my Mike Marson and Bill Riley Rookie Cards that I had let go of when I was a teen. From there, I did some research to identify close to 100 current and former NHL Black and bi-racial players. I kept the momentum going by purchasing a slew of Rookie Cards that would arrive in my home mailbox until my set was 'complete' in the spring of 2021.
"Of course, with more Black players entering the league, there are more RCs to collect. I recently added an RC for Quinton Byfield, who was selected second overall by the Los Angeles Kings in the 2020 draft. I plan to continue adding NHL new rookies in the future. Dakota Joshua, Isaak Phillips, and Daniel Walcott are all Black players who made their NHL debuts this season and I'm looking forward to their RCs."
Favorite Cards:
"In addition to current and former Black NHLers, I am proud to have included Herb Carnegie in my collection. Carnegie was a minor pro sensation who is widely recognized as the best Black player never to skate in the NHL. He was a center who played in the Quebec Provincial Hockey League, the Quebec Senior Hockey League, and the Ontario Hockey Association Senior A League. He was part of the Black Aces, professional hockey's first all-Black line, which also featured his brother, Ossie, and Manny McIntyre. I'm also happy to own the Rookie Card for Alton White, the first Black player in the World Hockey Association. Although he didn't get an RC during his playing days, he had one issued as part of the 2009-10 ITG 1972 The Year In Hockey series (#43)."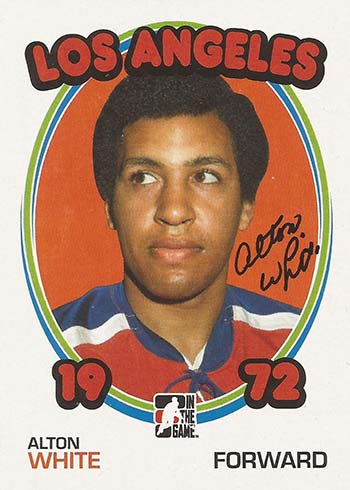 Sharing the Story:
"In the spring of 2021, I reached out to William Douglas. He writes about diversity and inclusion in amateur and professional hockey for NHL.com's The Color Of Hockey column. I asked if I might be able to share my card collection as part of the NHL's Black Hockey History celebrations. He was very helpful in connecting me to NHL staff who were interested in arranging for my cards to be displayed in the touring museum that traveled from city to city this winter.
"It wasn't long after the tour began that I was contacted by colleagues from my school board, friends from my men's league and childhood hockey teams, along with other card collectors. People were letting me know they were really impressed with my project and the positive impact it was having on elevating the stories of Black NHL players, including many lesser known athletes. These players, especially the former players from the 1970s and 80s, overcame systemic and overt racism to successfully make it to the NHL. Many collectors reached out to me offering cards to complete my collection and a few former players also connected with me. I had a good conversation with Bernie Saunders, the fifth Black NHLer. He played 10 games with the Quebec Nordiques from 1979-81, and was very supportive of my initiative. He even mailed me an extra custom card that was especially made for him. I went on to create a few custom cards for players who did not have a card, so they could be displayed in the Hockey History Tour."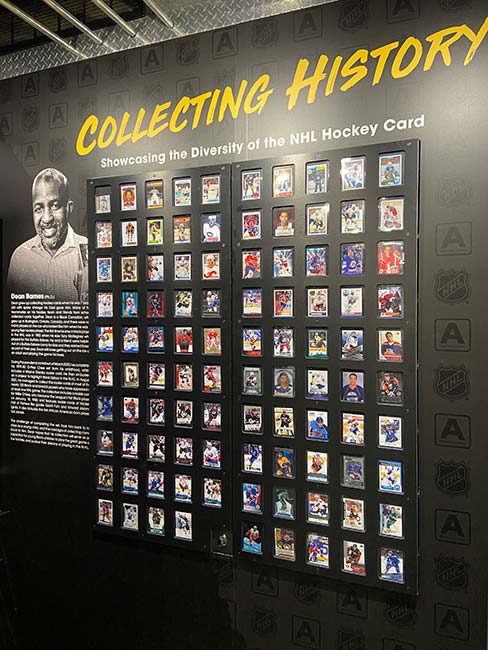 Special Guest:
"As interest grew in my story I was interviewed by Upper Deck, which led to an invitation to attend the NHL Hockey Hall of Fame ceremony as their guest in November 2021. Attending this event was extra special since Iginla was among the inductees.
"I was asked to do a few interviews that were posted to YouTube. Since there has been growing interest in the cards, I took additional photos of players and created a website, BlackHockeyCards.com, and posted photos to Instagram and Twitter."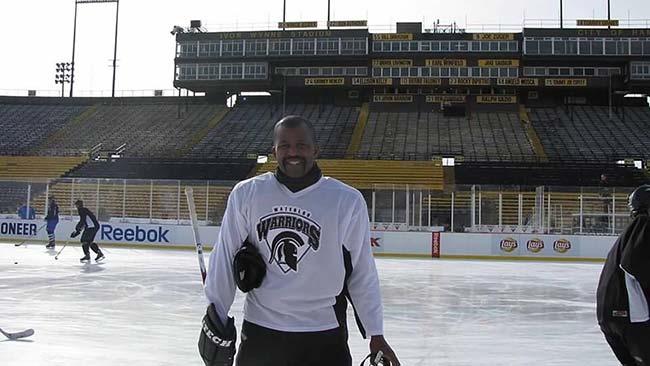 What's Next?:
"Since the NHL Rookie Card collection is now up-to-date, I'm exploring collecting Ontario Hockey League cards since there are many Black players who skated in this league but did not make it to the NHL.
"I also have the website which includes historical information about former players who did not make the NHL in the 1940s and 50s but were still pioneers for Black players. Among them: Al Dorrington, regarded as the first Black player to sign with an NHL team (New York Rangers in 1950): Dr. John Utendale, another player who reportedly was signed by Detroit in 1950: Lloyd Robinson, the first US-born college hockey player (Boston University, 1949); and Richard Lord, who was the first Canadian-born player to play at an American college (Michigan State, 1950-53)."
Connect with Dean:
"You can follow me on Twitter or Instagram or email me at blackhockeycards@gmail.com."