You want a dose of this, right now it's K/DA, uh! When it comes to goddesses with blades that have the wild in their veins, it's important to know that the League of Legends supergroup's first hit single, POP/STARS, was certified Gold. This virtual hip-hop and K-pop girl group was born from the desires of people who wanted to make waves in the music industry at Riot Games.
RELATED: League Of Legends: Every Voidborn Champion, Ranked
Riot brought the champions Ahri, Evelynn, Akali, and Kai'Sa from their popular MOBA together harmoniously in an alternate universe, to dance and make catchy music. They were able to craft celebrity identities for the beloved characters that go hand-in-hand with who they are in-game, so let's take a look at the unique facets of their double lives!
5

Seraphine, Lost In All This Music

The Starry-Eyed Songstress guest featured on K/DA's ALL OUT EP in the song "MORE", and is voiced by both Chinese singer, rapper, and songwriter Lexie Liu, and Australian singer-songwriter Jasmine Clarke.

Seraphine is a self-proclaimed professional daydreamer on her Twitter account, She worked at a bubble tea shop before she was discovered by Evelynn through social media — most likely her SoundCloud or potentially through her Instagram. Having chromesthesia, or sound-to-color synesthesia, Seraphine can hear the songs of peoples' souls and experiences them as colors and shapes.

RELATED: League Of Legends: Best Champions From Zaun and Piltover

Due to this Seraphine says "I think I fall in love with everyone I meet," so while unconfirmed, perhaps she is pansexual. Although her height, star sign, and Chinese zodiac sign are unknown, Sera has a cute dumpling of a cat named Bao, and her favorite flavor of ice cream is cotton candy.

She moved to Los Angeles from New York, and is fluent in Mandarin Chinese and English. Seraphine took a break from composing music after her successful collaboration with K/DA to find inspiration for more music, most likely from the sea as she loves the ocean and sea life. Her go-to karaoke song is "Tong Hua" by Guang Liang, and she believes that loving something sincerely is the bravest thing you can do.
4

Kai'Sa, Make That Drum Go Dum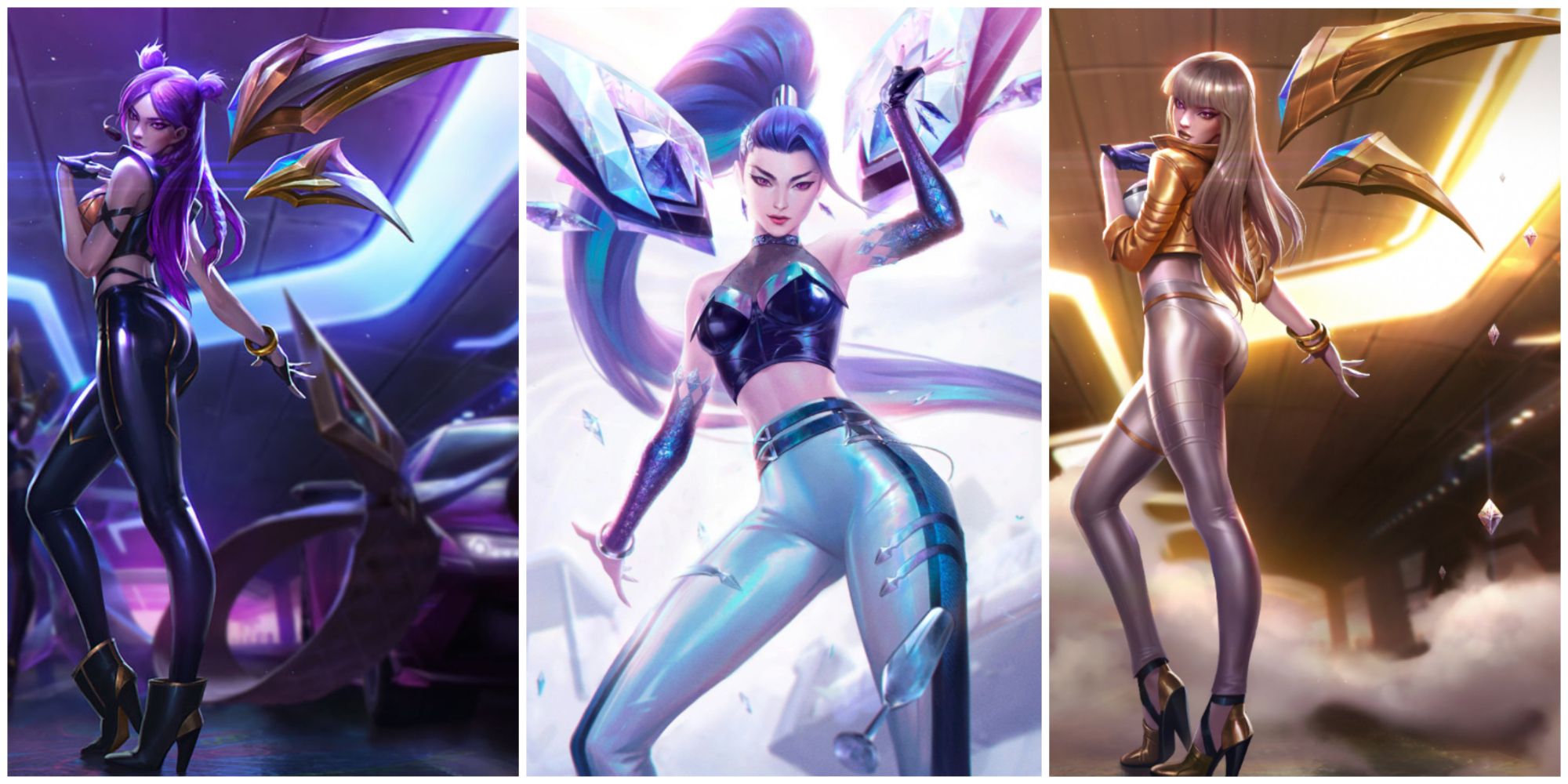 The Daughter of The Void is the lead dancer for K/DA, and at 5'6″ is the tallest member of the group. She is voiced by American singer and songwriter Jaira Burns. Her Chinese zodiac sign is the Rat, and she is referred to as a "dreamer" by Ahri — probably because her horoscope is Pisces.
Having won the 2018 Can You Dance competition in Hong Kong, Kai'Sa spends hours in the studio creating choreography for K/DA, believing that each step should simultaneously convey vulnerability and power. Before pursuing her dreams of becoming a pop star, Kai'Sa lived in ten different countries. As a result she is fluent in Chinese, Afrikaans, Korean, and English. She can often be found cooking large meals in the K/DA household, and she especially enjoys Sichuan dry hot pot.
RELATED: League Of Legends: Champions You Didn't Realize Are Linked
Her nicknames are Bokkie, a South African term of endearment akin to honey or sweetheart, and — which translates as Xiao Long Bao. In the West, this is more popularly known as a soup dumpling. When asked why she dances, Kai'Sa gives a beautiful account of her inner machinations, and acknowledges her in-game lore.
"When the music begins, a symphony of movement stirs in my being. It begins as a rumble, like a calling from the void, hungry and demanding release. My body reacts to the call, jumping to weave a story. A story to leave the void behind, and fall into the steps of life."
3

Akali, Kali Go Grrr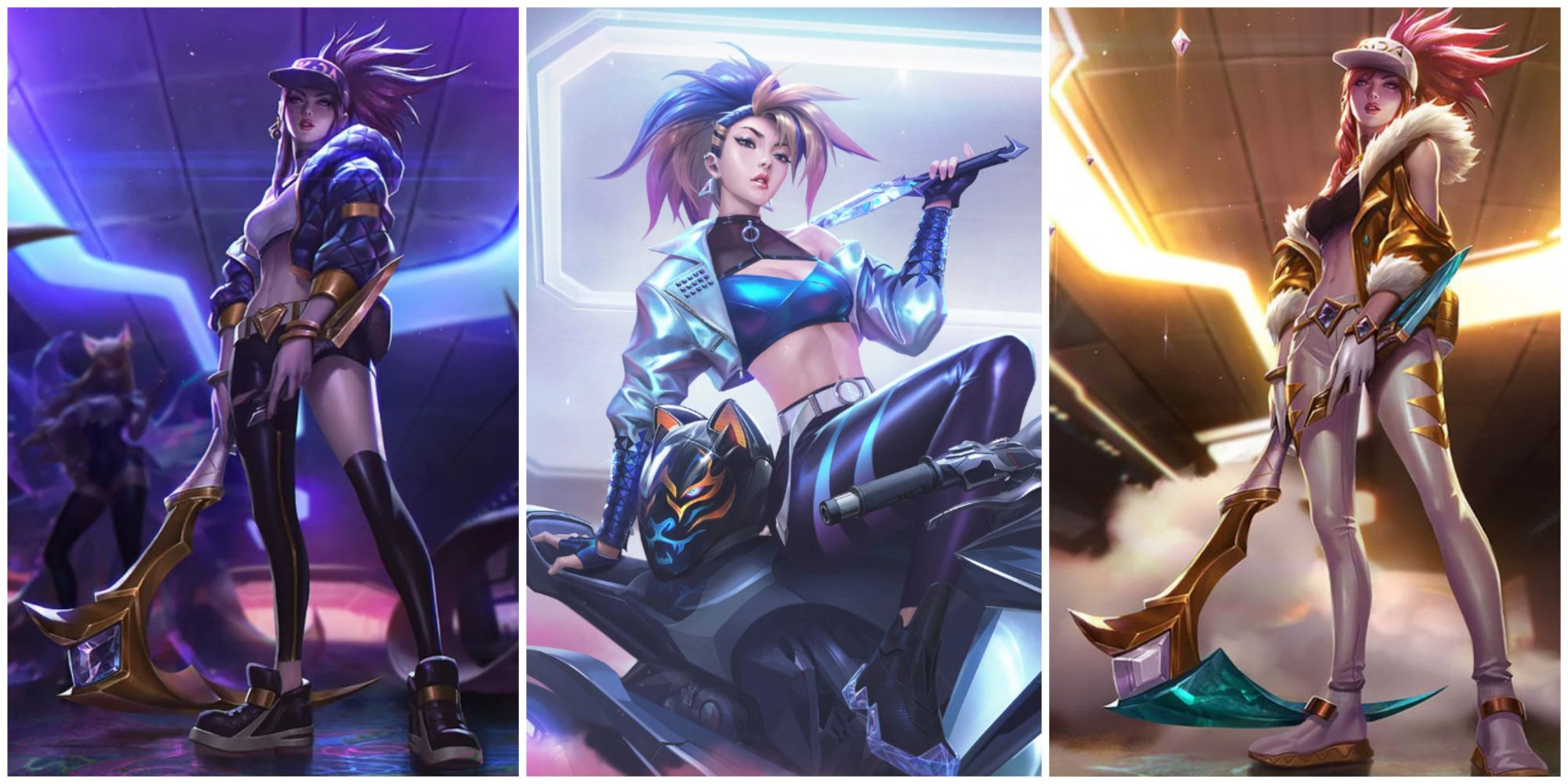 Voiced by Soyeon of (G)I-dle, Akali raps for both K/DA and True Damage. She is both the youngest and newest member, and at 5'3″, is the shortest of all in the former musical group.
She was born into a martial arts dojo, but left to pursue her calling as an artist. However, she still knows how to use a kama, and she channels her background into a hip-hop ninja persona. She honed her style on the streets before she rose to fame, so she enjoys returning to her roots whenever she can — making appearances next to other street performers in the cities she's visiting.
RELATED: League Of Legends: Things The Best Supports Do
Combining mixed martial arts with the beat of her original rap lyrics, Akali never fails to impress excited onlookers. She was discovered at 15 years old when a rap battle she participated in went viral, but she wasn't mainstream enough to sign to a label until Ahri found her through social media.
Known by the names (roughly "hip-hop swordsman") or Rogue, Akali's star sign is Taurus and her Chinese zodiac sign is the Ox. Spicy Ramyun is her indulgence of choice, and she speaks English, Korean, and Japanese.
2

Evelynn, A Straight-Up Villain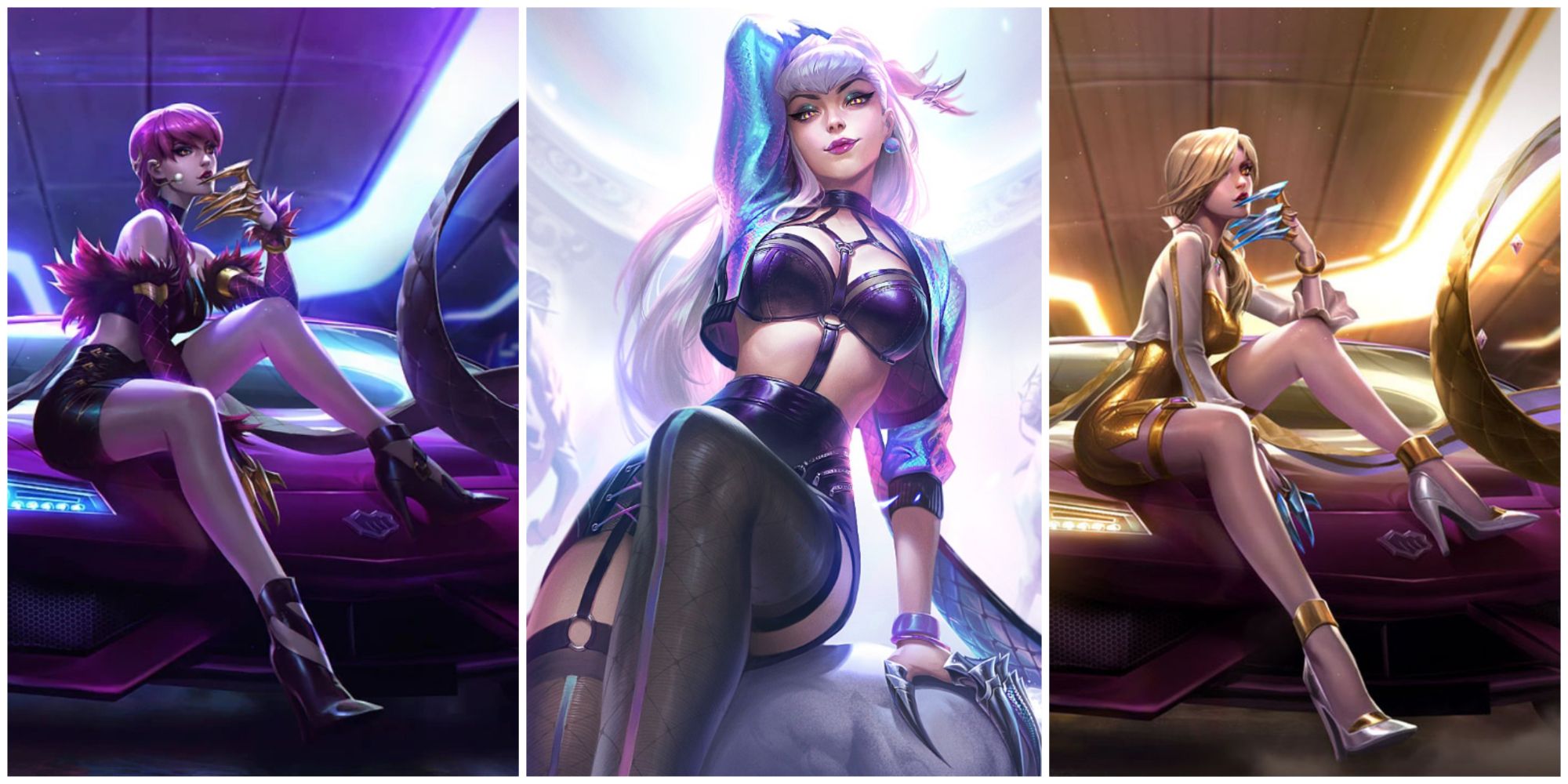 A demon that feasts on the agony of others in the world of Runeterra, Evelynn is K/DA's certified diva. She, along with Ahri, are the lead vocalists of the pop group, as they knew each other long before K/DA formed. She is voiced by the American singer Madison Beer, and sang two hit singles when she flew solo — Agony's Embrace, and Ecstasy — with the former being her designation in-game.
An unapologetic and uncompromising artist, Evelynn won't sacrifice her vision to please others, as revealed in a conversation with Pop Shine. "I'm an artist, not a socialite. I won't apologize for high standards." True to her word, she once walked off stage during a live performance because her vocals were played with music she didn't authorize.
RELATED: League Of Legends: Best Champions For ARURF
Although feelings towards her in the industry are mixed, Eve has diehard fans who will always stan for her, and who refer to themselves as "Deeva." This siren also has an enigmatic diet and exercise routine, and has been romantically linked to several male celebrities. While never confirming these relationships, some have later gone missing under mysterious circumstances.
A sprightly 5'4″, she draws inspiration from Karthus, a singer from the metal band Pentakill. Her star sign is Taurus, while her Chinese zodiac sign is the Rooster. Evelynn also has a collection of fast, exotic cars, and is highly protective of the few people she considers friends.
1

Ahri, Better Recognize A Queen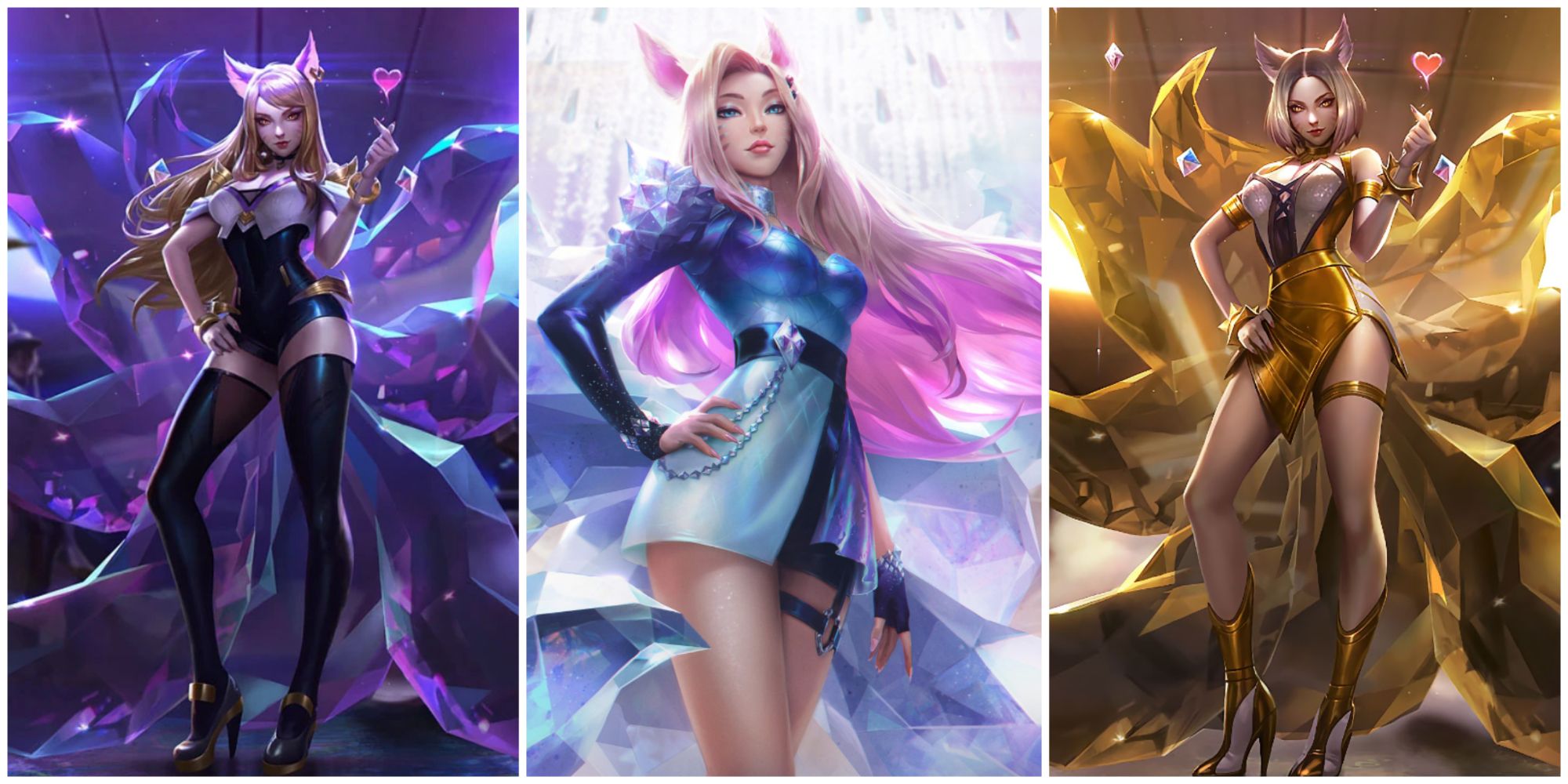 Ahri made her musical debut as a pop star in 2013, and stole the show as the most talented K-pop artist at the Pop Shine Awards. She then took time away from the industry after releasing five singles, to reinvent herself as the lead singer of K/DA. Voiced by real-life K-pop star Miyeon of the prominent South Korean girl group (G)I-dle, Ahri rises to a height of 5″5″. Her star sign is Sagittarius, while her Chinese zodiac sign is the Dog. She is nicknamed Foxy and Gumiho, the latter a nod to the archetype of the seductive, shapeshifting, nine-tailed fox spirits from Korean folklore her character is inspired by.
Furthermore, in the alternate universe of K/DA, Ahri was voted one of the most gorgeous faces in pop. Through this she has her own line of make-up, known as FOXY Cosmetics, and a fragrance, Charmed. As a result, designers can't stop making outfits for her, and during fashion week, Ahri takes to catwalks all around the world in sumptuous gowns befitting royalty. When she's not working on music and dancing with her fellow K/DA members, Ahri loves shopping, trying out new beauty products, and sipping tea with designers that fawn all over her beauty.
NEXT: League Of Legends: Memes Long-Time Fans Will Love