In the Extra Gold & Silver Trading Alert that I sent over the weekend, I explained why Friday's upswing was most likely unsustainable. We didn't have to wait long for the market to agree with me.
In yesterday's pre-market trading, , , and stocks were down substantially, while the was up. Let's take a closer look.
Gold declined 1% Monday and while it didn't erase the entire Friday rally, it declined most of it and—most importantly—it already invalidated Friday's attempt to break above the 38.2% Fibonacci retracement.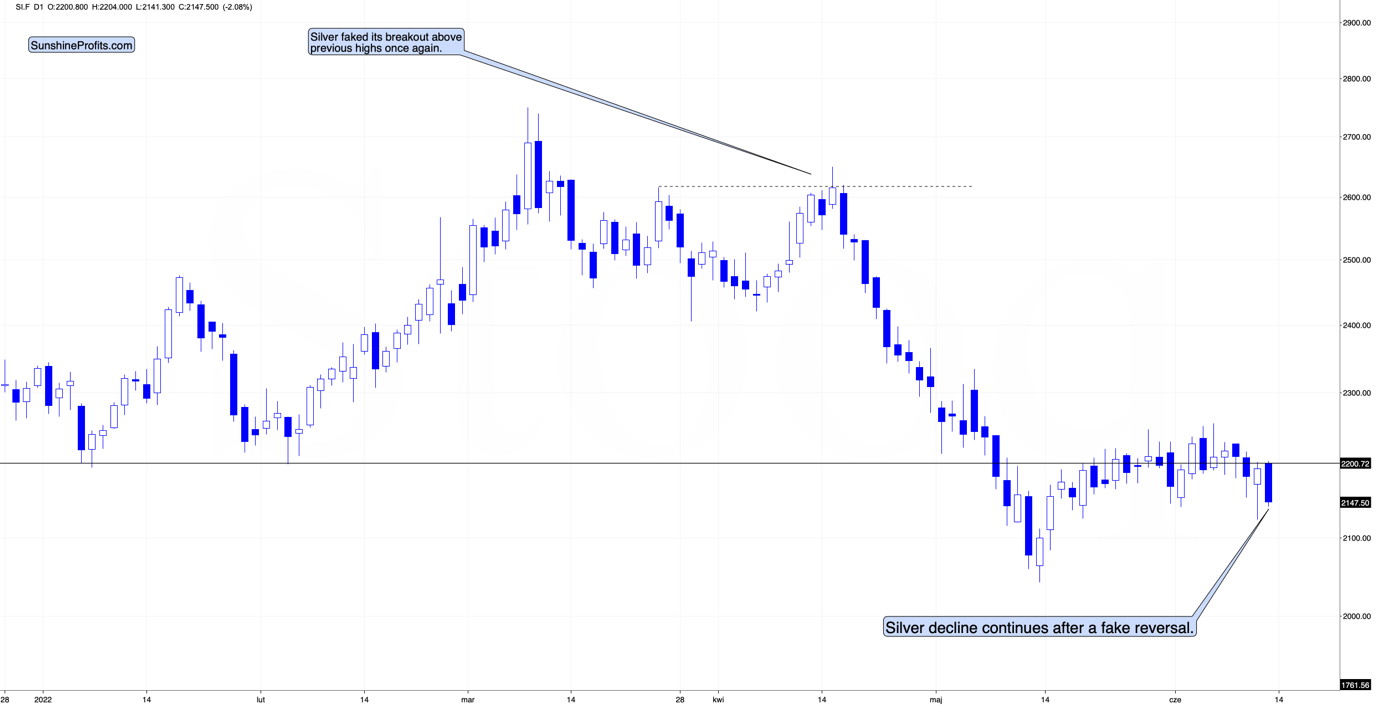 In the case of the silver market, Friday's rally is barely visible. The reversal appeared notable, but silver was already back down in Monday's pre-market trading, so it seems that even the short-term trend remained down.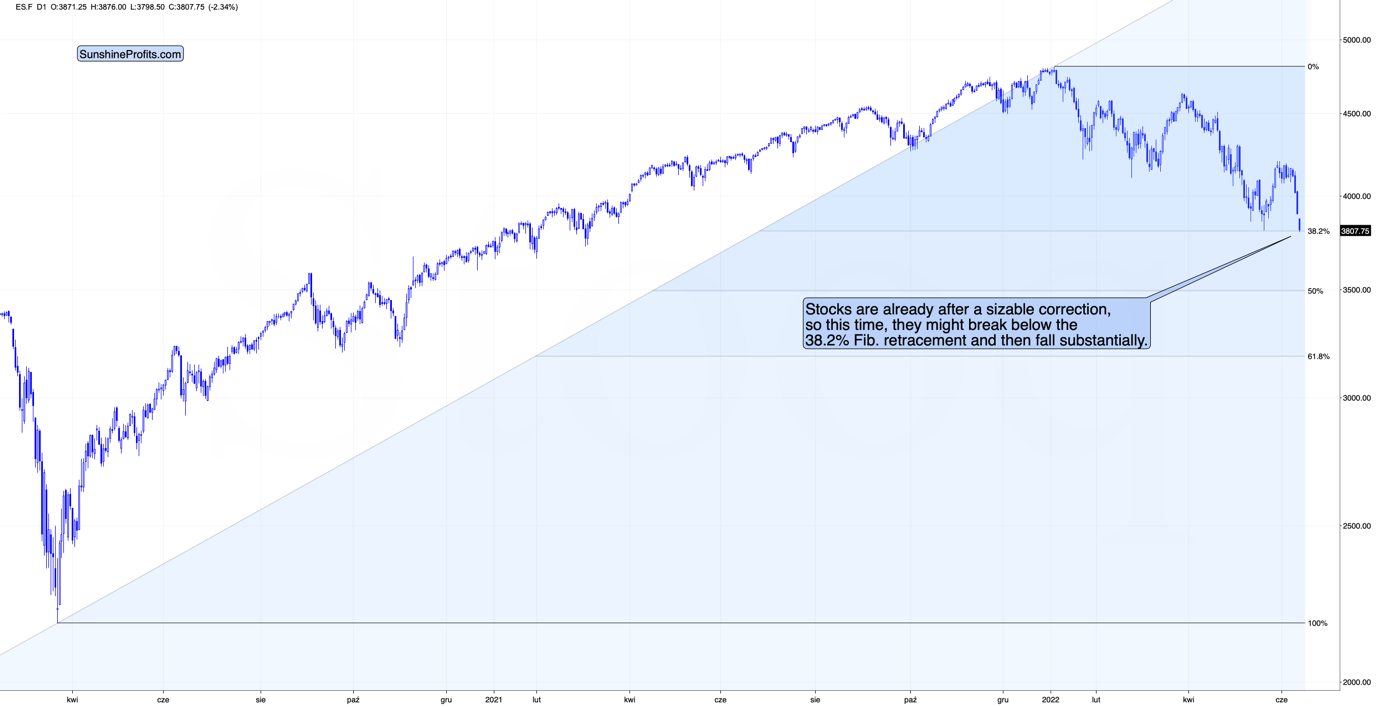 Emini S&P 500 Futures Chart
At time of writing, the stock market (the ) were already trading at new 2022 lows. Silver and mining stocks (especially ) were closely linked to the performance of stocks in the short term, so it seemed that when gold finally declines, silver and miners will be affected and decline even more.
That's very much in tune with my previous expectations.
On May 21, 2022 (based on May 20 close), I wrote the following:
If history rhymes – as it usually tends to – we're likely to see higher stock market values ​​in the next 1-3 days. That's likely to support higher junior mining stock prices.

Also, let's not forget about the forest while looking at the trees. Yesterday's intraday low in the S&P 500 was 3810.32, which was just about 5 index points below my initial target for this short-term decline at the 38.2% Fibonacci retracement based on the entire 2020 – 2022 rally.

This means that the odds of a short-term rally in stocks have greatly increased.
That was the bottom, and we have indeed seen a short-term corrective upswing since then. However, this correction appears to be over—stocks have just moved to new lows. Given that they have already corrected after first approaching the 38.2% Fibonacci retracement based on the 2020 – 2022 rally, they can now break through this level without looking back.
This would be particularly bearish for silver and mining stocks (especially junior mining stocks).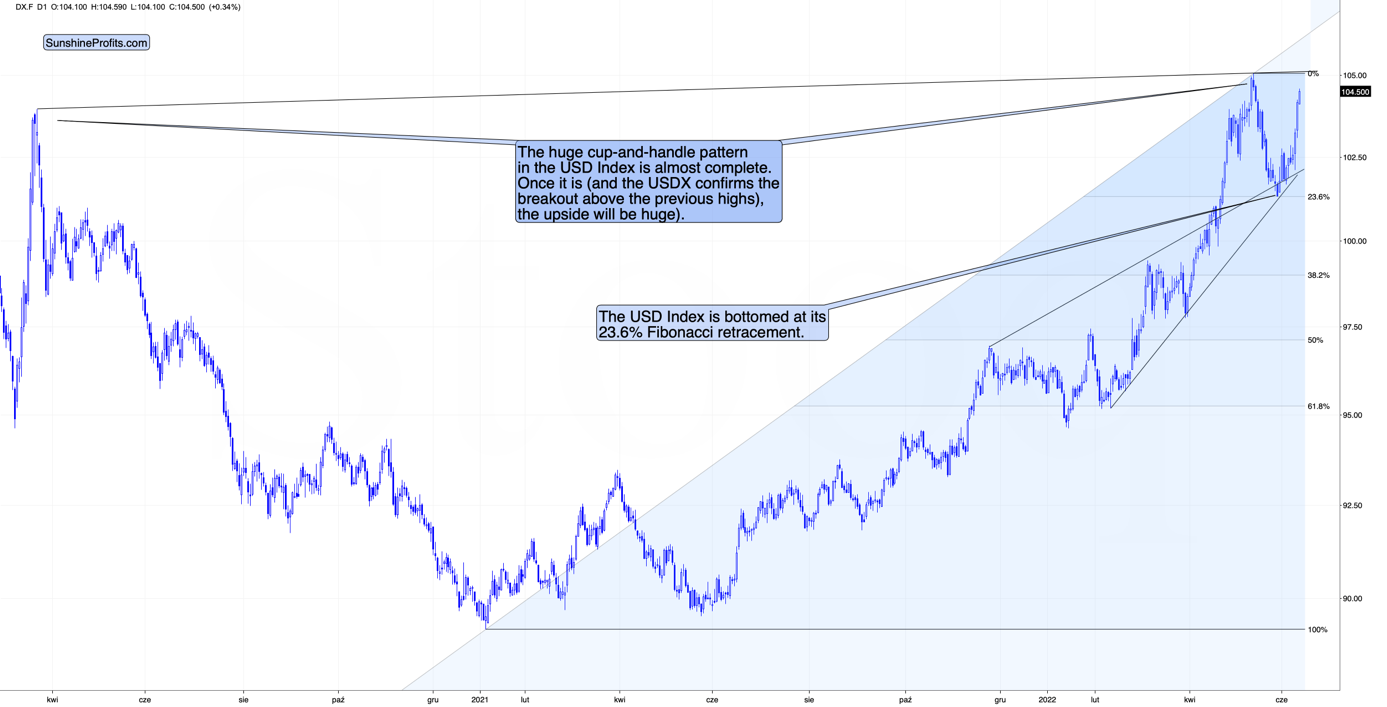 On top of that, we see a soaring USD Index, which is about to move to (and likely above) its previous highs.
The key detail about the following rally is that it will mean the completion of a broad cup-and-handle pattern. This means that after the breakout, the USD Index would be likely to continue rallying in the medium run, and yes, this means that the following rally could be huge.
This is in perfect tune with what I've been expecting to see for many months—including the beginning of 2021, when almost everyone was bearish on the US currency.
What about junior miners?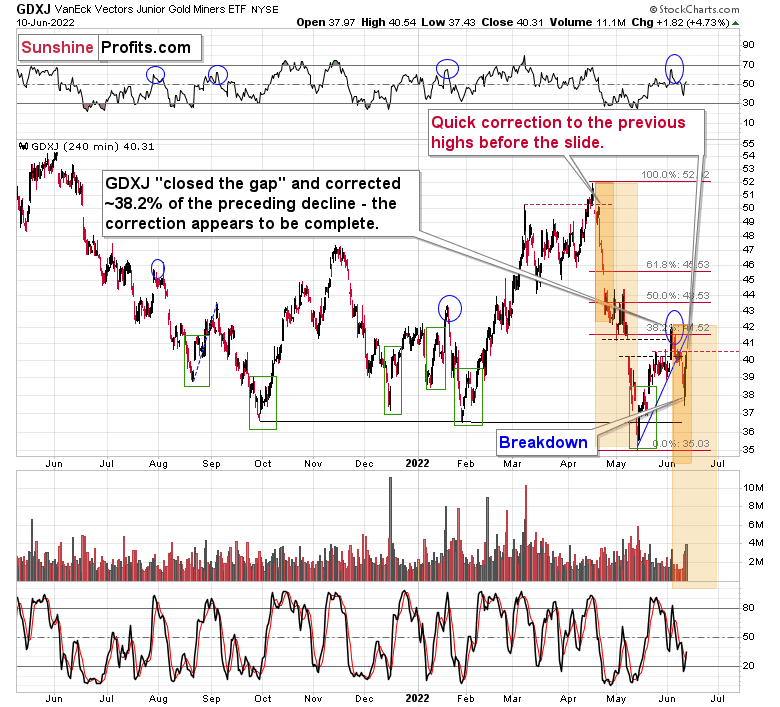 On Friday, they rallied in a quite an emotional manner, just as gold did. Unlike gold, however, they didn't move to new short-term highs. They just corrected to their previous highs, and even though Friday's rally was much bigger than what we saw in early April, these rallies ended at similar levels—close to previous highs. I marked it with red, dashed lines.
Friday's rally changes nothing with regard to the medium-term trends, and the overnight price changes that I discussed above support the theory in which junior miners head much lower in the following weeks (and probably days).
On a side note, do you know what appears to be a currency but doesn't pay any interest, and doesn't have thousands of years of history to back up its use? Cryptos. Do you know what just broke to new lows? Also cryptos, and as the interest rates on fiat currencies continue to increase, the pressure to sell cryptos will also increase.
Please keep in mind that I called the top in when it moved to $50k—it was not 100% precise, but given that it's currently worth less than half of that, it seems that it was a quite good exit point.