Chants of "my body, my choice" rang out along Whiskey Road Sunday afternoon at a reproductive rights rally held at the Odell Weeks Activity Center.
The rally organized by EmmaLee Wood and Katie Brown began shortly after 1 pm when around 50-75 people attending moved from the corner of the Odell Weeks parking lot to the roadway across from Hardees.
Wood, a freshman at Aiken Technical College, and Brown, a sophomore at USC Aiken, said they were thrilled with the turnout.
"I am more than excited that people are here to make their voices heard," Wood said. "I was kind of scared about how many people would show up given that we are in Aiken which is more conservative and Republican."
Aiken County was one of the first Republican strongholds to grow in South Carolina in the 20th century because of the influx of northerners coming to work at the Savannah River Site.
It is also one of the most reliably Republican counties in South Carolina.
No Democrat has carried the county in a presidential election year since 1952. And even then, Republican Dwight Eisenhower only lost the county by 64 votes.
Brown added she thought the rally was going to be smaller.
"I'm so happy that there's so many people," Brown said. "I didn't expect so many people in Aiken to support [reproductive rights], It's just a little small Republican town. I didn't realize that there are that many of us."
Both said it meant a lot to see so many people show up Sunday afternoon.
"It means that we stand a chance against all of this," Wood said. "It's really important to me that we have Roe v. Wade and we can keep all these women safe."
Roe was a 1973 decision by the Supreme Court that determined there was a federal right to an abortion and that the states couldn't outright ban that right. The Supreme Court recently issued a 5-4 decision in Dobbs v. Jackson that overturned Roe and sent abortion regulation back to the states.
It is speculated and projected that conservative, Republican-controlled states, like South Carolina, will develop outright bans or severely restrict access to abortion.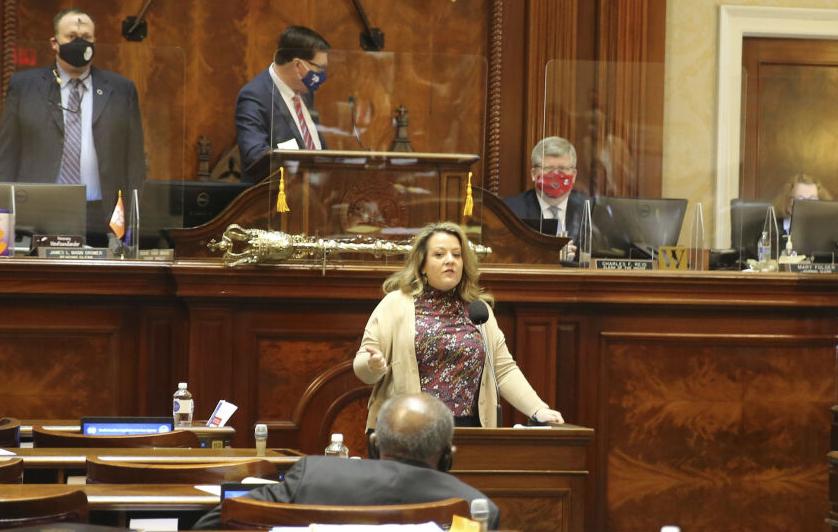 Brown said it meant a lot.
"It kind of means everything just because over the past week I've spent so much of my own time working on this," she said. "It's something that I'm very passionate about. Especially when we go up to Columbia. It means a lot that people here in our own town have their voices heard."
Gabi Watson, a 23-year old resident of North Augusta, was attending her first protest. She said she felt it was important to keep federal limits on how much states could restrict abortion access.
"We've had this right for 50 years taken away from us," Watson said. "They can't just get away with it."
Another attendee, Laura Richardson, added that it was ironic that the Supreme Court issued its opinion a few days before July 4, the day America declared that it didn't want its rights taken away by the British government.
Before the rally began, Watson was making use of a sign making station. Her sign read, "Abortions save lives."
"I made this sign because there are instances where a woman needs to have an abortion because it is unsafe for her to have a pregnancy or something along those health reason lines," Wood said. "So abortions can save a mother's life."
Most of the rally attendees carried signs and waved them at passing traffic, despite a small rain shower that began around 1:30 pm
The signs were about evenly split between vulgar and non-vulgar signs.
Some of the vulgar signs used drawings of the female reproductive anatomy, slang for both men's and women's reproductive organs and the occasional curse word.
The non-vulgar signs included "bans of our bodies," "abortion is healthcare," "liberate abortion," "we will not comply," "trust women," "bodily autonomy," "protect choice freedom equality," and " South Carolina: where guns have more rights than women."
One woman modified a sign used to encourage people to vote for someone other than former President Donald Trump ("Grab him by the ballot box") into a sign that read "Grab them by the ballot box."
Another woman had a sign that said "My arms are tired from holding this sign since the 1960s! A woman's place is in the resistance. Resist!!"
Janice Freeland brought along a sign and also her poodle, Pucci Mane, who was rainbow-colored for the rally.
The rally also featured a cooling station and opportunities to become involved with the Aiken County Democratic Party and the local League of Women Voters chapter.
,