The multi-room, lovingly curated exhibit Lou Reed: Caught Between The Twisted Stars is a fitting coda to Lewis Allan Reed's vast influence and position in the cultural, literary and music worlds. Titled after a lyric in "Romeo Had Juliette," the show is a comprehensive look at the artist whose 20-LP-strong solo career and work with the seminal Velvet Underground was cut short when Reed died in 2013 at the age of 71.
A must-see for any lover of New York rock 'n' roll history and a worthy journey for any of Reed's casual fans (though "casual" is not a word that describes many of his listeners), the exhibit offers a glimpse into a prolific and unafraid musical and intellectual life. That one of the ultimate downtown Manhattan icons — along with punk poet Jim Carroll and former VU manager and Svengali-impresario Andy Warhol — is being celebrated at the Upper West Side's tony Lincoln Center, a fitting location for the many worlds and genres and Reed straddled, transformed and transgressed.
The exhibit will run through March 4, 2023 at the New York Public Library for the Performing Arts' Shelby Cullom Davis Museum and Donald and Mary Oenslager Gallery. Whether a Reed newbie or Velvet Underground acolyte, below are some highlights that allow visitors to walk on the wild side with Lou Reed: Caught Between The Twisted Stars,
Lou Reed holding a copy of Metal Machine Music at an in-store signing in Paris, September 19, 1996. , Photo: © Mila Reynaud. Lou Reed Papers, Music & Recorded Sound Division, The New York Public Library for the Performing Arts
Stepping from a sunny street into the dark tomb of the Lou Reed Listening Room in the Library's Vincent Astor gallery is a shock to the senses. His first and only sound installation, Metal Machine Trio: The Creation of the Universe is a live version of Reed's confounding, droning 1975 fifth album (a double LP no less!).
Composer/saxophonist John Zorn plays on this live version, recorded in 2009 in New York, and the installation is experienced here via 12 loudspeakers in an "ambisonic" arrangement for immersive 3-D sound. Uh, what? Non-nerds: what you need to know is that the room and music are dark, disorienting and difficult, but worth checking out. Briefly. Visitors in the center of the listening room will apparently have the same acoustic perspective Reed had onstage.
Like Lulu, Reed's Metallica collaboration, Metal Machine Music isnt for everyone. (In 2005, Britain's Q magazine included it in a list of "Ten Terrible Records by Great Artists.") And it's odd to fathom that the same mind that came up with "Perfect Day" and "Satellite of Love" created this cacophony. Reed did mmm because he was compelled to, and as such it's a valuable glimpse into the artist's oeuvre.
Reed's music runs all day in the Listening Room, and for the fainter of heart, less discordant and droning differently would be the artist's "Hudson River Wind Meditation,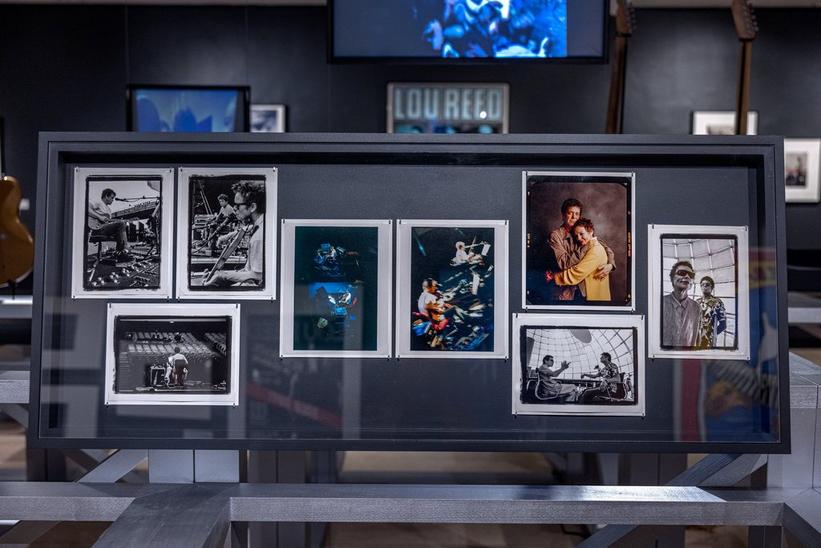 Photos, including images of Anderson and Reed, on display | Photo: Max Touhey
Laurie Anderson Approves Of This Message (And Exhibit)
As the "it" couple of the downtown scene, Laurie Anderson — though as iconic as her partner — appeared to soften Reed's legendary hard edges. Of the Caught Between The Twisted Stars long germination and public debut, Anderson exclaims "I'm so happy!" in the show's program.
"First because Lou is a legendary New Yorker and his work belongs to this City. And second because the library is free and public," Anderson continues. "This is not a white gloves collection! Now anyone can come in and look and listen to his life's work."
Some of the exhibit's most colorful moments are the Coney Island Sideshow banners representing Anderson and Reed as the 2010 Parade King Neptune and Queen Mermaid of Brooklyn's legendarily lovely and oddball Mermaid Parade. (They were joined by their "Royal Mer-Dog, Lola Belle," who has her own adorable sideshow banner.)
Reed's Friend & Collaborator Hal Willner Had The Coolest Studio Ever
Lou Reed met producer Hal Willer — who died in 2020 from complications of the Coronavirus — in 1985, when the singer participated in Willner's Lost in the Stars: The Music of Kurt Weill project. According to the exhibit, "Hal became Lou's most trusted set of ears" and produced several albums for Reed. However, it was the duo's New York Shuffle radio show where "the preposterous tangoed with the sublime" that represented the apex of their collaboration.
Willner's studio is not recreated: it's here. It's where Reed and his friend recorded 86 two-hour episodes of New York Shuffle in a colorful, chaotic gem of a studio. From a Charlie McCarthy puppet to a computer and mini-mixing board setup, a coffee mug holding sharpened pencils, tons of crates loaded with vinyl, the pop culture ephemera is enviable.
In an exhibit placard, Willner praises Reed: "With him, you came ready to work. He taught me to focus, really focus. You did your job. Bear With him. Listen hard, then harder." This shrine to Willner — and the collaboration between two of NYC's most beloved — lends a vibe that's at once palpable and poignant.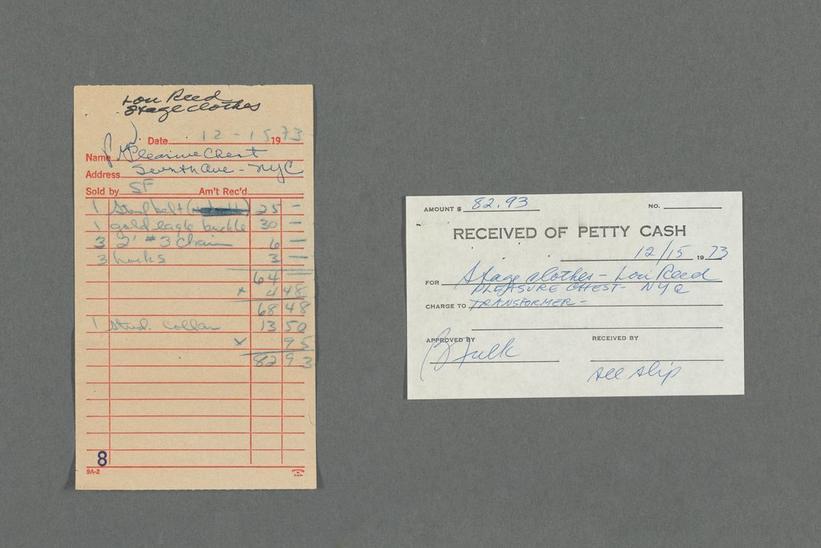 Petty Cash Receipts for Lou Reed's stage clothes from The Pleasure Chest, NYC, December 15, 1973. , Photo: Courtesy of Lou Reed Papers, Music & Recorded Sound Division, The New York Public Library for the Performing Arts
Music-Adjacent: Tai Chi, Star Charts & Receipts
Way more than a rock 'n' roll animal, the '80s saw Reed escape the grip of drug addiction. When he cleaned up, it seems that Tai Chi was one of the practices that centered the artist, allowing him to reach new career highs with his 1989 album New York and onward. As expected, there's nothing much of Lou's intimate life or demons in this celebration of his work and life, but the placard accompanying Reed's Tai Chi swords makes clear his hard-won clarity: "Not to get too flowery here but I want more out of life than a gold record and fame," Reed says. "I want to mature like a warrior. I want the power and grace I never had a chance to learn.
Caught Between The Twisted Stars also has a few pieces of ephemera that add extra intimacy. Receipts — including $82.93 from the Pleasure Chest sex store for stage wear in 1973 — will invoke a smile, while a star chart created by photographer/filmmaker/Warhol intimate Billy Name looks cool. And, if one is able to read such things, you'll learn what the planets say about Reed's mother, homosexuality, sudden advancement and treachery.
Other tidbits include a Christmas card from Velvets drummer Moe Tucker and drawings of Reed done by New York singer Dion DiMucci (of The Belmonts and "Runaround Sue" and "The Wanderer" fame).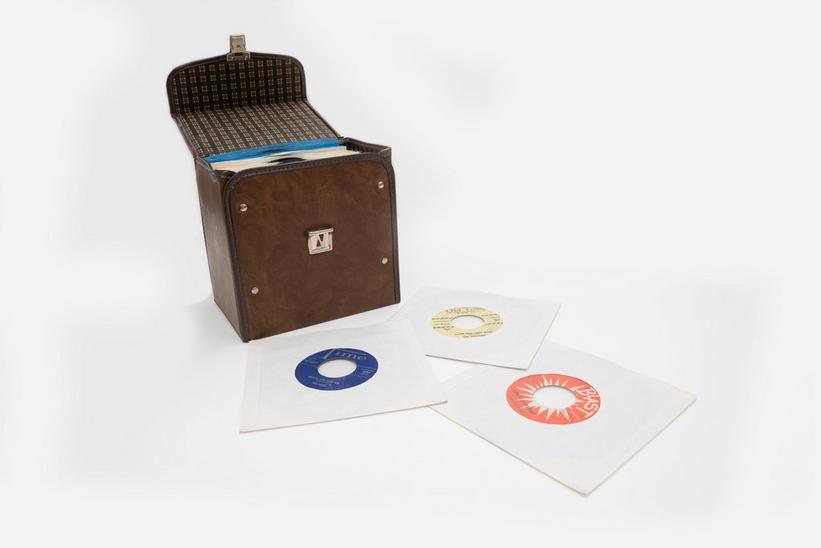 Lou Reed's box of Doo-Wop, Rhythm & Blues, and Rock & Roll 45s. , Photo: NYPL/Jonathan Blanc. Lou Reed Papers, Music & Recorded Sound Division, The New York Public Library for the Performing Arts
Digging In Lou's Crates
For many music junkies, there's nothing more rewarding than flipping through vinyl albums. And when those records represent the taste and breadth of a legend, it's even more compelling. Obviously (and sadly) you can't handle Reed's collection, but it's still cool to see them behind the plexi-glass and also displayed individually, stretching up to the room's high ceiling.
Sure, there's classic doo-wop 45s including "The Wind" by Nolan Strong and The Diablos, but there's also the slightly less expected. In his alphabetically organized collection you'll find Creedence Clearwater Revival's Chooglin', Cheap Trick's In Color, Neil Young's Translots of Tina Turner and Victoria Williams' Happy Come Home,
The LP collection serves to humanize Reed and two pieces of vinyl come with notes from the givers: A letter signed "Love, Paul McCartney" accompanies a copy of the ex-Beatles' Flaming Pie LP, sent only to "extremely groovy people." Led Zeppelin's Jimmy Page sent Reed a 7-inch of the Byrds, "Eight Miles High/Why," single, with a note: "Thought You might enjoy a little more Coltrane," a reference to the Byrds attempt to play jazz/honor John Coltrane via "Eight Miles High."
Lou Reed and band performing at The Bottom Line in New York City as part of the Legendary Hearts US Tour, 1983. Robert Quine, guitar; Fernando Saunders, bass; and Fred Maher, drums. , Photo: © Jane L. Wechsler. Lou Reed Papers, Music & Recorded Sound Division, The New York Public Library for the Performing Arts.
But Wait, There's More… The Archives!
One of the exhibition's curators is Don Fleming, who has the dream/nightmare job of archivist for the Lou Reed Archive, which has been processed and is now available to users. The archive spans Reed's creative life — from his 1958 Freeport High School band, the Shades, to his final performances in 2013.
The materials from the Archive onsite at the Library include a Garland Jeffreys interview as part of the Lou Reed Oral History Collection. Jeffreys (known for "Wild in the Streets" and "Matador") sheds light on the friendship that started while both were attending Syracuse University, as well as writer/poet Delmore Schwartz's influence on Reed. Jeffreys also speaks of Reed's passion for doo-wop: "He loved all that doo- wop and street corner music. It's beautiful sound. I know that Lou didn't have that kind of voice, but he tried. He really wanted that. And for that, I loved the guy, what he was interested in."
10 Things We Learned At "An Evening With LeAnn Rimes" At The GRAMMY Museum
,