Art can provide so many things: pleasure, escape, spiritual uplift, wake-up call, just to name a few. All of these and more are abundantly present in Will Wilson's current exhibition at the Southeastern Center for Contemporary Art, Connecting the Dots, SECCA is planning several to-be-announced public events for when Wilson returns to town during the show's run.
Comprising 20 years of work, Wilson's show reveals the beauty of the Diné (Navajo) lands and people in Arizona, New Mexico, and Utah as well as their degradation from uranium mining in the same area. The Navajo Nation is about the size of West Virginia, Wilson said.
Connecting the Dots is based on a photographic survey of the more than 500 Abandoned Uranium Mines (AUMs) located on the Navajo Nation. The AUMs are physical manifestations of a complex and traumatic history, and this project raises awareness of the Navajo Nation's efforts to receive remediation for the uranium extraction that has poisoned the land and impoverished a people, according to SECCA's website.
The AUMs that litter the landscape resulted in compromised immune systems in some of the current Navajo population, and lung cancer deaths in many of the men who worked in the mines — primarily Wilson's grandfathers' generation.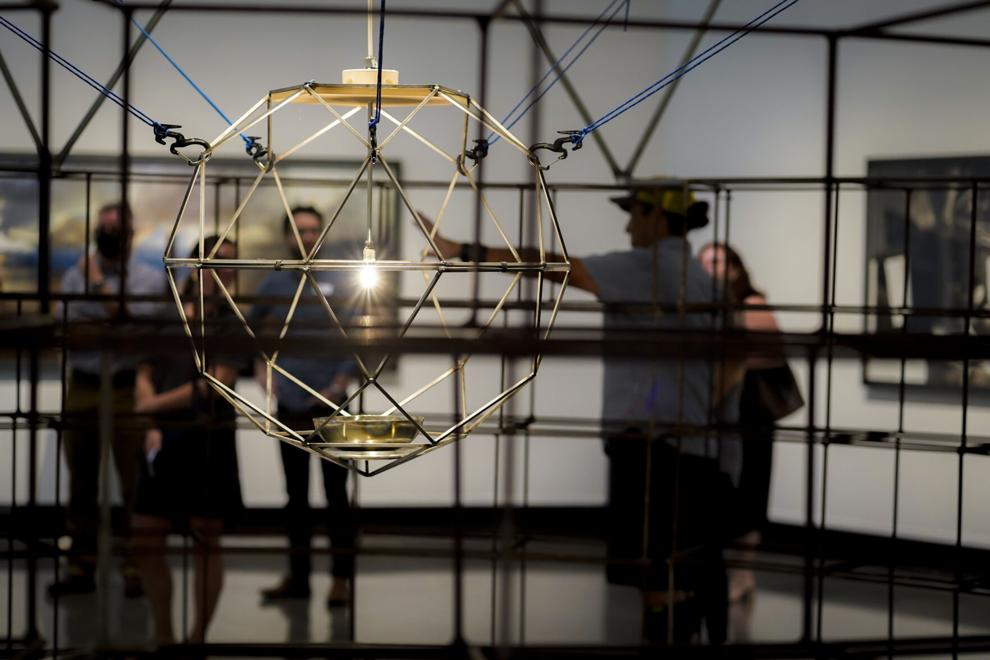 Wilson said that from the 1940s to the 1960s, more than half of the material for the US nuclear arsenal was sourced from the Navajo and other indigenous lands. In some of the photos, people, including Wilson, wear gas masks to illustrate toxic air quality, despite the pristine-appearing beauty of the landscape.
Connecting the Dots is a big, beautiful show with a lot to take in; you'll want to schedule more than one visit. The first section — panoramic photos of mountains, canyons, clouds, and residential and ceremonial hogans — also includes video and sculpture. Using QR-codes provided adjacent to the artwork allows you to dive deeper into the subject matter.
The latter two interactive sections include 17 splendid portraits of indigenous people, and a series, "SCAB," in collaboration with modern dancer/choreographer Adam W. McKinney about the 1921 racial-terror lynching of Fred Rouse in Niles City, Texas. One of Wilson's relatives developed an app called Talking Tintypes that brings the photographs in these sections to life in video on your smartphone. They are wonderful.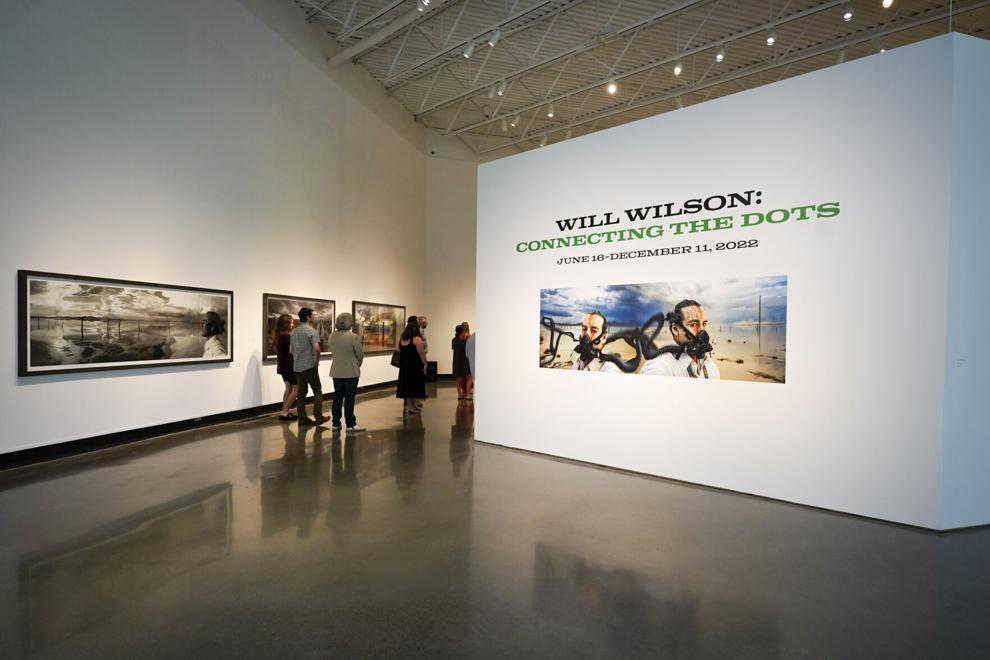 Among the portraits, you can hear Storme Webber perform his poem: "Grace, ease on over me, 'cause I live in music." And "…. In those moments, nothing but music can touch me."
You can see an indigenous woman dance in a traditional jingle-shell dress, and hear great advice from Tracy Rector, who describes herself as an Urban Native: "When you say yes and listen to your elders and stay open, the magic happens."
While showcasing the beauty of their subjects, the mostly black-and-white, large-format photographs also illustrate the technological evolution of photography across two decades.
"I was for a long time invested in darkroom photography," Wilson said. Now, he juxtaposes cutting-edge and traditional techniques, such as drones, augmented reality, and tintypes.
He said that drones have transformed the world, providing a front-row seat to art, creation, culture, and history.
The work in this show is both strikingly beautiful and ineffably evocative. It has the power to make you cheer for indigenous lands and people, and weep for their degradation in the same visit. One cannot view the jingle-shell dancer without delight or watch the story of Fred Rouse without feeling the outrage of injustice and the pain of having your own heart broken, if you have a heart to break.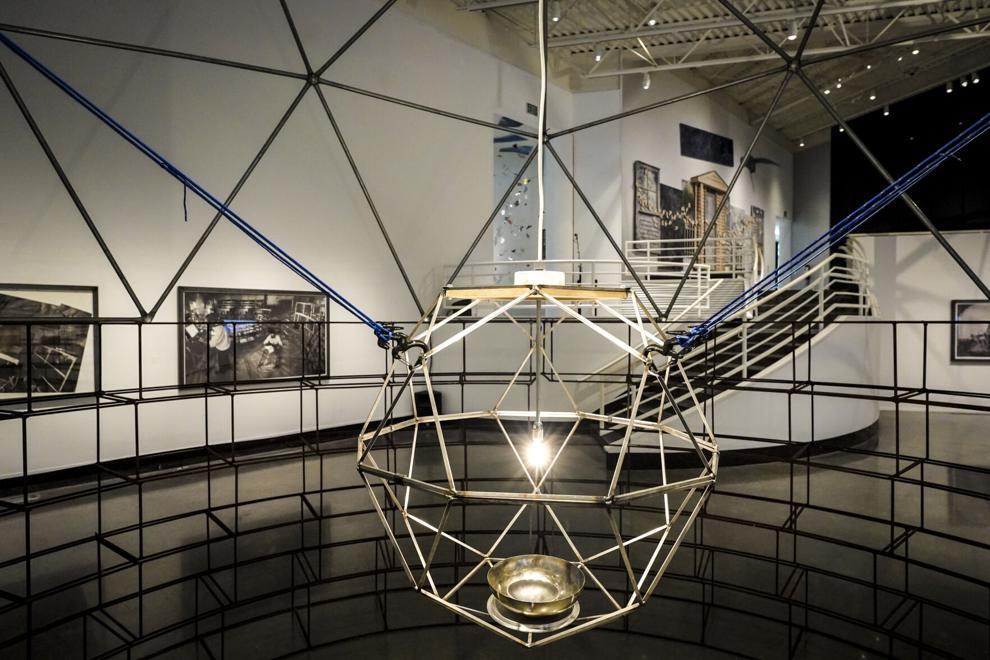 Wilson's Artist Statement says, in part: "Throughout my work I have focused on photographing Navajo People and our relationship to the land. While portraying this relationship I have always been aware of how our representation has never been without consequence. … Photography has been used to classify and reinforce theories of racial superiority and strengthened anthropological discourse positioning American Indians as primitive others. More commonly, it has been used to reinforce negative stereotypes of Indians, pervasive throughout American culture. ,
"For Indians, I want to produce experiences that bring us close to home, while unsettling us with the evidences of colonization. I want my work to strengthen Indians with examples of resistance, and the possibilities of controlling one's own representation. For non-Indians, I want to call into question the uncritical consumption of images of American Indians both positive and negative. This is to be done by presenting experience that articulates a history of life constantly remembered, strengthened and continued in the face of colonization."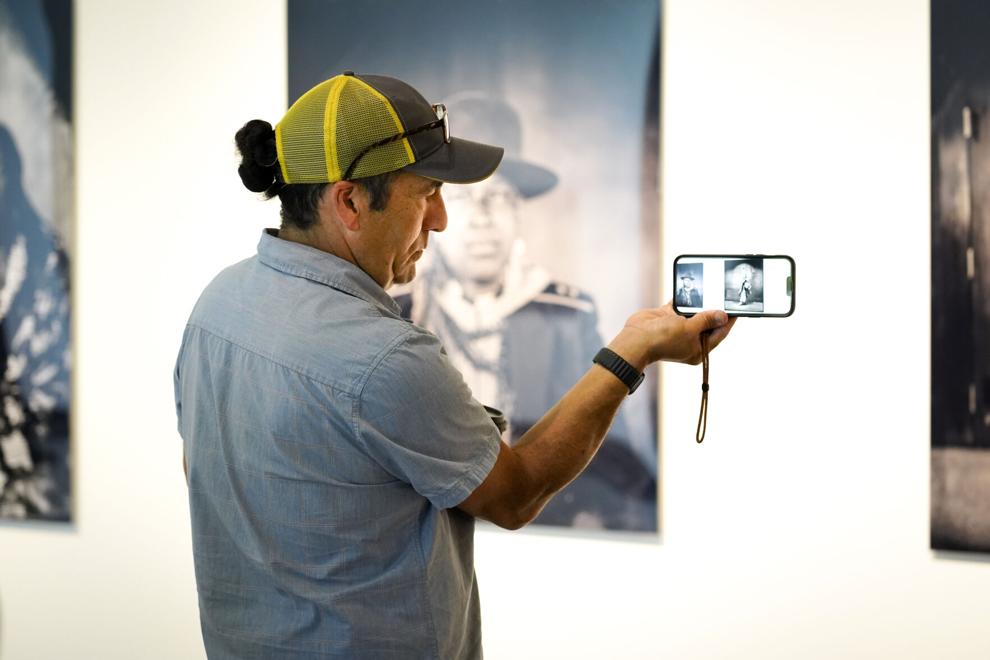 Wilson, who said that his ancestry comprises Irish, Welsh, and Diné heritage, spent his formative years living on the Navajo Nation. He studied photography, sculpture, and art history at the University of New Mexico (MFA, Photography, 2002) and Oberlin College (BA,1993). He has won numerous awards, held several visiting professorships, and his work is exhibited and collected internationally. Wilson is currently Program Head of Photography at Santa Fe Community College.
,