Article content
By Kevin Donnelly, CRC president
Article content
On Saturday, June 11, the Cornwall Rowing Club hosted its first annual rowing tour event.
The tour was organized by Kevin Donnelly, president of Cornwall Rowing Club (CRC) in conjunction with Ontario Adventure Rowing. OAR provided the boats and oars and all the necessary safety equipment.
There were crews from across a wide area: Guelph Rowing Club, Hanlan Rowing Club (Toronto), ONEC (Ottawa New Edinburgh Rowing Club), St Lawrence Rowing Club (Iroquois), and the Durham Rowing Club.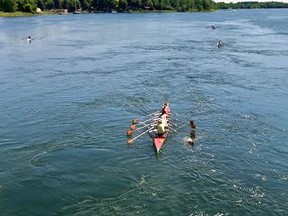 The tour started at the Cornwall Rowing Club in Guindon Park. The theme of the tour was the history of the Lost Villages. CRC is located on the site of the lost village of Mille Roches.
Heading southwest from Guindon Park, the tour rowed over the lost village of Moulinette. Close to this village site, old Highway 2 emerges from the water behind the Lost Villages Museum. The boats pulled over at this site and David Hill from the Lost Villages Museum was able to show the participants the site of the house in which he was born and raised.
Proceeding under the bridge of the Long Sault Parkway, the tour followed the path of the old Grand Trunk railway up to the lost village of Wales. The water is shallow and tour participants were able to disembark the boats and walk around on the old rail bed and on the foundation stones of the Wales railway station.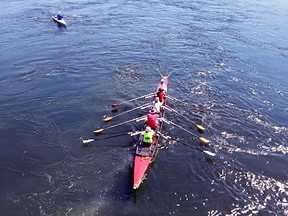 The boats used are special touring boats, which are wide and stable, they are quadruple sculls with coxswain, and they are suitable to be pulled onshore for the purpose of sightseeing.
Article content
For lunch, the tour stopped at Sol de Acapulco, participants were warmly welcomed by the owner and staff members of the restaurant, treated to a wonderful lunch followed by unique entertainment and Mexican hospitality.
The weather on the day was perfect and the participants were in awe of the beautiful area in which we live.
The Cornwall Rowing Club would like to thank David Hill and Jim Brownell, who spoke about their experiences of Moulinette when they were young boys and the effect of the massive flooding that was necessary in 1958 for the seaway to be built. The project displaced over 6,000 residents of the villages and surrounding area.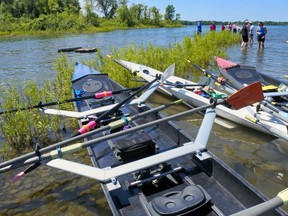 CRC would like to thank all the rowers for their participation and all the others whom contributed their time and expertise.
The CRC received a wonderful gift from Hanlan Rowing Club. Its members donated two ocean double sculls and an ocean single scull; these are perfect for the club as they are very stable and safe in choppy water.
Thanks to Kirsten Ryan and Shelagh Baker for their efforts in trailering these boats all the way from Toronto.