BLOWING ROCK — Karin Neuvirth and Almyra Yosefa didn't know each other before coming to Blowing Rock as the featured artists in the Blowing Rock Historical Society's Artists in Residence series at Edgewood Cottage, but in at least a few respects they are kindred spirits. You can tell by their works of art that they are fascinated by trees and streams.
And yet, their skill in — and methods used for — capturing a moment in time are quite different. One paints with oils, the other (at least for this exhibit) focuses on watercolors. One primarily uses a palette knife, the other a heke brush. One lays on a random foundation of bright color splotches without any clue about the finished image she will end up with, the other has no pre-conceived idea about what her scene will look like, either, but just starts painting.
And if those weren't enough differences, one painted part-time through a whole first career in computer science before moving to the High Country and painting full-time. The other picked up her first brush just two years ago, as something to do during the COVID-19 pandemic.
Karin Neuvirth doesn't know anyone else who approaches painting landscapes quite the way she does. Maybe her artistic instincts evolved in the world of ones and zeros she knew as a software engineer.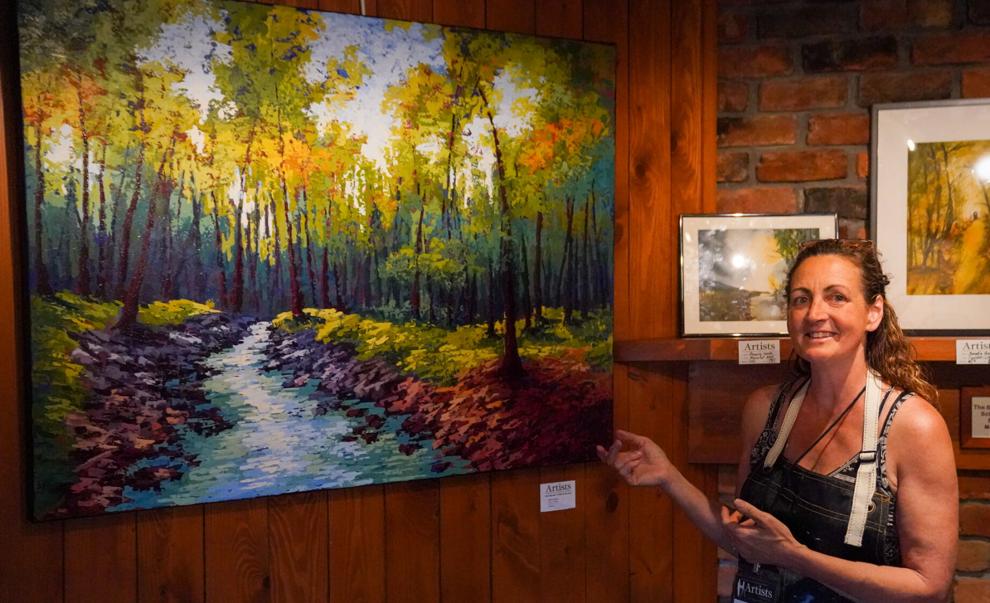 "I start with a very abstract under-painting," Neuvirth described. "It consists of random blocks of usually brighter colors. And as I add the various layers to create the landscape, I will leave areas where that really bright underpainting showing through. Sometimes I work from a photo, but often it is just in my imagination."
What is remarkable is that Neuvirth only randomly applies the blocks of color on her canvas — without any preconceived notion about what the eventual finished landscape will look like.
"Once I get the abstract under-painting applied, I will use a watercolor crayon to kind of sketch in where I want the sky to be, or the water, or if a floral scene where the flowers meet the sky… I get a simple idea of ​​what I want to paint, then work from there, adding one color at a time, layer by layer," she said.
Neuvirth's natural artistic talents were groomed in Minneapolis, at tiny Augsburg University.
"My degree at Augsburg was in computer science and that is what I did for about 20 years," recalled Neuvirth, "but I also took several classes in art and the history of painting, as well as college level classes in paper making, photography , and other creative disciplines. I can't say that I am self-trained, because I definitely am not. ,
Neuvirth thinks that her artistic style is unique to her.
"You can call it Impressionistic or en pasto, I suppose, because the paint goes on so thick with the palette knife, but my approach really came about by my playing around to add a little texture here and there. Each painting, I used a little bit more texture and used the palette knife a little bit more, until pretty soon I was just painting with the palette knife all the time."
As a software engineer first in Minneapolis and then in Durham, Neuvirth explained that she was painting part-time and became increasingly intentional about building a following and making connections.
"I have always wanted to pursue art full-time. It doesn't pay as well as being a software engineer, but I love doing it," Neuvirth said.
Asked what brought her to Boone, she explained that her husband got a position with Appalachian Regional Healthcare as a senior director of oncology.
"That brought us to Boone in 2020, and it was during the pandemic. All of my exhibits and events had been canceled, so I had no reason not to move!" she said of her relocation.
Since arriving, she has quickly made a name for herself in the area.
"I exhibited this past Saturday at Art in the Park and I teach some at Carlton Gallery. Art in the Park is a lovely event. It was great in that it was so organized, even in setting up and tearing down. There were lots of people attending — and it is only 30 minutes from my house!" she said, with a smile and a chuckle.
Of the Artists in Residence series, Neuvirth was even more emphatic.
"Any opportunity that I have to do something like this, I will do. It not only gives you an opportunity to display your art, but to talk to people, too, about your art. And since we are here on site all day for a week, it also provides us with time to demonstrate to people how we do our art. At other shows and galleries, it is rare to get that kind of opportunity," said Neuvirth. "I can explain it to people, verbally, in those situations, but I don't get to actually do it — and that's a big difference."
As for painting landscapes, Neuvirth described the High Country as a target-rich environment.
"Wherever you go up here, there are trees, rocks, and streams. Take a hike on a trail and you are in the middle of a next painting."
When you look at Amalia Yosefa's art at Edgewood Cottage as one of two featured in the Artists in Residence series, you think surely that she has been classically trained and been practicing her craft for decades. But in Yosefa's case, that wouldn't be true.
A resident of Fleetwood, up towards Ashe County, Yosefa said she is primarily a watercolor painter.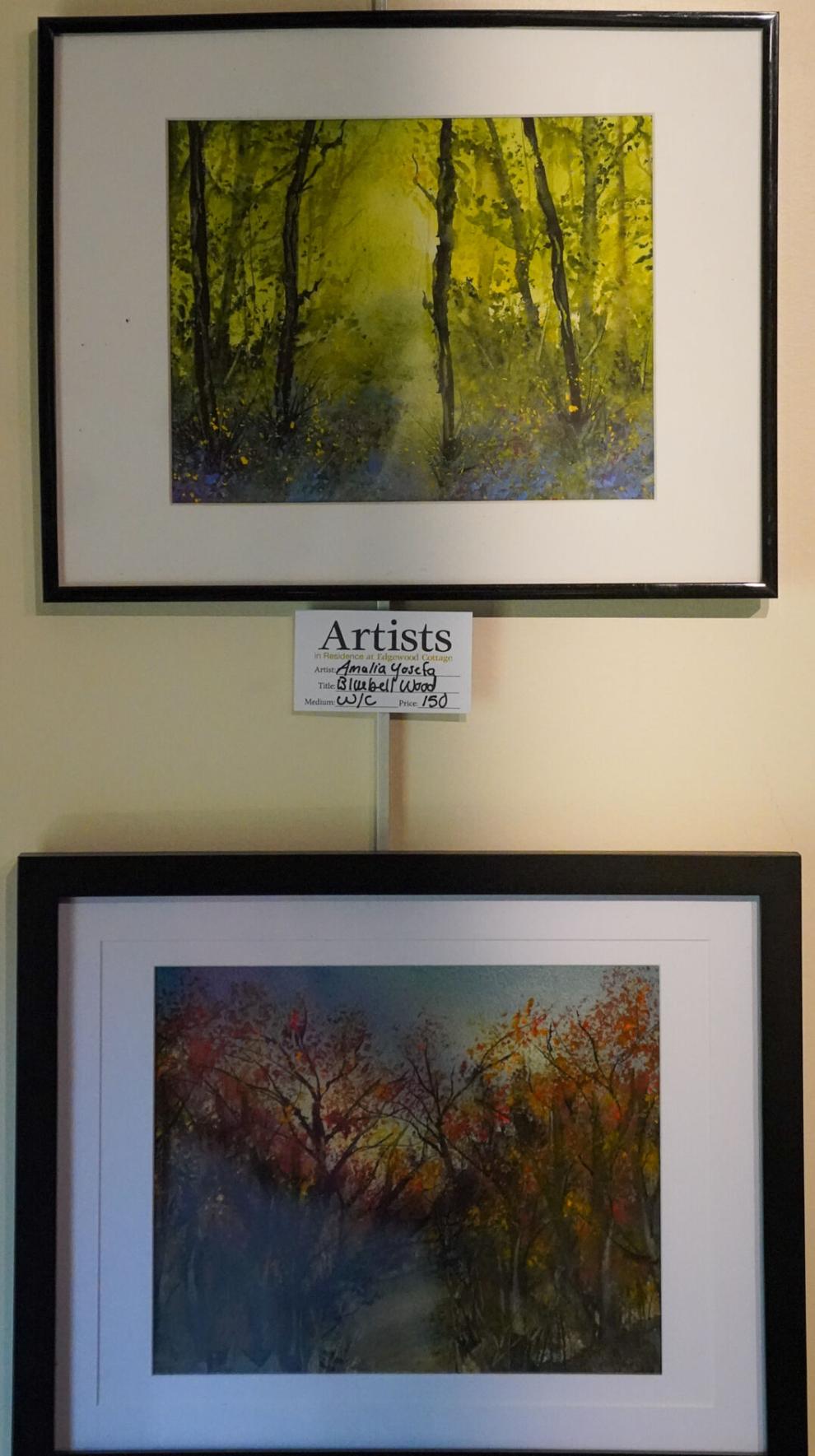 "I like this medium because it is very expressive," said Yosefa. "I paint what I feel. I don't use reference images. I have synesthesia, which means I taste, see, and feel color. Color affects all of my senses. I can smell color. So I try to express those things in my painting, engaging all of the senses. In a word, I experience it."
Yosefa admits that she is not traditionally trained or schooled.
"I did not go to college. I am an entrepreneur, through and through. I use whatever colors happen to be jumping out at me," she said.
How Yosefa became an artist is a story unto itself.
"I started painting in 2020, during the pandemic. I just woke up one morning and said, 'I am going to paint.' I just got this impulse. During the pandemic, we were all feeling such strong emotions, including a degree of fear. I just felt I needed to get it out, to express some of those emotions through art. It really helped me deal with the pandemic, to relieve a lot of that fear and uncertainty. I help other people do that as well, as a creative release facilitator," said Yosefa.
Previously, Yosefa was an outreach librarian at the Ashe County Public Library.
If the pandemic hadn't happened, would she have still turned to painting?
"That's a really good question. There are so many things going on that combine to create so much fear and uncertainty in people's lives that I probably would have even if the pandemic had not happened," said Yosefa. "I have always been a creative person. The medium or vehicle might have changed, but I have always expressed myself creatively."
What might she have brought from her library experience to influence her art?
"Another good question! Definitely, that would be organizational skills. I love the creative process, but I am doing this now as a career, so the organizational skills help on the business end," explained Yosefa.
Of her art, Yosefa said that there a many elements of dark and light, summoning up references to Carl Jung, the famous psychologist who followed Sigmund Freud.
Like Neuvirth, Yosefa prefers to use a broad-fashioned brush. Where Neuvirth's tool of choice is the palette knife, Yosefa uses a Hake brush, sourced from the Japanese.
"It is typically a large brush, a technique," ​​said Yosefa. "You can cover a large area at once. Sometimes I use a smaller brush for detail, but I pretty much just use the Hake brush. I guess you could call it my niche."
As for the Artists in Residence series, Yosefa seemed humbled by the opportunity.
"I consider it to be a real honor to have been selected," she said, "especially after only having been painting since 2020."
,