The 2021 Abu Dhabi season finale is still talked about for its controversial end. Many Formula 1 fans are still not happy with what happened, and how the FIA ​​responded to the events. They once again were left displeased when the Red Bull team principal, Christian Horner, and F1 bosses celebrated the Austrian team's triumph in Monaco.
ADVERTISEMENT
Article continues below this ad
Horner was celebrating Sergio Perez's win on the Red Bull yacht. F1 CEO Stefano Domenicali, FIA President Muhammed Ben Sulayem, Flavio Briatore, and Liberty Media head Greg Maffei joined him in the celebrations. The fans on social media accused the team boss of colluding with the top bosses.
ADVERTISEMENT
Article continues below this ad
F1 Twitter calls out Red Bull team boss for his picture with F1 bosses
Seeing the photo, many fans on Twitter hinted that the FIA ​​might have colluded with Red Bull in Abu Dhabi to help them win the title, and the same can happen again this year. Fans then posted their mixed reactions about Horner celebrating Monaco's triumph with the F1 hierarchy.
they're allowed to be friends lol. they're allowed to celebrate. team bosses and fia officials all congregate in the same places lol..you're grasping at straws

— Matthew Dye (@Soultampered) June 2, 2022
Ferrari might have the fastest car but when you see pictures like this RB will end up with the title come the end of the season

— Matt B (@Matt44_63) June 2, 2022
Unfortunately, nothing surprises me about this after last year, looks like another WDC incoming for Max

— Kate Swift (@KateSwi20927647) June 2, 2022
Am pretty sure they are from the same team, tho.

One is team boss and the others are hired to manipulate the rules and convince the rest of the world that rules are rules.

— 100% Lewis (@Lewis100pct) June 2, 2022
Unbelievable, we all knew it went on now the proof is there for all to see ,The AD result is the result of team bosses favored by certain stewards and FIA staff. This cannot go on Formula 1 will eventually loose so many fans and teams if they think its not worth carrying on.

— colin martin (@colinma85846816) June 2, 2022
The serpent Horner knows exactly what he wants, last year it were pics with Masi and now with Sulayem!

— Wutang (@Alami_AHA) June 2, 2022
All on RBR payroll

Attention all teams your driver will get treated like what RBR did last year to Mercedes and Sir Lewis Hamilton

Beware

— Randy Cross (@RandyCr21566062) June 3, 2022
It is a little harsh of F1 fans on Twitter to accuse a team principal of conspiring with F1 bosses. Any team can invite their bosses to celebrate their triumph on one of the biggest weekends of the year. Also inviting them won't guarantee that Red Bull will take home the 2022 world championship.
DIVE DEEPER
The Austrian team now has both drivers fighting for the championship. But Christian Horner mentioned he hopes that the best driver wins.
Christian Horner gives his take on Sergio Perez joining the championship fight
With his win in Monaco, Perez is now a genuine championship contender alongside his team Max Verstappen. But the Red Bull team principal mentioned that it is a good problem to have and he is not bothered about who wins the drivers' title.
ADVERTISEMENT
Article continues below this ad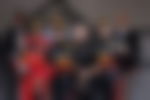 "It doesn't matter to us which of the two is world champion. Of course, the constructors' is enormously important. But whether it's Max or Checo, they're both Red Bull drivers, and they've both got the same chance."
WATCH THIS STORY: Mad Max: Verstappen's Angryest Rants on Team Radio
ADVERTISEMENT
Article continues below this ad
"Of course, it's a long, long season, and it will have its ebbs and flows. But it's great to have both drivers right at the sharp end," said Christian.
It would be interesting to see if the team allows both drivers to race freely on the track. Moreover, Checo might not face another Barcelona-like situation again from Red Bull. Let's see who takes the championship in 2022.