Local people go about their daily lives with the passing of tourists almost unnoticed. Low key shopping opportunities and rest stops are everywhere and no-one clamors for business. If tourists come, they come.
Once in a while on our route Sabsi stops to say hello to people she knows, those she has climbed with before or maybe just passed at a camp. She knows porters and Sherpa friends and also superstars of mountaineering. There are also some links through Everest Judo Club and in that context she is a very well known figure. She lingers with some for longer than others but just a few times there has been far more joy with someone who is really excited to see Sabrina again.
Sabrina is greeted by the coach and students of Everest Judo Club at Monjo School
A delighted cry and an elderly woman in traditional village clothing is suddenly holding Sabsi's hand and the overriding feeling is one of real friendship and gratitude. For some seconds she and Sabsi speak to each other, one solely in Nepali and one in English. They don't understand each other's words but they fully understand each other's intentions. This is the power of judo.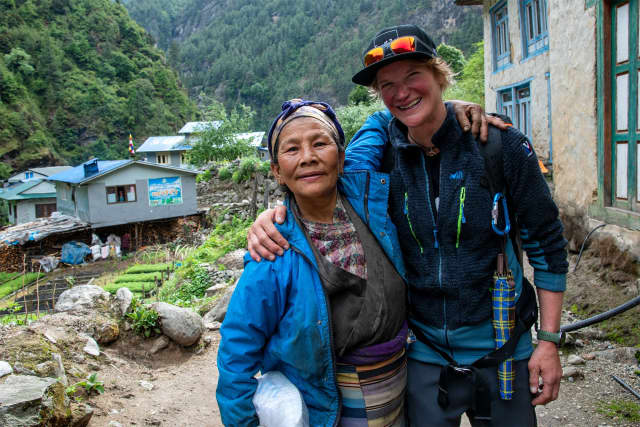 Preeti's mum
Her daughter Preeti (16) was the first girl to earn a black belt from Khumjung and Sabrina played such a big part in the development of the judo club there that the impression will last in the memories of those involved forever and Sabrina's contribution to the community is tangible.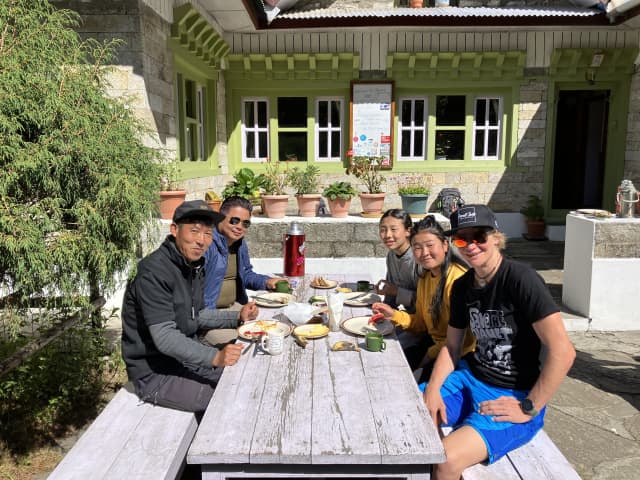 Breakfast with Preeti (top right) and the Monjo School coach (bottom left)
In this community there are social issues covering health, economic circumstances, access to technology and modern practice. There are limited employment options too. There are some geographical pressures such as simple access to schools. There is no choice about where to go. There is almost always just one local school and that closest one is where they attend, but our understanding of local is not the same as their's. It often means a 3 hour hike each way every day. Then there are family chores too, leaving little time for much else. Many villages have a volleyball pitch, it's very popular in Nepal and children and teenagers can often be found enjoying that.
Judo in Monjo and Khumjung, with Everest Judo Club, is really contributing to young people in the region finding their way. With education being an integral part of learning the sport, horizons are broadened and the approach to life and future can be changed forever. Preeti's mum is so happy to have her daughter able to have some new choices in life because of judo.
"Now judo offers the possibility of training camps in Kathmandu or other places and for many they will never normally leave their villages or local areas except to go to school, so at 16 she can really make a life in judo."
Everest Judo Club has been able, with the support of Sabrina Filzmoser's charitable work raising money for scholarships, to support Preeti so that she can train away from her mountain home and now she is coaching too. "This means she is learning skills for teaching and she's growing in confidence. Her path ahead is a good one and is far broader than her parents would have ever been able to walk."
Once Preeti's mum has hugged Sabrina, she then takes her by the hand and will not let go, leading her and the whole group to the family home. It's a tiny wooden structure in the village but without hesitation she invites us all inside, insisting we come in for some black tea. The generosity of people who have nothing never ceases to amaze me!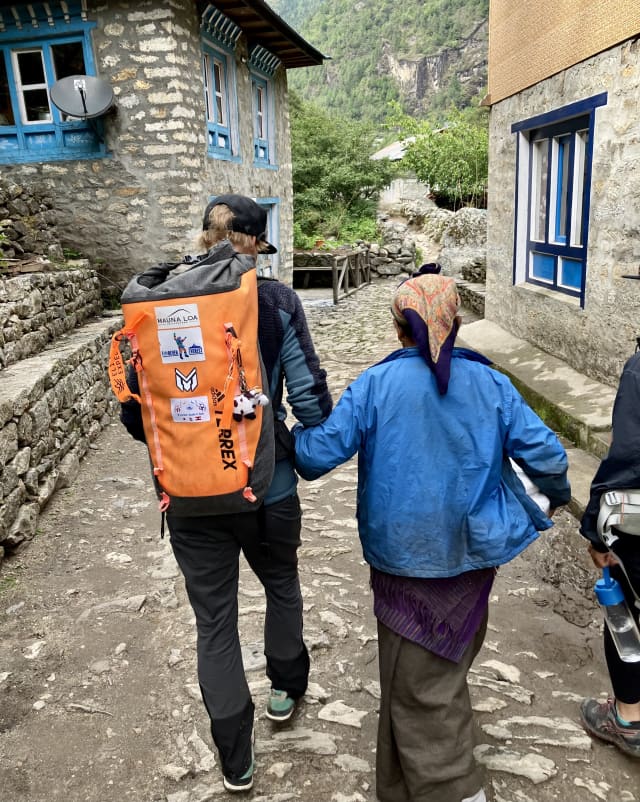 Around the main room are clues that together tell a story about the family's love for judo and in particular the Everest Judo Club. There are judo belts hanging on a hook in one corner. There's an Austrian sports jacket in clear view and many more items, most coming from Sabrina.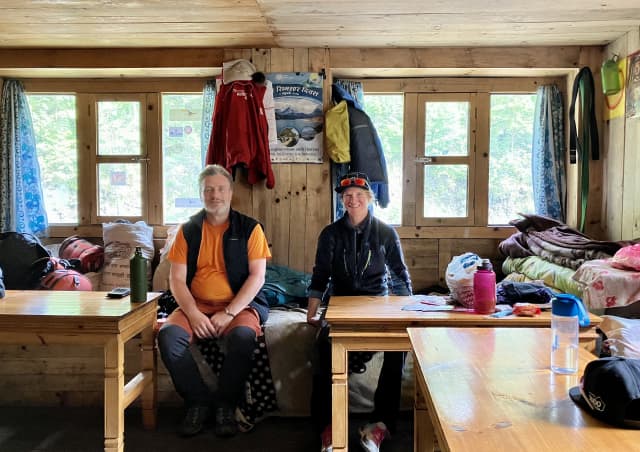 Preeti's home, complete with judo belts
Judo builds communities and the foundations are the judo values, cementing judo's people together. Whether from Western European cities or Nepali mountain villages there is a chain that binds us, one adorned with gratitude and a shared passion. Jigoro Kano's words reverberate around these maintains and it is beautiful.
Click here for further reading around friendship in judo.
,