"There's lots of music with famous artists…. there's theatre, debates, expositions and literature."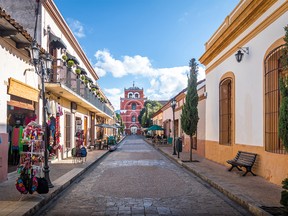 Reviews and recommendations are unbiased and products are independently selected. Postmedia may earn an affiliate commission from purchases made through links on this page.
Article content
Mexico's southernmost state barely registers with those of us seeking a sunny break. Without the easy familiarity of resorts like Puerto Vallarta or Cancun, plus a longer traveling time to get there and less English spoken by locals, Chiapas takes more effort, but the payoff is grand – rich, authentic Mexican culture at every turn in the road.
Article content
Begin in Tuxtla Gutierrez, the state capital and home of the Marimba Museum as well as the Marimba Park, one of the most popular places in town. It's thought that African slaves brought the marimba – a type of xylophone made from wood – to Mexico, but it's so ingrained in the lives of Chiapans that they're credited with perfecting it. Watch couples dance to the lively and distinctly Chiapan beat of multiple marimba players on Wednesday, Thursday, Saturday and Sunday evenings at seven.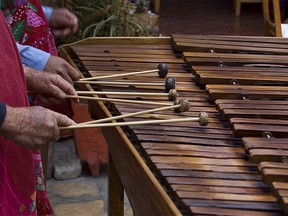 Across the street at the Marimba Museum you'll see dozens of styles of marimbas and an audio kiosk where you can hear famous pieces performed by different players. Better yet, hit the road and listen for the melodic sounds of marimba carried on warm evening breezes at public parks across the state and especially in Comitan, San Cristabal de Las Casas, Chiapa de Corzo, Tapachula and Palenque.
Article content
Between the modern city of Tuxtla and the colonial town of San Cristobal in the Chiapan highlands are Tzotzil Mayan communities that have kept their traditional ways, musical and otherwise. A must-see is San Juan Chamula with its bustling Sunday market. Women wearing shaggy black wool skirts sell everything from fresh produce and spools of yarn to cheap plastic toys and household items. Prosperous looking Mayan men favor white wool, worn in long, leather-belted tunics over crisp white shirts and pants.
Don't overlook Chamoula's modest, white-plastered church built between 1522 and 1524. More Mayan temple than Catholic church, thousands of candles flicker in the darkness and families sit on the floor praying and sometimes performing a mix of rituals. These involve drinking Coca Cola (burping is believed to expel evil spirits), sacrificing a live chicken, and rubbing pox on their bodies (pronounced 'posh', it's moonshine made from maize).
Article content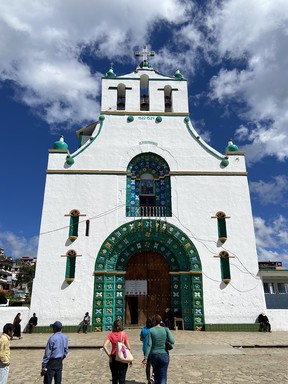 "They come to the temple when they have a problem," explains Nichim tour guide Ramses Borraz Balinas. "It could be someone is sick, your sheep are sick, maybe you have a bad neighbor."
From Chamula, it's an eight kilometer walk past sheep farms, fields of kale, and surprisingly large, modern houses to the Tzotzil community of Zinacantan, where women contribute to the local economy by weaving. Entering town, you'll see colorful skirts and blouses hanging from shop doors. A tour here can include lunch in a weaver's home, where you can watch young women kneeling at looms (girls start weaving about age 10) and purchase some of their beautiful creations.
Lunch includes pureed-corn soup punctuated with chunks of pork, along with endless stacks of tortillas. Washed down with pozol – a sweet beverage made with corn and cacao – and followed by a shot of the local pox flavored with cinnamon or hibiscus, it's a satisfying meal.
Article content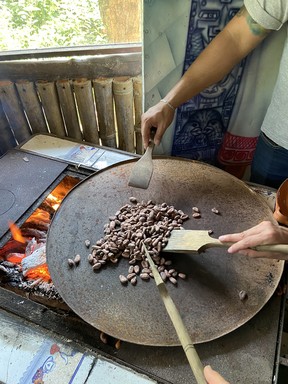 Along with corn and cacao, coffee is another staple in the lives of Chiapans. The state produces 60% of Mexico's coffee beans according to Segundo Guillén Gordillo, owner of Corazón del Café, a boutique hotel close to the historic center of Comitan, one of Mexico's pueblos magicos (magic towns), with each room named for a variety of coffee.
In early December, Comitan's town square is ablaze with Christmas decorations and the annual four-day International Festival of Culture and Arts is underway in honor of Rosario Castellanos, a celebrated author and poet who grew up here in the early 20th century. "It's very good," says Gordillo. "There's lots of music with famous artists…. there's theatre, debates, expositions and literature."
Article content
To learn about the pre-Hispanic folk art called laca, you must visit the town of Chiapa de Corzo, the only place it's practiced. Artisans use the oil of an insect called cochinilla, along with paint, to prepare and lacquer dry gourds and small boxes. Traditionally, laca was women's work, but men have recently joined their ranks, says 31-year old Segundo de Jesus, who began when he was 15 and now does laca for a living.
Chiapa de Corzo is also home of the nationally celebrated Nandayapa Vargas family that has been making marimbas by hand for more than a century. As well as exporting marimbas around the world, the four brothers of the third generation also give educational concerts to help visitors understand the history and evolution of the musical instrument.
Article content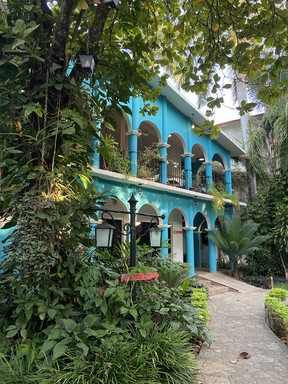 If you visit Chiapa de Corzo in January, you're in for a special treat. Every year between January 4 and 23, townspeople hold their Fiesta Grande (Great Feast), honoring three saints with music, dancing, religious ceremonies and feasting. Women wear embroidered satin blouses and full, flouncy skirts, while men don carved wooden masks, bristly blonde 'wigs' and striped ponchos. Starting in the morning and going until late at night, the men – known as parachicos – dance and shake maracas. In 2010 UNESCO recognized the dance of the Parachicos as an Intangible Cultural Heritage of Humanity.
While in Chiapa de Corzo, the Ceiba hotel is a pleasant place to stay. The owner supports local artists, invites musicians to perform, and serves dishes with typical ingredients such as chilpilin, a leafy green similar to spinach or watercress.
,
If you go:
Many tour operators in Chiapas can organize multi-day tours with English-speaking guides including ATC Touroperadores
For one-day tours, try Ian Ord, an expat Canadian living in Mexico who operates Where Sidewalks End