While pines are relatively drought-tolerant, they benefit from deep infrequent irrigation during prolonged periods of heat and drought.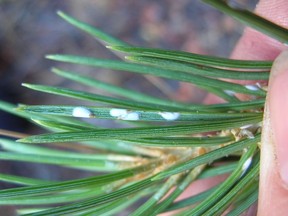 Reviews and recommendations are unbiased and products are independently selected. Postmedia may earn an affiliate commission from purchases made through links on this page.
Article content
The browning of pine needles can be due to a number of causes. Some of these are normal, others due to adverse environmental conditions or insects.
Article content
Most needles live for about two to five years, depending on the species. The oldest needles along a branch are those closest to the trunk. Once their lifespan is complete, they brown and fall, generally in autumn. If this happens very suddenly, the process has probably been aggravated by heat and drought. The solution? Water the tree slowly and deeply and then mulch with leaves, untreated (herbicide-free) grass clippings or post peelings.
If your pine is located adjacent to a driveway, street or sidewalk to which salt has been applied, or where the tires of a vehicle have brought salt, the cause of the browning is most likely a dehydration process caused by the salt. Water well to dilute the salt and, if possible, avoid salt spray in that area.
Drought is another potential cause of browning of evergreen needles. While pines are relatively drought-tolerant, they benefit from deep infrequent irrigation during prolonged periods of heat and drought. And don't forget the mulch! At the other end of moisture availability, too much moisture caused by heavily compacted or clay soils can also cause browning.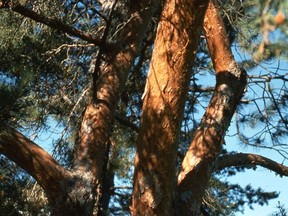 If you notice waxy, white, oval-shaped specks about 3 mm long (called "scales") on the needles of your pine or spruce, the chances are good that immature insects lurk beneath. What you're looking at is a cozy nursery with a ready food supply — the needles — beneath a protective covering.
About mid-June, the newly hatched nymphs or crawlers, armed with a voracious appetite, begin to leave the safety of the scale, seeking their fortune in the wider world. At this stage they are very tiny, oval and red, but like any infant, they have the ability to sit still and suck — conifer needles. If infestations are severe, their damage is more apparent than themselves — yellow to gray needles, often stunted and reduced in size.
Article content
By August, the young scale insects have matured to adults. After mating, as is the fate of many insects, the males die. The females secrete a waxy white scale, lay 30-50 eggs beneath it, and also die, adding their own bodies to the protective covering of their young. The eggs overwinter under the scale, hatching the following spring. There is only one generation per year. Scale insects also attack cedar. The major difference is colour. Those found on cedars are a bronzy brown.
Although the symptoms of their infestations are very visible, scale insects seldom do much damage. Natural predators include ladybird beetles and tiny parasitic wasps. High temperatures or heavy rain also reduce populations during the crawler stage — as will a strong stream of cold water from a garden hose.
And finally, there is the large male German shepherd down the block. If the browned needles are within 18 inches of ground level and concentrated in one area, it's probably due to the concentration of salts from his urine. Hose it off with water as soon as it is noticed.
Retired from the University of Saskatchewan, Sara's most recent book is Growing Fruit in Northern Gardens with Bob Bors. She's been hosting garden tours for over 20 years — to Great Britain, Ireland, Europe, Turkey and Iceland. Join her for a tour of French gardens this September [Contact Ruth at 1-888-778-2378, worldwideecotours.com]
This column is provided courtesy of the Saskatchewan Perennial Society. Reach the society by email at saskperennial@hotmail.com or visit their website at saskperennial.ca. You can find them on Facebook at facebook.com/saskperennial.
Gardening: Pines for the Prairies — Mugo pine

Gardening: Local experts share resources online for Saskatchewan gardeners