They have been around for nearly 10 years, advocating for cycling infrastructure, as well as improved safety for pedestrians and cyclists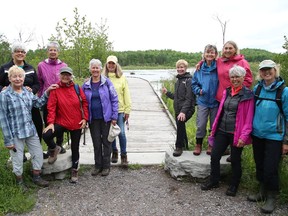 Article content
All roads lead to the bench.
Article content
After talking about it for years, Janet Spergel, a member of the Cycling Grannies squad, finally organized a fundraising drive earlier this year to install a bench at the top of a beloved trail in the Lake Laurentian Conservation Area.
"In January, I was out snowshoeing on the trails here at the conservation area, and I thought, 'why don't we do it'?" Spergel said Tuesday, after the hilltop installation was complete.
While the location of the bench is not terribly accessible to cyclists, the grannies also hike and snowshoe together.
Spergel sent an email to her crew and within a couple of months, the group raised the $2,500 they required for the bench, as well as about $100 more, which they donated to Conservation Sudbury.
"The conservation foundation accepted the money and we support the trail system and the programming that happens here at the Lake Laurentian Conservation Area," Julie Houle, director of advancement with the Nickel District Conservation Foundation, added. "The bench is recycled plastic and metal, and it is pinned into place, so it's not going anywhere."
The bench was crafted to withstand the elements.
It is located at the apex of Mount Ramsey, which overlooks its namesake lake, as well as the conservation area. Park at the bioski cottage and follow the beaver pond trail (the red trail on Conservation Sudbury trail maps) to the Mount Ramsey trail (yellow). Stay on that trail until you spot the lookout with the 360-degree view.
Article content
There are now three snowshoe trails that lead to the bench. Two are accessible during the summer, but the third traverses a marsh, so is best left to the winter months.
"All roads lead to that particular bench," Spergel quipped. "There are other benches along the way, but we wanted to share with the whole community this view and the feeling of being at one with nature. Having this conservation area within city limits is a blessing for all of us."
Once you spot the bench, take a seat and enjoy the landscapes.
"Every time we've snowshoeed or hiked up there, the view is incredible. You can see all the way back to the bioski chalet. You can see pretty much all of Ramsey Lake, and you can see the marsh on the east side," Spergel said. "From that viewpoint, you feel at one with nature. It's just so beautiful."
The Cycling Grannies have been around for nearly 10 years, advocating for cycling infrastructure, as well as improved safety for pedestrians and cyclists. Long before there was a bikeway along Notre Dame Avenue, the grannies were creating space for cyclists of all ages throughout Greater Sudbury.
As Spergel noted, the group started small – just four women who enjoyed cycling together – but over the years, it has ballooned and there are now 50 members. They try to get together twice a week on bikes or snowshoes, or in their hiking boots.
"Often, we'll get 20 cyclists out at a time," Spergel said. "Not quite so many hikers, but we have had 20 hikers on occasion."
Article content
Group activities are important, especially as people age. In addition to promoting health, Spergel, a retired nurse, said riding with her crew promotes camaraderie and friendship, and supports mental health.
"Once we leave our careers behind, we need that link with other people and other opinions, and we need that communication and friendship," she said. "It's important to keep active because if we don't, we lose our mobility. That is why we cycle and snowshoe in the winter, and hike. It's about mental well-being."
Spergel said Ramsey Lake is a jewel – "who else has a lake this big within the city itself?" – and a recreational paradise perfect for paddlers, swimmers, fisherfolk and skaters.
"It's a playground," she said. "Who else has this? Who else has 330 lakes within city limits?"
Spergel said there is something special about the Lake Laurentian Conservation Area. For one thing, it is within city limits, but there is also great diversity to be experienced.
"There's so much to see," she said. "The viewpoints are high; there's marsh, there are a lot of birds and beavers. It brings you really close to nature."
mkkeown@postmedia.com
Twitter: @marykkeown
Facebook: @mkkeown