Celebrity feuds are something that gathers a lot of attention. Even if one doesn't want to see or hear about it, somehow it reaches us from different sources. On the other hand, some fans enjoy such instances. For them, the drama that revolves around a feud, and the jabs taken at one another, is a treat to witness. With the emergence of social media, these feuds have become a much more public affair than before. One such feud ensued between Arnold Schwarzenegger and Donald Trump.
ADVERTISEMENT
Article continues below this ad
Amongst many other facades, Arnold and Trump share two similarities. Both are politicians and hosted the popular TV show 'The Apprentice.'
ADVERTISEMENT
Article continues below this ad
Arnold Schwarzenegger hilariously trolls Trump
Ever since Arnold hosted the show, Trump started taking digs at his successor. The former US President was so invested in the supposed rivalry that he took shots at Arnold while serving as the President. But 'The Terminator' never backed down from confrontation and always went toe-to-toe with his critique.
Despite not having held a public office since 2011, Arnold has been a primary figure in politics, thanks to the efforts of Donald. Trump has never passed an opportunity to publicly mock Arnold's stint as the host of 'Apprentice.'
Talking about why Trump cannot let go of the issue, Arnold said, "I think he really—he's in love with me. That's the reality of it. With Trump, he wants to be me." Talking further about if Trump fears him or not, Schwarzenegger said, "I don't think he fears me."
Arnold has always been witty with his replies to Trump, and he always comes up with various ways to give a fitting reply. Schwarzenegger once uploaded a video with a link attached to a public school near the White House for Trump to go to. Or when Trump denied showing his tax returns, Arnold once again called him out on social media to compare each of their tax returns.
They used to be friends earlier
ADVERTISEMENT
Article continues below this ad
However hard it may be to believe, it is indeed true. Arnold and Donald weren't always at each other's throats. The two entrepreneur-politicians used to be good friends and often spent time with each other. They visited wrestling matches together, and Trump had great admiration for the wrestlers. The way they would jump around in the ring and their perfect physique and showmanship inspired Trump.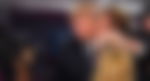 Not only that, but he would also ask Arnold questions about being an actor. He would ask Arnold how he did stunts and other aspects of a movie to make them so believable. Trump would get specific questions about that fascinated him. ,How do you go and act out a scene so that I get affected emotionally?" was one of the many questions Trump would ask Arnold.
ADVERTISEMENT
Article continues below this ad
However, in 2017, it all went wrong for the two when Trump started a battle of words between them. But, with Trump getting banned on Twitter, the feud went 'dormant.'