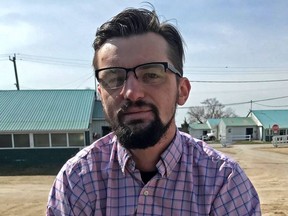 Article content
Doug McPherson was not about to call in sick on the first day of his job as Fort Erie's new track announcer. He was hired to call races, not call in sick.
Article content
But on Tuesday morning, the opening day of racing at Fort Erie, McPherson felt like hell.
"I woke up feeling like I had a stomach ulcer," said McPherson, who began his new career on Tuesday as the borderline track's new announcer, taking over from the retired Frank Salive. "But then once I got through the first race I felt better. I thought it went really well, considering how green I am as an announcer."
Article content
McPherson shouldn't have been worried. He's only 26, but the Tottenham, Ont., native has already done it all in thoroughbred horse racing, short of riding. McPherson started working as a hotwalker when he was 13 and currently grooms horses for his dad, the veteran Woodbine trainer Sandy McPherson, and also writes the Handicapper's Journal at Woodbine. Doug even owns a horse, the seven-year-old mare Capoeira, whom he claimed last fall. Capoeira is entered in the first race at Woodbine on Thursday. (Capoeira is named after the Brazilian martial art that combines elements of dance, acrobatics, and music). To say, McPherson keeps busy is an understatement. The only job he gave up after being hired by Fort Erie was his gig with the Equibase dept. at Woodbine.
Article content
"I don't know what my dream job is. I just like the industry and I do whatever I can to be a part of it," he said.
The personable horseman said he was encouraged by Woodbine announcer Robert Geller to consider giving race announcing a try. In fact, Geller even got McPherson to call a race at Woodbine last year.
"Robert's such a good guy," said McPherson. "He gives you so much encouragement."
McPherson can hardly wait to get back at it at Fort Erie when racing resumes next Tuesday. Asked if he has come up with his own unique catchphrase yet, McPherson replied, with a laugh: "Right now I'm just trying to worry about getting through the season and making sure it goes smoothly. I'm sure catchphrases and stuff like that will come along, though I accidentally stole one of Dan Loiselle's classics – 'Picture Time' (on Tuesday). We had a three-horse photo (finish). And in any race I've practiced on, when's there's been a picture, I've never said, 'Picture Time'. And then (on Tuesday) it just came out."
Article content
Loiselle was Woodbine's long time before retiring in 2015.
The opening day on Tuesday represented Fort Erie's 125th season, with the 40-day calendar going primarily on Mondays and Tuesdays, with some special event Sundays, including Father's Day on June 19. The centerpiece of the meet is the middle leg of the Canadian Triple Crown, the 87th running of the $400,000 Prince of Wales Stakes, which goes on Tuesday, Sept. 13.
IT'S ALL ABOUT THE GRASS, MAN
The Woodbine Racetrack turf season begins on Thursday afternoon with three races on the grass. The Grade 2 Royal North Stakes, set for June 4, marks the first turf stakes race of the Woodbine season, a 6 -furlong event showcased on the EP Taylor turf track. The $175,000 race is for fillies and mares, four-year-olds and up.
Article content
MORE GREEN FOR WINNING ON THE GREEN
A Woodbine horse owner could win a $250,000 bonus this year as the Ladies of the Lawn Series returns. Launched in 2019, the Ladies of the Lawn consists of three premier turf races for fillies and mares – the Grade 2 Dance Smartly Stakes (July 24), the Grade 2 Canadian Stakes (Aug. 21) and the Grade 1 EP Taylor Stakes (Oct. .8). This year's series will offer a $250,000 bonus to the owner of the horse that wins all three races in the series. Should no horse sweep the series, a $50,000 bonus will be paid out to the connections of the horse that accumulates the most points during the series. The inaugural Ladies of the Lawn Series was won by Kevin Attard, who trained 2019 Canadian Horse of the Year, Starship Jubilee. In 2020, the series was won by Elizabeth Way, trained by Hall of Fame trainer, Roger Attfield. Mutamakina won last year's Series title with a victory in the EP Taylor Stakes for trainer Christophe Clement.
SBuffery@postmedia.com
Twitter @beezersun