From "Rudy" to "Rocky" to "The Karate Kid," most people love an underdog story. Now, in addition to these big-screen examples, there's a real-life New Orleans story to add to the list of unlikely heroes: Sisira Holbrook and Adison Gibson recently became the first Louisiana team to compete in the USRowing Youth Nationals Rowing Competition.
Their story began when Gibson's dad saw a promotion about learning to row on Bayou St. John. "I showed up at this hidden boathouse behind an assisted-living home, and was one of the few people who showed up without their best friend or group of friends," Gibson said. "One of the others was this girl named Sisira, and that's a name that's hard to forget. So, we put two and two together, and we became the dynamic duo."
Holbrook agreed. "We instantly became great friends and teammates. Although you might note that she pronounced my name wrong for, probably, like seven months. I didn't have the heart to correct her."
Rowing is not a popular sport here. In fact, the New Orleans Rowing Club is one of only two major rowing clubs in the metro area. In addition to its master program, NORC also sponsors a junior program, and that's where Holbrook and Gibson, both now 18, rowed throughout the high school. (Both attended Lusher High, now called Willow Charter.)
Holbrook compared her experiences with that of her cousin, a rower in Connecticut. "While she practices on a massive river several kilometers long, with full-time coaches and the best, newest boats that are kept in a huge indoor boathouse, we practice on a stretch of Bayou St. John where you can't row more than about 900 meters without having to steer through — or even duck under — a bridge," Holbrook explained.
Their junior team is new and very small. All the coaches are part-time volunteers. "But that just gives us that more motivation to prove ourselves," she added.
After training and competing for the first half of their high school careers, something happened to bring them even closer — the pandemic.
"Because of COVID restrictions, any athlete who wanted to be in a double (boat) had to make an agreement with another athlete to be unmasked together within a boat," Holbrook recalled. She and Gibson did that, and "we practiced together all season and never switched pair partners. … We got really good at rowing together, and it really started to feel like second nature."
By summer 2021, they were named team captains. Their connection was also apparent to others in the rowing community. At a regional learn-to-row clinic, Olympian rower Viktor Grebennikov complimented the pair and inquired if they intended to compete in youth nationals.
Holbrook said they were shocked and flattered that "in this coach's eyes, we were actually good."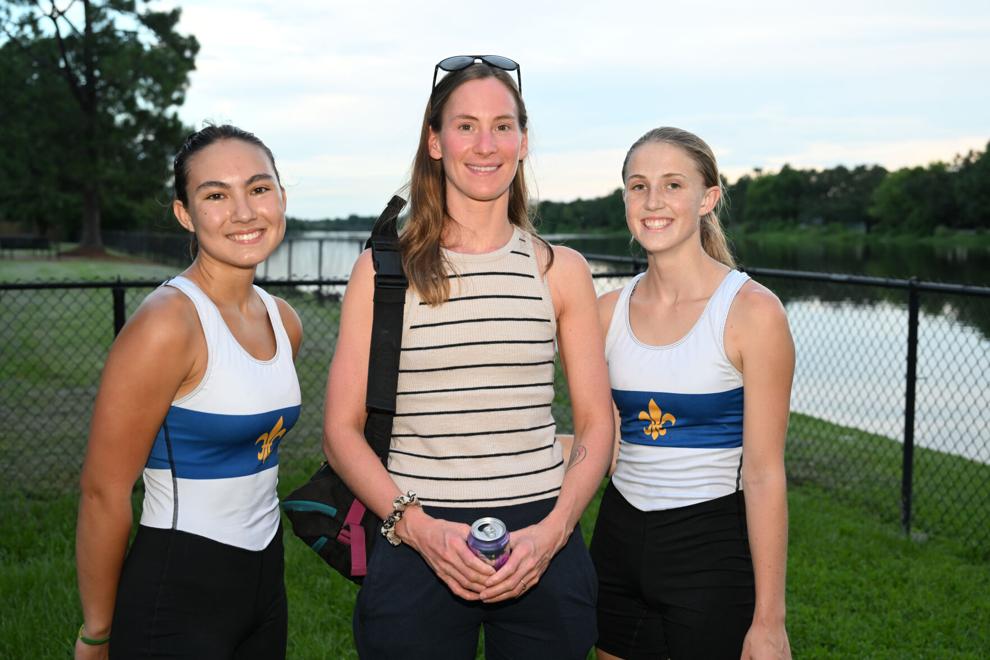 They asked their coaches about competing in the Nationals Women's 2x in the U19 (under 19) category. That's when they received some sobering news: To go to nationals, the duo would first have to qualify at the regional competition.
Undaunted, the girls committed to a serious training regime which included early morning rowing practices, weight training, a nutritional plan to build muscle and strength as well as grueling workouts on rowing machines.
Holbrook said rowing became the focus of their lives. "We were like professional athletes," she said. Gibson agreed. "We trained harder for this one single race than we had ever done before."
Finally, it was time to put that training to the test in Sarasota, Florida, home to the regional championships.
Gibson said she and Holbrook adhered to the same goals that had guided them for the last three years. "Don't flip. Don't get disqualified. Beat one boat."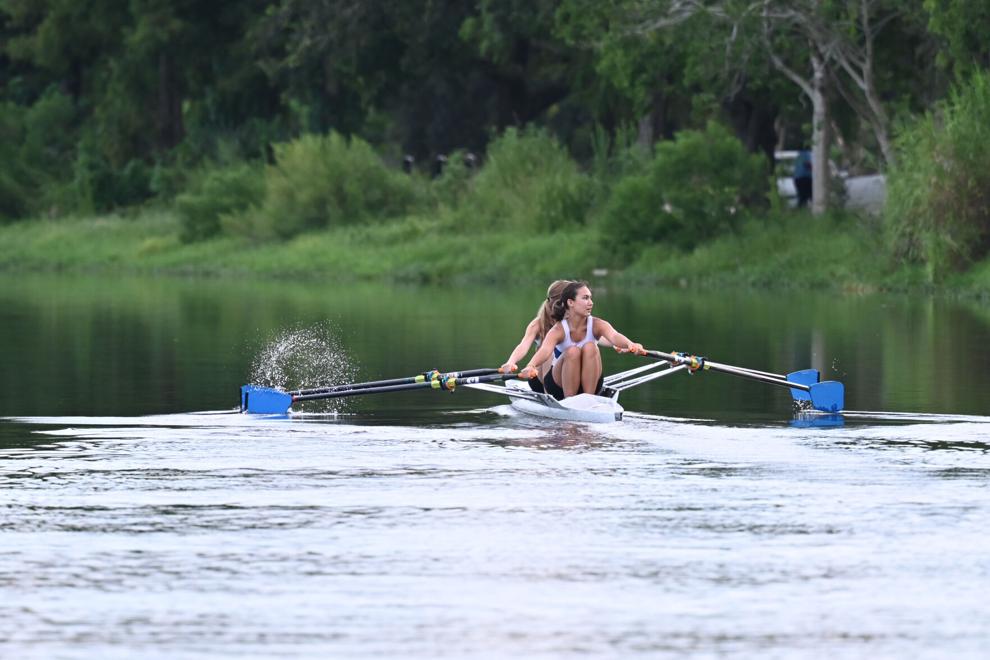 They were awed by the caliber of the competition. "These girls were buff and mostly upward of 5'8″ in a sport where every inch of reach makes a dramatic difference," Holbrook said. (Both she and Gibson are 5'6″ and lack the long, rangy build like most rowers.) "We were acutely aware of just how stark the contrast was between us and them. We were at a clear disadvantage."
But they had worked and prepared, planning each stroke and each meter of the race. "We knew that we would never forgive ourselves if we didn't give it our all, and we knew we could never let the other one down, so we rowed harder than we thought we could," Holbrook recalled.
During the time trial, the duo finished in fourth place and qualified for the semifinals. They knew if they could maintain or better their position in the next race, they would qualify for nationals.
"When we rowed up to the start line, my heart was in my stomach," Gibson said. " … But when the race began, everything that terrified me was gone, and all that was left was an excruciating pain in my legs. And we did it. We qualified for youth nationals."
Of the 21 women's doubles teams in the southeast region, Holbrook and Gibson had placed fourth. Holbrook noted with a laugh: "We'd beaten all those girls with quads and shoulders that looked like they could crush rocks.
"We really felt like we'd made it to the big leagues."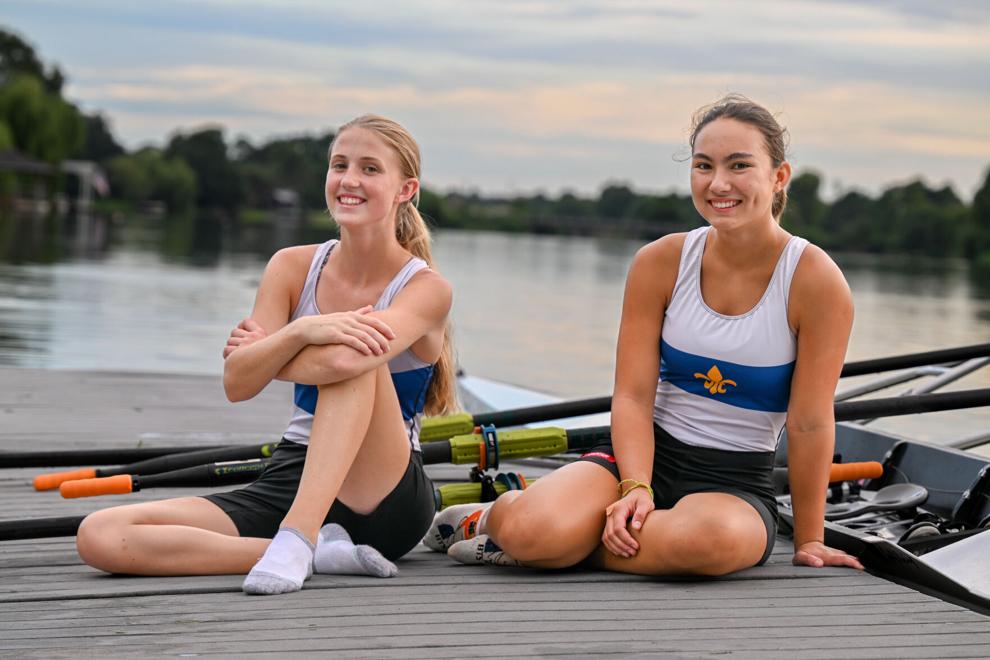 The big leagues also meant an even bigger step up in competition. Despite weeks of intensive training and a detailed workout plan to prepare for nationals, the clock would strike midnight for this Cinderella story.
"At nationals, we lost. We came in dead last," Holbrook said.
Their hard work had paid off though. They shaved 14 seconds off their regional final time, their best time ever.
"I can say that we did the best we could do, and I'm proud of that," Gibson said. "We are 25th in the nation. The whole nation. That's pretty awesome if you ask me."
Holbrook agreed. "We knew we had left all our training and all our strength out there on the course. And we'd done it for each other. And we knew that was what mattered."
The duo said they learned a lot of lessons along the way about commitment and competition. About hard work and teamwork. And they learned a lot about themselves as well.
They will go their separate ways this fall, but each plans to continue rowing. Holbrook plans to walk on to the Radcliffe lightweight team at Harvard, where she will study molecular and cell biology, while Gibson will join the club rowing team at LSU while majoring in psychology as part of a pre-med track.
Each credited their parents, Ames and Soraya Holbrook and Shane and Kim Gibson, and their support team for their rowing success over the years, and their coaches, John and Hannah Huppi, Emily Gass, and Maggie Daly.
Gibson said she hopes their story inspires others."My piece of advice to all underdogs would have to be embrace it, and then go out and kick ass."