People are passionate about various things in life. As such, when they gather wealth, they would want to collect exclusive things for themselves. Since bodybuilding legend Arnold Schwarzenegger has a thing for cars, he has quite the collection.
ADVERTISEMENT
Article continues below this ad
Schwarzenegger has come a long way since his first Mr. Universe title in 1967. In the 55 years of his career, the former bodybuilder amassed a fortune of $450 million. And he has used a portion of this wealth to accumulate a huge collection of cars.
ADVERTISEMENT
Article continues below this ad
However, his cars are not the kind you'd usually find on the streets. Let's explore some of the fanciest cars that the celebrity owns.
The fanciest vehicles that Arnold Schwarzenegger owns
The Military-Style Hummer H1, Mercedes-Benz Unimog, Hummer H1 Slant Back, and Ex-Military Dodge M37 are the military-style vehicles that the bodybuilder-turned-actor owns. And given his numerous roles as a military person, it only seems fair for the former Mr. Olympia to own multiple military-themed cars.
However, there is one vehicle in his collection that would surpass all others on his list of collectibles. It is his personal M47 Patton Tank. Yes, you heard it right, a tank! And it's not just for show; it is a fully functioning mega-machine.
But apart from his military-style cars, the Terminator star also possesses multiple sports, classic, and vintage cars. Among the sports models that Schwarzenegger owns, the Bugatti Veyron is the most striking in terms of power, speed, and look.
Other sports cars that the Austrian Oak owns include the Porsche Turbo, a custom-built Audi R8, the Bentley Continental GT SuperSports Convertible, Mercedes-Benz SLS AMG Roadster, and a Bentley Continental GTC. Moreover, the former governor of California also owns a first-generation electric Tesla Roadster.
The man most famously known for his bodybuilding prowess has but one muscle car in his collection. And that is the Dodge Challenger SRT!
The list is just endless
ADVERTISEMENT
Article continues below this ad
The star owns two more Hummers, the H2 and the energy-efficient H2 Hydrogen. And although most of his cars are more along the modern front, he owns his fair share of the classics too.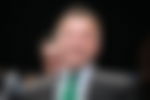 The actor also owns a vintage-looking Excalibur, even though the model's production only screams vintage, but in reality, it first went down the assembly line only in 1965. The only other classic model in his list of collectibles is the Cadillac Eldorado Biarritz.
ADVERTISEMENT
Article continues below this ad
Schwarzenegger also has two more cars in his line-up. These are the custom-made Kreisel Electric G500 and the luxury sedan Bentley Arnage. Additionally, he has an Indian Chief motorcycle to add to this list.