Editor's note: This story is part of Southwest Michigan Second Wave's On the Ground Battle Creek series.
Willie Lipscomb isnt a historian, but in Battle Creek, he is keeping alive a form of martial arts that was created at the beginning of the 16th Century by enslaved Africans living in Brazil.
On any given Tuesday or Thursday, Lipscomb can be found leading his students in Capoeira, a rich blend of body expression, fight, dance, music, and movement. Area residents who attended various festivals this summer in Battle Creek had the opportunity to watch Lipscomb and his students demonstrate Capoeira.
Their performances often began as a synchronized dance followed by the formation of a circle where two members at a time sparred in the middle while maintaining the rhythm of the song. The sparring included punches that were expertly dodged and leg kicks that moved quickly over the head of the other performer.
"It's never the same thing when you're going against someone or playing against partners. It's a conversation between two people who don't know what the other will do as they interact with martial arts," says Lipscomb, whose Capoeira name is Professor Show Grande.
Every Capoeira performer is given a nickname similar to ones chosen by the enslaved people who preceded them. When authorities questioned people about those who were illegally practicing the martial art form the Capoeira nicknames enabled those being questioned to answer honestly that they did not know anyone by the given name the authorities asked about.
Lipscomb, who is also a manager at Ruby Tuesday in Battle Creek, says his Capoeira name means "Big Show" and those he teaches routinely call him "Show."
"The way I got mine was when I went to my first event and they were doing a Samba workshop and different dances and I just put a little flair on those dances and they said, 'you're the big show, the showoff,'" he says. "It can be something about your personality or what you did to receive that nickname."
Capoeira offers an extensive workout and teaches lessons about the Brazilian culture. Photo by Susan AndressWhat happens on stage during performances closely mirrors the classes where experienced students are in front and beginners stand in the back. Classes, which number between 10 to 15 students, include basic escape moves, squats and lunges, and a variety of kicks. If participants have advanced enough, these movements will be combined with everyone moving together.
"One person does kicks and one person does escapes. At the end of the class we'll make a hoda, that's a circle, and two people will go in and show off their moves," says Lipscomb. "My more experienced students like it when a new person comes in because they'll have an easier class."
Hari Johnson, who lives in Battle Creek and is a student of Lipscomb's, calls Capoeira an amazing workout. "I do a lot of workouts with my wife, high-intensity interval-training and running, but there's a lot (in Capoeira) I've never experienced and there's not another thing that gives me such a good workout. Capoeira does everything at once
"You're doing movements that a lot of pf people really haven't done," Johnson says. "Just like anything, it's a bit difficult to move your body in different ways and do postures and kicks that you haven't done before."
While modern-day followers of the martial arts form appreciate the intense physical workout they get, enslaved people who were taken from West Africa to Brazil by Portuguese colonists originally used Capoeira as a self-defense and survival mechanism, Lipscomb says.
"They disguised it to look like a dance so they could free themselves from captivity. Back then it was banned and outlawed and people couldn't practice it," he says.
Capoeira is believed to have emerged as a way to bypass laws that prohibited the enslaved from celebrating their cultural customs or practicing any martial arts.
"Hidden in the musical and rhythmic elements of the form, violent kicks were disguised as passionate dance movements, and its combination of a mixture of West African cultures saved it from being identified as an attempt to preserve any specific tradition," according to the website culture trip. "As such, capoeira came to life as a survival tool, not only of self-defense but also of cultural identity."
The culture and history appeal to Kamau Guy who has been training with Lipscomb for more than five years. Guy, who works at Endeavor Charter Academy and coaches women's basketball at Harper Creek High School, says he grew up doing martial arts and first saw Capoeira in a movie. He joined Lipscomb after seeing him do a presentation at Willard Public Library.
"It's the camaraderie you have with the other people who train with you and the opportunity to learn another language, that would be Portuguese," Guy says of the reasons he practices Capoeira.
The songs sung during the classes, the counting, and the movements are all done in Portuguese, Brazil's official language. "The whole conditioning part helps you stay in better shape and the coordination makes you better and the culture opens you up," Guy says. "It helps in my daily life because I meet so many different people from so many different religions and backgrounds."
While Teddy Rogge, of Kalamazoo, was initially attracted to Capoeira because of the intensity of movement and the sense of community it creates, he says it soon produced unexpected benefits that helped him better manage the anxiety that he lives with.
"Capoeira teaches you how to look at a problem and work around it. There are a lot of ways to move around it and you don't have to escape things the way others do," Rogge says. "You see people and how they play a different game and adapt their style to that. You learn how to access life and overcome things."
Juston Espinoza, who began his Capoeira training while a student at Grand Valley State University, says his Capoeira training has influenced the way he approaches situations and how he solves the problem on a personal and professional level. Espinoza is a Senior Learning and Media Production Specialist with Spectrum Health in Grand Rapids who trained with Lipscomb and now leads his own group. A big part of his job is developing classes on soft skills that Spectrum employees take.
"Adaptability is a big thing when you're trying to teach soft skills to people who work for Spectrum Health. A lot of times you're asked to make decisions in a gray space and that is the entirety of Capoeira," Espinoza says. "You learn a piece and the movements, but you never know what other people are going to do. The minute you join the circle there's nothing you can truly be prepared for so you have to do your best because you don't know what's coming."
Rogge's first exposure to the martial art form happened when he saw Lipscomb and a group of people training on Western Michigan University's track. Coincidentally, he had seen a flyer describing it while picking up beer at a local party store near WMU where he was a student. At that time, the Capoeira group was a student organization at WMU.
"I felt like I was in pretty decent shape. I'd done swimming, soccer, and marching band and I thought 'challenge accepted'," Rogge says. "A friend and I saw them down at the track and they seemed to be having a pretty good time down there. They said I should try a cartwheel which I hadn't done since sixth grade. I was outside of my comfort zone, but everyone was really supportive of me."
Eleven years later, Rogge still tries to practice once a week with Lipscomb. "Show's got a good head on his shoulders and he will push you without breaking you," he says. "There's this sense of having someone push me, but reading how I am feeling."
That intuitive ability has been 20 years in the making for Lipscomb who first began his Capoeira training in Detroit. He has since traveled throughout the United States and to Brazil to learn and train with masters of the martial art and teach workshops himself.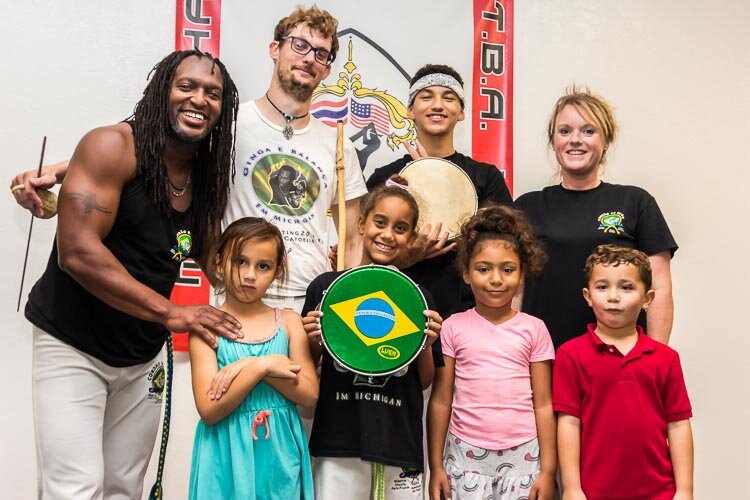 Battle Creek's Capoeira group holds the flag of Brazil, the country where the martial art they practice originated. Pictured back row from left, are Show Grande, Gameleira, Xavier, Angel, and front row from left, Gracie, Ava, Kari, and Jason. Photo by Susan AndressHe got his first belt in 1999 in California. There are 13 belts that can be earned and they each contain the colors of the Brazilian flag, green, yellow, blue, and white. Two years later he went to Brazil where he spent four months training with the high masters and learning Portuguese. He took classes in the language because he wanted to know what the words meant in the songs used in Capoeira.
While extremely popular in Brazil, Europe, Israel and Korea, Lipscomb says he knew it would eventually gain traction in the Battle Creek area as it has in Ann Arbor, Detroit, and Grand Rapids. "I just thought if I could get myself out there it would interest people as it interested me," he says.
"This is an area where I knew it could take off. It just took a while for it to get there," he says. "I think it has a lot to do with us being out there. We've been doing some after-school classes at Endeavor to help out and give the kids something to do. They're the future. If they enjoy it, we'll have students for life."
Even though the majority of students in Lipscomb's classes are adults, there are a few children, including Ava Walker, a student at Minges Brook Elementary School. Her mother, Shannon, says she met Lipscomb at a wedding and that's how she learned about Capoeira.
Ava also was at that wedding and, "Show said Ava would be amazing at it and she just started going. That was over two years ago," Walker says. "She enjoys the people and I enjoy it because it's a very cultural thing and she's gotten really strong. She's worked hard and doing things she didn't think she could do."
Lipscomb's own introduction to martial arts happened when he was a child. His parents enrolled him in Tae Kwon Do classes so that he could learn how to defend himself on Detroit's inner-city streets where he lived.
"I was beat up and I had to fight when I was growing up and my parents got me into martial arts so that I'd know how to fight," he says. "Once someone knows how to fight, people won't mess with you."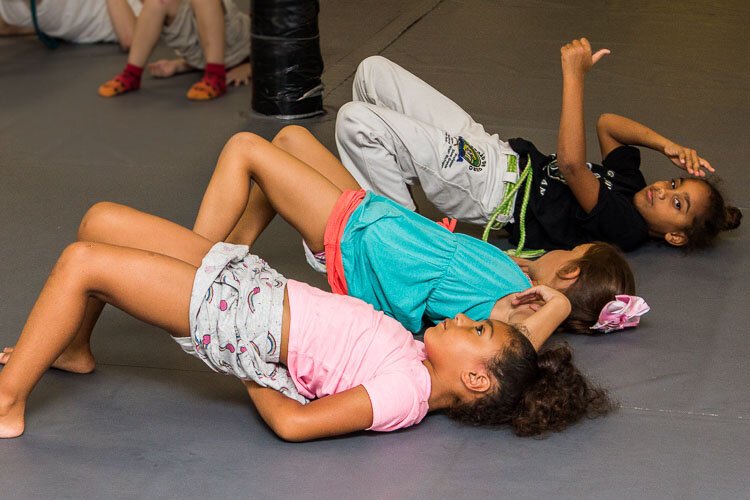 Participants of all ages learn Capoeira. Photo by Susan AndressWhile Capoeira at its core is self-defense, Lipscomb says that is just one component. He says he doesn't sugarcoat it though. It's not easy. "People have fun, but two days later, they may be sore," Lipscomb says. "They're having a great time and they don't realize they're working out."
At the same time, he wants to share the experience with those who are interested. "I just want people to know that we're here. I do this because I love it and want to share my knowledge with everyone who wants to learn."
To see the Battle Creek Capoeira group in action at the International Festival this summer click here.
Photos by Susan Andress. See more of her work here.
Video by Battle Creek on the Ground Engagement Manager Jeff Cotton.
,