REGIONAL—Karen Smith is willing to go to great lengths to raise mental health awareness — 312 miles to be exact.
Smith is walking across the state of Iowa, a journey that began on the Big Sioux River border of Lyon County on Sunday. She plans to cover the Hawkeye State's stretch of Highway 18 by the end of the month.
"I needed to do something more," Smith said. "It had to be big."
It's personal for her. Smith has been a mental health advocate for years as her two adult sons and along with her husband have forms of anxiety, depression, PTSD and other mental illnesses.
"I want people to start talking about it, normalizing the conservation of mental health. Too many people are too scared or ashamed to speak up and say 'I'm struggling. I need help.' It can be anybody in your community," she said.
The idea for a trek across Iowa was inspired by similar feats of athletic activism, she said. Smith has also organized various charity walks near her home in Solon, just north Iowa City.
She began training for the hike in October, walking on various terrains and testing different shoes and other equipment. She also began blogging on Facebook in January about her upcoming endeavor and is keeping it updated throughout the journey. In April, she started a GoFundMe donation pagewhich has raised more than $3,100 so far.
Her traveling pack includes three extra pairs of shoes, lots of socks, tape for her toes and the balls of her feet, an emergency satellite locater, pepper spray, healthy snacks such as protein bars and a backpack water supply with a hose for easy access . She also wears a hat, regularly reapplied sunscreen and a brace on her right knee.
"There has been a little self-doubt along the way. I mean, I'm 47. I'm not a spring chicken," Smith said. "I worry if my body is going to hold up for the whole thing, but I've been 100 percent committed, so yeah, I hope to see it through all the way."
Her regular pace is about 18 minutes per mile, and she is aiming for 15-20 miles a day. She said she did not work out day-by-day specifics in case of weather or other unforeseen circumstances.
As for nighttime accommodations, Smith has a family network of support.
For the N'West Iowa leg of the journey, she sleeps in her parents' recreational vehicle, parked at the Rivers Bend Campground in Rock Valley. They pick her up in the evening and drop her off back where she left off. Her husband and others will fulfill a similar role later on. She also plans on spending some nights in hotels.
Smith said perhaps the most challenging part of the walk is her mindset. She keeps her mind occupied with music — a playlist featuring Ozzy Osbourne, NF and Demi Lovato — plus some podcasts and audiobooks.
The headphones are often drowned out by the wind of passing cars and trucks. One of the reasons she chose Highway 18 was she was hoping for a little less traffic than the four-lane highways that traverse central Iowa near Solon.
"I've trained a lot by walking on highways, so I'm kind of used to it," Smith said.
Even though she's usually only feet from the rumble strips, Smith said she's comfortable with close encounters of the automotive kind.
"There have been a couple of moments," she said. "It's because they're looking at me and you know how you're looking at something and they start veering in that direction. But no, it's not too bad."
So far, she hasn't had many direct interactions with motorists, although she got her first friendly honk halfway between Boyden and Sheldon on Tuesday. She also said the police cruisers haven't stopped her so far.
A positive-minded pedestrian, Smith said she is not too worried about making it to her destination of Marquette, a tiny town on the Mississippi River.
She estimated the full journey will take three weeks since she has summer school duties next month as the secretary for Van Allen Elementary in North Liberty.
Smith said her mental health mission keeps her focused.
"I want to be just like people talk about cancer and diabetes and all that. I want it to be a normal conversation, no stigma, no shame," she said. "More people need to feel comfortable coming forward and saying, 'This is what I need.'"
While her endeavor is admittedly drastic, she said the everyday mission for everyday people should be the same.
"It is an everyone sort of issue," Smith said. "If we can get to those things before they become big, traumatic situations, that's the ideal thing."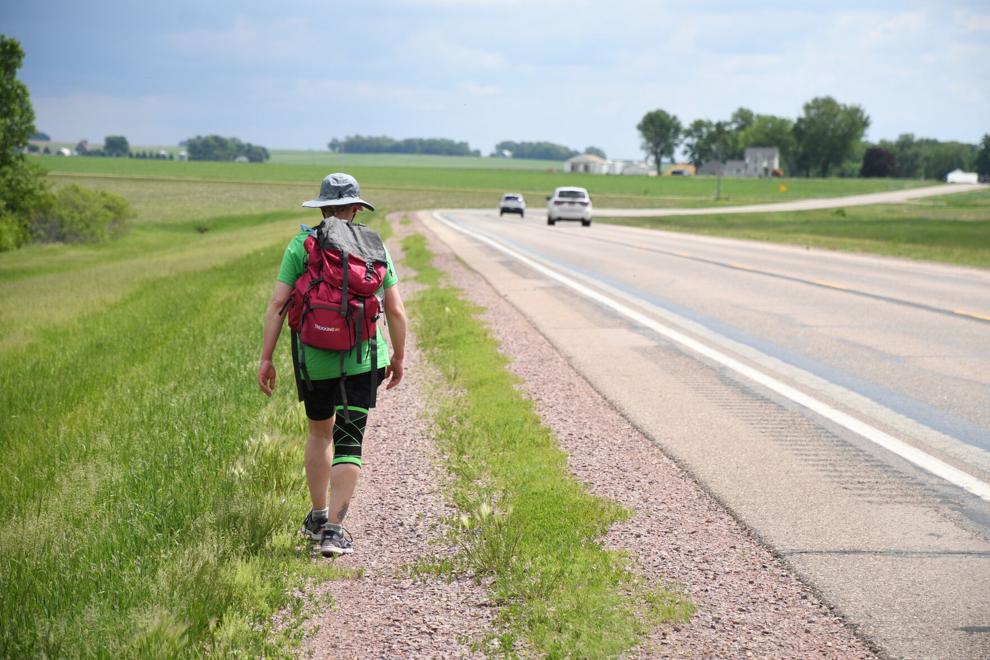 ,