Summer means the best of outdoor food, music and fun. And you will find all three at the July 23 Nisqually Valley Barbecue Rally from 10 am to 7 pm Organized by the Yelm Chamber of Commerce, this year's event features professional and amateur barbecue chefs, bands, vendors, games and more. The family-friendly gathering will be at the Yelm City Park. There's no gate fee and parking is also free.
"It's a great sense of community," says Shelley Nicholson, rally volunteer and co-owner with Dan Nicholson of DZines Creative Solutions & Graphic Designs, one of the many event sponsors.
Line Roy, the Yelm Chamber's executive director, says this year's rally theme is "Saucier and Smokier Than Ever." The list of the cookout's events and activities is a long one. Let's get started!
Food and Beer Garden
Plan to bring a hearty appetite because several professional chefs will be selling their delicious food focused on barbecue items. Line says Puget Sound area businesses participating in this part of the cooking rally are the Comfort Food Café and Snack Bar, Jerk An' Tingz, OG's Smokehouse BBQ and Steele Barrel BBQ.
And, while they won't be selling their barbecue specialties, local amateur chefs will be competing against each other. Competitors who believe they are the best backyard barbecue chefs can enter in a variety of categories judged by local foodies who will awards prizes.
Does just thinking about the barbecue also make you thirsty? Organizers invite adults 21 and over to visit the beer garden for beer, wine and cider during the July 23 rally, and at the kick-off the night before at the park on July 22 beginning at 5 pm
Musicians and Performers
Get out your picnic blanket or folding chair, grab some of the great food, and plan to relax on the grass or sit on a hay bale to enjoy talented musicians and performers entertaining on two stages.
A big supporter of this music and performance part of the rally is Northwest Chevrolet. General Manager Hunter Dinsmore says his company is excited to have the opportunity to be a 2022 stage sponsor. "Since we opened seven years ago, we have been embraced by our local community and have been lucky enough to build amazing relationships within it," Dinsmore says. "Thank you for your continued support and we cannot wait to listen to live music and enjoy some delicious barbecue with everyone!"
Country music singer-songwriter Dakota Poorman is scheduled to perform. "Dakota entertains audiences with his unique style of 'Red, White and Blue Collar' Country with his own original music and his interpretation of music by artists such as Eric Church, Hank Williams Jr., Bob Seger, Randy Rogers Band and Waylon Jennings, " Poorman's website says.
Another local favorite, the Clown Fish band, will be on stage. "Clown Fish is a Northwest family friendly band that has been playing your favorite sing along songs and originals for 10 years," the band's website says. It adds, "Whether it's Rock, Country, Oldies[,] a few Irish songs, the Fish are in the frying pan and ready."
The Prohibition Band will also be sharing its tunes with rally-goers. "Prohibition is a modern, classic & southern rock, outlaw country and rockabilly cover band based in Chehalis, Washington," its Facebook page says.
And Kaitie Wade will be on hand to round out the musical events. Wade is a pop-country singer-songwriter and recording artist from Seattle who has performed in some of Nashville's most famous Honkey Tonks and showcases.
Those attending the rally will be treated to additional performances in the air and on the America's Credit Union stage.
Games and Brisket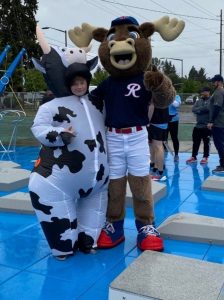 Other entertainment includes a bounce house, outdoor games, playground equipment, splash pad and a timed pie-eating competition with youth and adult categories. Register for the pie contest at the rally. And keep your eyes open for rally mascot Brisket who will be strolling around the park. Maybe you can get a selfie with this famous cow!
Vendors and Demonstrations
Local businesses will have fun giveaways, drawings and goods available for purchase. This year's rally will also utilize the Yelm Community Center, including for barbecue-related demonstrations and a cooling station.
Sponsors
More than 8,000 visitors enjoyed last year's rally. It takes months of preparation and lots of sponsors to bring such a big event to life. Other rally sponsors include Bliss Experience Salon and Spa, Hometown Property Management, Ingrained Bookkeeping, 96.9 KAYO, Liberty Gear Clothing Company, Olympia Federal Savings, Part One Media, Realty One Group Bold, TwinStar Credit Union, Uptown Lounge and 507 Taproom & Filling Station .
To learn more about the 2022 event, see the Nisqually Valley Barbecue Rally website and Facebook page.
Nisqually Valley Barbecue Rally
115 Mosman Avenue SE, Yelm
July 23, 10 am to 7 pm
360.458.6608
Sponsored