It has been a long time since my last travel log but there is a reason for that: I took a break after attending the European Championships in Sofia. My family came to see me and I stayed for over a month in Bulgaria to regain some much-needed stability from this adventurous life.
Going back, lots of things happened since I left Serbia, with my heart melted from the goodness of the Serbian people, many of whom I met during the European Championships too. From Serbia I then arrived to Kosovo, which brought a special feeling, since the two countries were in conflict in the past. Some people had warned me that I'd see a difference there and that people wouldn't be welcoming but when I arrived in Pristina, the capital of Kosovo, people there wondered the same, if Serbia had been treating me well. In both countries I had just incredible moments.
I was hosted by Anton Cena, a passionate judoka who has more gold medals from world and European veteran competitions than there are fingers on his hands. He, his wife and his sons did everything for me to feel comfortable. We climbed mountains at the border between Kosovo, Albania and Montenegro, went to Albania together for a training camp and we talked a lot about judo and Anton's life as a police instructor.
From Kosovo I traveled to Macedonia, beginning in Skopje, where I met Goran Mickovski, my guide for the city. He provided me with me an appartement at the top of Skopje. I was alone there but we could have been 10 as it was so spacious and beautiful.
I began in his club where I met many judoka but most notably Edi, who fought at the Europeans at -81kg. Goran and Edi became good friends of mine and I now want to help Edi to find places to train in order to have more opposition, because itis not very easy for him at the moment, where he is based. At the Europeans he had good fights and became the first Macedonian to win a round at such a level. Sadly for him he then took hansoku make, even though he was leading that next contest. This is the hard truth about judo, everything can change within a second.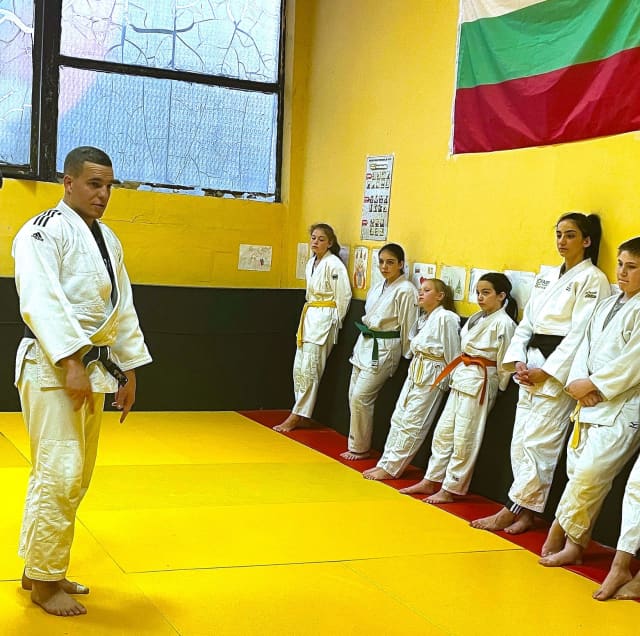 Bulgaria
I visited other clubs in the city and was invited to coach Brazilian jiu-jitsu and also traditional jiu-jitsu. This was a very good experience.
Goran wanted to introduce me to his brother Derian who lives in Prilep. He was keen for me to go there because it was Easter and that's a special time for orthodox people.
I discovered Seishin Judo, where I trained for three days and I even became an honorary member of the club. This club has the peculiarity of having the most veterans of any club in the country. Then they helped me to discover a very traditional Easter. I had to eat non-stop for 48 hours! Following the Macedonia chapter, I reached a weight that I've never seen in my life, so the break time later on was more than welcome to be able to take time for myself and get that back in order.
I've met so many people, who wanted to show me a bit of their culture, it has been amazing, everywhere. The last city I visited in Macedonia was Kavadartsi, the famous city of wine. I was again hosted by a police officer and they covered me with gifts. My bag was about to explode and I had to get another one! I was even interviewed by local TV. So with plenty of good wine, new friends, a new bag and a TV interview, it was quite a rollercoaster.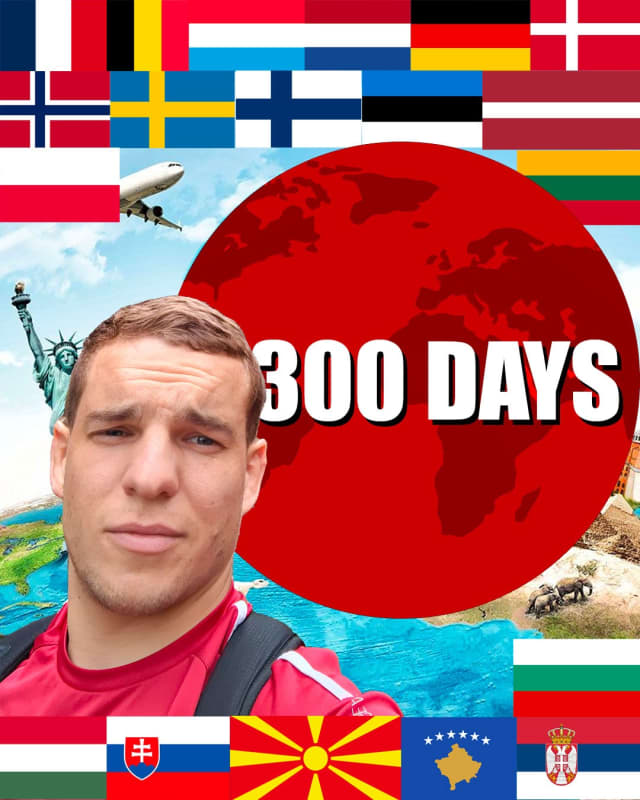 It was then time to go to Sofia in Bulgaria to attend to the European Championships and then take a well deserved rest. I went with Goran, Edi and another judoka, by car. It was quite an experience being with them. Usually when I pass borders with my French passport, I would not say it's a funny or joyful moment, but at least there is nothing bad. When I was with them I saw the border officer being very rude and shouting at them and then looking for every little detail to try to find a mistake. They told me that the relations between North Macedonia and Bulgaria weren't always the best, by way of explanation.
Anyway, we arrived in Sofia and I could watch the European Championships, thanks to the IJF invitation! It was a very good moment for me. I was able to meet friends from every country I had already visited. I spent a lot of time with the Serbians and I could see some of my friends from home in France. I was happy to see Madeleine Malonga who has been a friend for a long time. We were in the same training center in Amiens and she also introduced me to the national coach of Bulgaria. I met some people from the French delegation who I already knew, like Bastien Puget and others who I could talk to for the first time, like Larbi Benboudaoud. It was a good period in my travels and very helpful for my project to grow in popularity with such networking. We ended up all together to have a drink to celebrate the success of the French team that finished as first nation.
After the event, I was not so regular on social media because I had to see my family and then focus on myself to be able to come back to it fresh and healthy again. I took time to visit a lot of Sofia, from A to Z, and also the beautiful city of Plovdiv.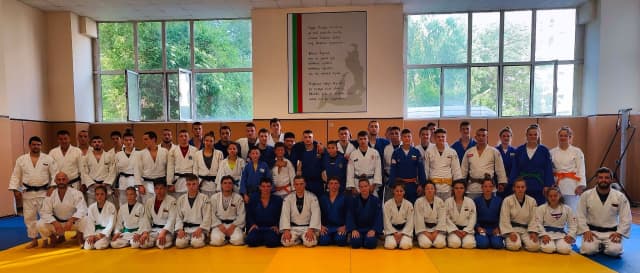 Bulgaria National Team
When I re-started my project after that month, I was invited for the international tournament of Skopje, organized by Goran and something really good happened to me there: I met someone from Sofia's judo club and had a good time seeing them again and also some of the people I knew from Kosovo and Serbia were there. The connections keep building and it's heart-warming to constantly have the feeling of being with friends but also experiencing new things, always having the opportunity to learn.
The Sunday of the competition was a BJJ/grappling event and Goran asked one of the Bulgarian referees to then drive me back to Sofia. Lubomir Guedjev also had some years in judo but he is more involved with BJJ now. He asked me to come to his BJJ club in Sofia and to give a lesson about judo kumi-kata and footwork. On the way back we talked about his projects and mine and it turned out that our projects matched well. Lubomir created an app called Fightscout that is like a LinkedIn for martial arts people. It helps people to connect and maybe bring some permeability between sport disciplines. For me it's a good way of finding more people who appreciate the project.
Lubo has offered to sponsor my next 6 months, without much work in exchange, just because he really likes the spirit of my project and sees our goals as similar. So I'm really happy that I met this very positive person who helped me just at the right moment. It is the right moment now because I'm leaving central Europe and I have to spend a lot on visas and insurance for the next leg. Also I don't receive help from the French government anymore, so I'm now fully on my own. With Lubo helping me I'm now almost independent again, only needing 30% more to make things work.
By the way if some of you want to support me it can be done from 1 euro a month. You can find out more here by clicking here: https://linktr.ee/julienbrulard_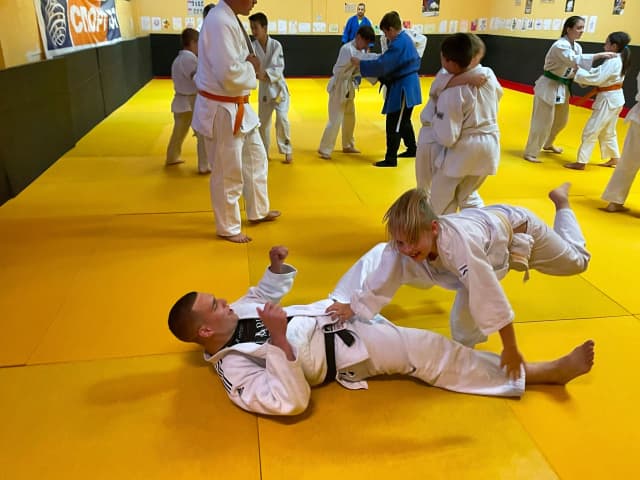 Continuing with the story of Bulgaria, the first judo club I visited was Lokomotiv Judo. The club was founded by Amelie Guihur, the French judoka and her boyfriend Emil, who is Bulgarian. They made a Franco-Bulgarian judo club! I helped with a class in French and it was something new for me with the mix of languages ​​and cultures and a new style of teaching; lovely children and again a nice time.
I visited the national team of Bulgaria too. I was very curious about them because they had good results at the last Europeans and I wanted to see what their secret was. I was very well welcomed, so I decided to get used to a bit of fighting again, since I had stopped training at a high level after I broke my ankle in LIthuania.
Usually when I go to national teams there can be a bit of tension between judoka. Here the atmosphere was really different. I spent some time with the -60kg medallist, Yanislav Gerchev, who was laughing because he was at -73kg at that moment! They are all good friends and they are all very respectful of each other and visitors.
After that I decided to officially change region for my 300th day on the road. I entered a new country, Turkey, after 10 long hours on a bus and began my Euro-Asia travels. I started with Istanbul and was amazed to see such a big city; the first one so big for me, since France. With over 16 million inhabitants, Istanbul is one of those cities that never sleeps, so much to discover there!
I visited many judo clubs there after I got the contact of Kubra, from one of my friends in Finland. She found me an appartement in Fatih which is a nice old neighborhood of Istanbul, for a very reasonable price and then she introduced me to Sinan Sandal. Sinan is the new national coach for men. I went to his dojo to give a class and we spent the day together. Within an hour of being with him, every single day of my week was booked with a judo class. I even had two on the Thursday!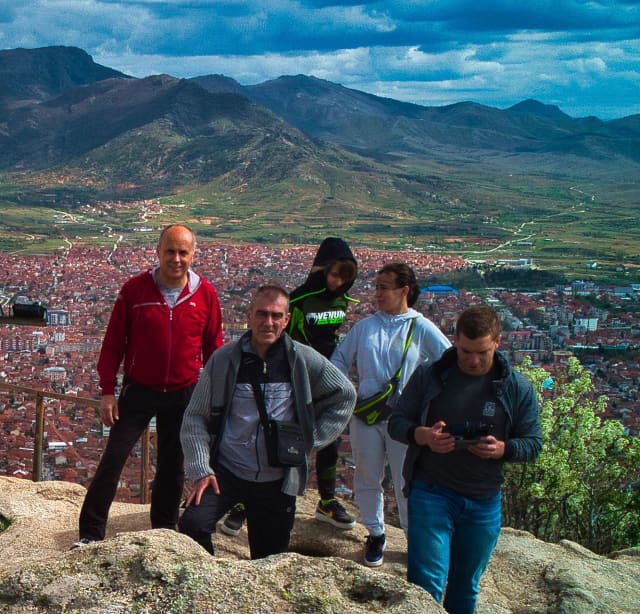 Macedonia
Turkey is one of those countries that is famous for hospitality, but also for tourism. I had one bad adventure in a restaurant in Istanbul where I was scammed and paid 60 euros instead of 6. This is worth many days of food and sleep while traveling so I was not happy but this is a lesson for the future! I have to stay vigilant. I'm going to visit many cities in Turkey including Izmir, Antalya, Kilis, Ankara and Samsun and then I'll move on to Georgia, one of the countries that I'm waiting for the most. Kilis will also be very special, thanks to Nicolas Messner, the IJF Media Director, who gave me the contact to discover the Kilis Judo project! I'll share my feelings about Turkey on social media and YouTube once I leave the country and have had a chance to gather my thoughts and experiences. It's been almost a year since I first set out but it feels like I have only just begun. I have come a long way already though and I'm really proud that my bet was right: judo is a big family and people are always very helpful everywhere. Until next time IJF readers! Thanks!
,