Article content
If Maksi Pallas had been even just a touch better at any other sport, she would likely have missed out on the one she was meant for.
Article content
An Ardrossan native, Pallas has become a national-level handball player who has spent her first year since graduating high school playing over in Europe, and is set to start playing pro next month after signing her first major contract.
None of that would have happened if she had been adept at any other sport in junior high in Ardrossan.
"I funnily enough actually got into handball because it was the only school sports team that I made," she said. "My dad played college volleyball and my brother was also playing in junior high at the time, so I really had my heart set on that for most of junior high. I made the B team for volleyball, didn't make basketball, or badminton, but played on the junior, junior handball team. I was just happy that I finally made a team."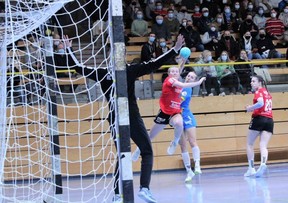 By her Grade 8 year she had shown enough of a proclivity for handball that she was scouted at junior high provincials and invited to play for Team Alberta's U-16 squad, which traveled to competitions in Germany and Iceland that year.
"Again, at the time I was still pretty focused on volleyball, but thought it would be a cool experience to play for the provincial team and see where the opportunity could take me," Pallas admitted. "Germany was my first trip with Alberta, which is funny how things came full circle and I'm now back living here and playing handball. From Grade 8 to Grade 11, I was going nonstop between morning practices, to school, to evening practices and games. Those were extremely busy years, but I was doing it because I loved it. The key moment that really made me want to work and take it to the next level, was losing in the final at 2018 youth nationals to Saskatchewan. We were so disappointed with that loss, but it also made us hungry to work to win the next time. In 2019, we were national champions and had beaten Saskatchewan by I think 20 goals."
Article content
Playing for Team Alberta took her all over the globe and also into a Team Canada jersey.
"Playing for Alberta, as well as Canada, were experiences that I will never forget," Pallas said. "It is such a special feeling to be playing with Alberta and Canada on your back and the amount of pride that comes with it is a different feeling all together. Playing with Alberta allowed me to travel all over the world, from Germany, to Iceland, France, the United States, Japan, Sweden, Denmark and Martinique. I got to play for the youth national team in 2019 in Montreal at the Youth IHF Trophy. We had a heartbreaking loss by one goal in overtime in the final, but still qualified for the World Championships scheduled for the summer of 2020. Obviously, that never happened (due to COVID) which was pretty devastating."
COVID actually ended up giving Pallas, who had played for the Sal Sabres in high school as Ardrossan did not have a team past junior high, a welcome break from constantly playing to recharge her batteries. But very shortly after graduating and turning 18 last summer, she was on another plane headed for Germany.
She signed up to play for VfL Bad Schwartau in the U-18 Bundesliga, as well as the Women's third league with SC Alstertal Langenhorn, getting full-time status in October.
"Since I got here in August, I think I have improved a ton as a player," Pallas told The News. "I've gotten stronger and faster and, I hope, a bit smarter too. I've learned how to read the goalies better and have learned new shots. The biggest difference that I've had to adjust to is the level of experience of all the players here. This May was the fifth year I have been playing handball, whereas most of my teammates have been playing since they were between five and seven-years-old."
Article content
Pallas obviously isn't that far behind, as she has since signed a pro contract for the next two seasons with the Bad Wildungen Vipers, starting in July.
"I still can't believe it," she said. "It's so unreal to me because I had never expected it to happen this quickly, but I'm ready for the new challenge. When I came to Germany in August, I had to set new goals for myself because this was my 'be-all end-all' for so long. Saying I wanted to play professionally seemed so out of reach for me, especially within one year of being here, but I'm so grateful for all of the support from others, especially my family and coaches, both here in Canada and in Germany.
"In these next two years, I will work hard and do my best to keep myself healthy in order to be able to keep training and playing professionally for as long as I am able to. Being away from home is hard to say the least, but I've developed a routine and a feeling of comfort in Germany that has gradually become normal for me."
It has helped that she feels like she is finally starting to pick up the language, taking courses in order to converse with her host family after a rocky start of mainly pointing, nodding and smiling.
"It definitely helped that I was just thrown in the cold water, and was completely immersed in it from the get-go," Pallas said. "A couple months into my stay, I was understanding about 70 per cent of day-to-day conversation, but everyone still felt that they had to speak slow and clear with me to understand. I can't remember what was said or where we were, but I was with my host mom and brother and he replied to her with some smart comment, to which I started laughing at. It was that moment that they knew I was really understanding things. Now they get a kick out of it at every family breakfast when I laugh along and they finally don't have to reexplain the joke to me."
Article content
While focused solely on the next two years for now, the Strathcona standout was asked what her ultimate goals were.
"It would be a dream to play in Champions League," said Pallas, who was in the French Immersion program at Ardrossan. "I could also imagine myself one day playing in France, and getting to use my French again. On the national team side of things, I would love the opportunity to play at Pan Ams. I love to work hard, and I am extremely grateful for my success, but I am always going to want to keep working for more. My coach in Alberta always said that even when I'm standing on the Olympic podium with a gold medal around my neck, I'll still be upset that I missed one shot in the game. While I know that I would be ecstatic to be in that position, he was also a bit right about the perfectionist in me. With that being said, I can't currently see myself being satisfied with anything yet in my career, but I am confident that throughout this experience I will grow and mature in my thinking to know when that time will be. I know I want to keep playing for the next while and I know I want to continue to move up in the levels. What's worked for me so far and what I'll continue to rely on until it doesn't, is to have some big goals in the back of my head, work hard, and take the opportunities that come my way."
sjones@postmedia.com
twitter.com/Realshanejones