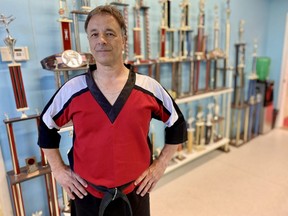 Article content
It was 1975, and Frank Misuraca was an undersized, skinny teenager looking to toughen up when he went to a karate club in Belleville and watched two men spar.
Article content
One of them, he remembers, had a wicked kick. Misuraca had seen enough. He signed up for six months of classes and started a martial arts career that continues today with four decades of KICK Masters Karate and Kickboxing school in Stratford.
"Not too many people will ever find what they're destined to do," he said. "Some will, but a lot will never find that. I always tell people now, if you ever find that thing you're really, really good at, do it, because very few people ever find that. I found that. Martial arts is my thing."
The 64-year-old fifth-degree black belt grew up in Stratford and moved to Campbellford when he was in Grade 8. He wanted to protect himself from bullies, and that, plus a love of Bruce Lee movies, brought him to the Belleville karate school.
Misuraca was a natural, and within two months he was kicking like the man he watched spar. By the time he was nearly 20, Misuraca was a brown belt and essentially running the karate school for his head instructor who was transitioning into a different career.
"It was cool to be the head guy," he said. "If you're up front, everyone is out there and you're leading the class. It was a good feeling.
"Having that experience made all the difference in the world."
Misuraca leaned on that when he returned to Stratford in 1982 and wanted to continue training. He was about to embark on a career that resulted in more than 150 trophies, three national titles and an invite to represent Canada at the Goodwill Games. Misuraca turned it down, a decision he regrets, but one he made at the time because of his reluctance to close his school for two weeks.
Article content
What started in 1982 as Contact Karate Club, a gritty, dark space with used motel carpet in the basement of Bradshaw's on Ontario Street, had morphed into KICK Masters, with dozens of trophies filling the windows of the second-floor dojo at the corner of Huron Street and Forman Ave.
"I never imagined a spot like this," Misuraca said.
The longtime sensei wanted to be different. Instead of focusing on traditional karate methods and trying to win medals at tournaments, he encouraged contact and taught self-defence. He just didn't expect to still be doing it 40 years later.
"It never even crossed my mind," he said. "It never started as a business. That was my biggest mistake. If I did, I would have been smarter at things. Instead of paying rent for 40 years, I would have bought a building."
KICK Masters was a side gig while Misuraca worked full-time jobs. Any extra money he made from teaching went back into equipment, which is why he has close to 50 heavy bags for his students to develop power.
Finding ways to make karate appeal to each student has changed over the years. It has to be livelier now, he said.
"Martial arts, like a lot of sports, can become monotonous because you have to do it over and over and over again. If you want to be good and proficient at it, you have to do it 10,000 times. People figure if they come in, and I teach them how to kick, now they can kick."
Misuraca's old school mentality is one reason why he figures some families have had three generations attend classes at the school. There's structure and discipline, and he's not afraid to say no, but he also knows when to let up.
Article content
"I promise we're going to have lots of fun, but we're going to do it my way," he said. "You don't get to run around unless we're doing running drills or hit bags unless we're hitting bags.
"That's what parents like. It's coordinated and structured and disciplined, but we're still having fun."
Misuraca isnt sure how much longer he'll continue to teach. He's already started to take nights off and let others run classes — a role reversal from more than 40 years ago.
"(Teaching) wasn't an overwhelming thing for me," he said. "I still enjoyed my other life — family, kids, all that stuff, too. This has just been one part of it … maybe a bigger part, but I didn't treat it as a bigger part."
cosmith@postmedia.com