"Food can be both wildly delicious and nutritious. It doesn't have to be either/or," says dietitian Desiree Nielsen.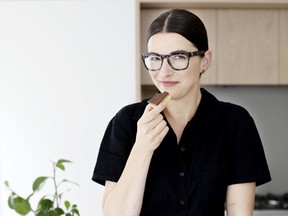 Reviews and recommendations are unbiased and products are independently selected. Postmedia may earn an affiliate commission from purchases made through links on this page.
Article content
Good for Your Gut: A Plant-Based Digestive Health Guide and Nourishing Recipes for Living Well
Article content
By Desiree Nielsen, RD
$32 | Penguin Canada
---
After the release of her first cookbook Eat More Plants in 2019, Desiree Nielsen decided to step away from the one-on-one consultation of clients.
It wasn't a decision she took lightly.
As a Vancouver-based registered dietitian, Nielsen worked to help those suffering with digestive issues such as irritable bowel syndrome, celiac disease and ulcerative colitis find a better way to eat for their bodies. But with the success of her book, she felt she could broaden the reach of her impact beyond her immediate community.
"I knew I wanted to take that accumulated knowledge and offer something that I had yet to see: a cookbook that would teach people about how their gut worked, what was normal and how to address common concerns with food specifically created for that purpose," Nielsen explains.
Article content
Her latest effort, Good For Your Gut offers more than 90 plant-based recipes that underscore the importance of eating with digestive health in mind.
"Gut health is a massive trend right now, but behind that trend is millions of people who are struggling with digestive issues daily," Nielsen says. "Roughly 10 per-cent of Canadians have irritable bowel syndrome, and one estimate put that number at 18 per-cent. The rates of serious inflammatory bowel disease like Crohn's disease and ulcerative colitis are increasing. Currently, over quarter of a million Canadians have IBD and it's expected that will rise to a full one per cent of our population very soon."
With proper nutrition, Nielsen stresses, digestive issues can be better supported, leading to an improvement in one's overall "quality of life."
Article content
The recipes in her latest book are divided into three categories — Protect, Heal, and Soothe, which address the "three core areas of digestive help" — and range from fresh bites like Plum and Radicchio Salad with Tahini Yogurt Dressing to delicious desserts like Lemon Olive Oil Cake and Chocolate and Peanut Butter Caramel Shortbread Bars.
"While anyone looking for delicious plant-based recipes will love the book, the recipes were also designed specifically for digestive well-being," Nielsen explains. "The Protect recipes are for those who don't have too many issues and want to improve or maintain their gut health so these recipes are higher in fibre, plant diversity and fermentable carbohydrates that help drive the growth of the gut microbiome. The Heal recipes are low FODMAP, which means lower in fermentable carbohydrates for those with irritable bowel syndrome.
Article content
"Finally, Soothe recipes are meant to be easy to digest for those with the most sensitive tummies."
Nielsen came up with the recipes using past dishes devoured at restaurants and food from her travels as inspiration, building off these along with traditional flavors from her upbringing to create the combinations on offer in the new release.
"On my phone, I have a note with a running list of recipe or flavor ideas and when it comes time to sit down and think about what I want to create, I start there," Nielsen explains. "During the development process, things may shift due to new ideas or scrapping something that just isn't working but the kitchen has become my creative space and it's so much fun to spend my days cooking."
Article content
When prompted to pick a favorite among the 90-plus eats on offer, she pointed to the Peanut Ginger Macaroons without too much hesitation.
"They are so outrageously delicious and yet the ingredients are really simple," Nielsen says. "And the cacio e pepe pasta, which was inspired by a famous dish from vegan chef Matthew Kenney, which I made low FODMAP, which was a fun challenge.
"It's creamy, garlicky and cheesy even though it contains none of those ingredients!"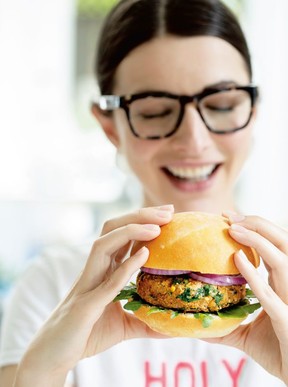 In addition to offering an assemblage of delicious recipes — "I am a firm believer that food can be both wildly delicious and nutritious. It doesn't have to be either/or," Nielsen says — the book offers insight and information into exactly what your gut does, and what makes it healthy.
Article content
"It's also a total gut health guide for everyone from the gut-curious to those who are struggling with their digestive well-being," Nielsen explains. "The first 100 pages are devoted to teaching you how the gut works, what's normal — versus what's simply common, like constipation, as well as offering concrete solutions for better gut health."
Detailing aspects from anti-inflammatory plant-based foods to lifestyle strategies that can help impact overall gut health — including managing stress — the author says the book aims to help people demystify their gut health.
"Taking care of our gut is important, but we tend to get gut health wrong in a popular discourse," Nielsen says. "People suggest giving up gluten or eating food X to boost gut health and it just doesn't work like that. Gluten isnt harmful to most people. But eating a diet that is high in hyper-processed foods and low in the fiber you find in whole plant foods is.
Article content
"It's about pattern over plate. What we eat day in and day out matters more than enjoying an ice cream on the weekend."
Her career as a whole, Nielsen says she has often found that people aren't aware of just how "remarkably complex" the digestive system is — and how much it plays into overall health as a whole.
"The digestive tract also lies at the intersection between immune system and nervous system health," Nielsen says. "Because your gut is an important barrier between you and the outside world, roughly 70 per-cent of your immune function lies along and within the gut space."
Good For Your Gut, Nielsen hopes, will help more people understand the impact of food on their bodies — in a more complete way.
"My wish for Good For Your Gut is that it helps dispel a lot of myths and help folks get their gut health on track as well as showing people how delicious it can be to eat a nutrient-dense plant-based diet," she says .
Article content
---
Zucchini Cacio e Pepe Pasta with Pan-Fried Oyster Mushrooms
This dish is inspired by Chef Matthew Kenney's delicious Kelp Noodle Cacio e Pepe. Cacio e Pepe is a classic Italian sauce traditionally made with Parmesan cheese and pepper that Kenney recreates with cashews. I've substituted zucchini and pine nuts to make an unbelievably delicious low-FODMAP cream sauce that tastes garlicky, cheesy, and utterly craveable. Topped with beta glucan – rich, crispy, fried oyster mushrooms — it is a meal that will make you want to invite people over to share, says Desiree Nielsen.
1 package (12 ounces/340 g) gluten-free pasta
1/4 cup (60 mL) pine nuts
5 tbsp (75 mL) avocado oil, divided
1 1/3 cups (325 mL) peeled and chopped zucchini (about 1 medium zucchini)
Article content
3/4 tsp (3 mL) salt, divided, plus more for seasoning
1/2 tsp (2 mL) freshly cracked black pepper, plus more for seasoning
2 tsp (10 mL) nutritional yeast
1 lb (450 g) oyster mushrooms, trimmed and separated
1 tbsp (15 mL) fresh thyme leaves
Bring a large pot of water to a boil. Cook the pasta according to package directions. Drain in a colander, reserving at least cup (60 mL) of the cooking liquid. Rinse the pasta under cool running water. Return the pasta to the pot off the heat.
Heat a medium skillet over medium heat. When hot, reduce the heat to medium-low and add the pine nuts. Toast, stirring often, until the pine nuts are fragrant and golden, 2 to 3 minutes. Transfer the pine nuts to a small food processor (or bullet blender).
Article content
In the same skillet, heat 1 tablespoon (15 mL) of the avocado oil over medium heat. Add the zucchini and cook, stirring occasionally, until softened, 6 to 7 minutes. If the zucchini is browning too quickly, reduce the heat to medium-low. You want the zucchini soft and golden, not crispy and brown. Season with 1/4 teaspoon (1 mL) of the salt and some pepper. Transfer the zucchini into the food processor with the pine nuts. Wipe the pan clean.
To the food processor, add 2 tablespoons (30 mL) of the avocado oil, nutritional yeast, the remaining teaspoon (2 mL) salt, and the pepper. Blend until smooth. It will be very thick at this point. Set aside.
In the same skillet, heat the remaining 2 tablespoons (30 mL) avocado oil over medium-high heat. Add the mushrooms and fry, shaking the pan occasionally so they don't stick, until golden brown and almost crisp on one side, about 4 minutes. Turn the mushrooms over and fry for 2 minutes more until golden brown. Sprinkle with a generous pinch of salt, more pepper, and the thyme.
Article content
Add 2 tablespoons (30 mL) of the reserved pasta cooking liquid to the sauce. Mix together to loosen up the sauce. (I like to blend with an immersion blender.) Toss the sauce with the pasta. If the sauce looks too thick, add more pasta cooking liquid, 1 tablespoon (15 mL) at a time, tossing after each addition, until the sauce coats the pasta well but is not runny.
To serve, divide the pasta among shallow bowls and top with the mushrooms.
Serves 3 to 4.
Excerpted from Good for Your Gut by Desiree Nielsen. Copyright © 2022 by Desiree Nielsen. Published by Penguin Canada, a division of Penguin Random House Canada Limited. Reproduced by arrangement with the Publisher. All rights reserved.