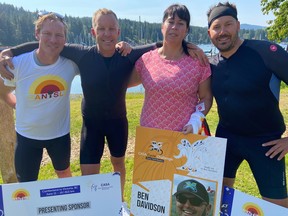 Article content
Through old-growth forest we could see waves crashing on Vancouver Island's magnificent sandy bays as our cyclists climbed and dived along lonely roads.
Article content
Our party of 18 cyclists and support crew came very close to black bears and their cubs, spotted elk with massive antlers while overhead a variety of birds serenaded us.
But there was a keen sense of a missing element.
That would be Haida Gwaii artist Ben Davidson, who had planned this VanIsle trip with Edmonton's six-time Canadian cycling team member and hotelier Matthew Decore.
Sadly, Davidson, aged 44, the father of five, died unexpectedly of a heart attack in August 2020.
"Ben and I had become great friends and had worked out our bike route while traveling the island on motorbikes," said Decor.
The duo had planned to gather a party and make a tour in support of CASA, which provides aid for children, adolescents and their families with mental health and addiction issues.
Article content
"Ben was very happy on Haida Gwaii with his wife Tawni and their children, but he was fascinated by the many different aspects of Vancouver Island," said Decor.
Decor's and my friendship with Davidson began in 2013 when my friend Dr. Peter Lake, whose practice was on Haida Gwaii, called to invite me to a bike race on the island.
Knowing it was one of the richest biological and cultural areas in North America, I quickly accepted and soon found myself immersed in countless impressive totem poles in Haida Gwaii's northern village of Masset.
The more I thought about it, the stronger the idea became of cycling back to Edmonton with a totem pole carved by Davidson.
Decore, Allan Mayer, who leads next week's CASA bike trip to southern Alberta, and accountant Ron Pawlowski, went over to meet Davidson and we quickly shook hands on a deal.
Article content
Decore had declared last week's ride to be in Davidson's memory while CASA's Nadine Samycia, traveling with us, says there will be another tribute to Davidson this fall.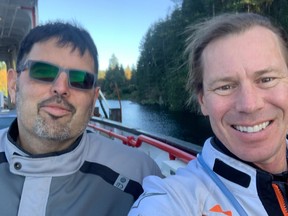 Davidson, whose work has been exhibited in galleries and private collections around the world, apprenticed with both his father, Robert Davidson and his uncle, Reg Davidson.
Having been talked into being a support driver by a friend, I was waiting on our second day for our riders to finish a 107-kilometre ride from Courtenay to Heriot Bay on Quadra Island when I received a major surprise.
"We are flying in Ben's wife Tawni to stay with us for a couple of nights," said Chad Stewart, of Concrete Blonde Hair and Body. He shared expenses with his best friend Shane Kyle, of JDK Heating and Cooling, and Neil MacGillvray, president of Camgill Enterprises.
Article content
(A sad note: MacGillvray, on his bike, was hit by a car just before the ride began last weekend and was treated in Victoria General Hospital for a week.)
Tawni told riders: "I miss Ben. We all miss Ben. He was a really good dad and husband."
She later added that both had pledged their relationship would never be broken.
Her visit was spirit-lifting for our cyclists riding 815 kilometers throughout Vancouver Island.
The route began in the quaint town of Cumberland in the Comox Valley and wound through the islands of Quadra, and Cortes in the Salish Sea. It went on to the southeast coast of Port Renfrew to end in Victoria.
Entrepreneur Dave Bellous first joined the Haida Gwaii CASA-bound bike ride in 2019 when it was heading for Haida Gwaii.
Article content
"As I got to know more about CASA and the work they do, I realized how important and essential their work is to so many," he said.
"I also started to learn about how great the need is for mental health supports for Alberta children, adolescents and families, especially with the impacts to children through COVID.
"While CASA provides excellent services, the demand far exceeds their capacity. I am proud to be part of a group raising support for this worthy organization."
Veteran rider Peter O'Brien said when he helped plan the pre-pandemic 2019 VanIsle trip, he was to ride it and then drive in support of next week's southern Alberta tour.
"But with my wife Rachel's passing, I am super honored to make the southern Alberta ride on behalf of Rachel," he says. "This biking community has been a lifeline for me this year."
The second ride means an extra 800 or 900 kilometers on the bike, but he said that is not an undue hardship for him.
"These rides are quite manageable and our planners work hard to keep them that way," he said, adding "Riding back-to-back tours with my buddy John Bodnar is kind of like our being 14-year-olds on our bikes again "