Does Daniel Ricciardo like Max Verstappen? Well, we finally have an answer for that, via the 'Honey Badger' himself. While doing a segment for the McLaren team, Ricciardo revealed a few things about his relationship with Verstappen that might take many of their fans by surprise, who eagerly wait for the two friends to meet up.
ADVERTISEMENT
Article continues below this ad
The two drivers partnered with each other from 2016 to 2018 for Red Bull. Fans believed the pairing to be rather unlikely; but in a surprise for many, the two got along very well. Verstappen and Ricciardo seemed to genuinely enjoy each other's presence, marking their friendship as a rarity in motorsports.
ADVERTISEMENT
Article continues below this ad
Daniel Ricciardo calls Max Verstappen just a friend
Together, Ricciardo and Verstappen have given the F1 crowd some of its funniest moments ever. However, with social media of this day and age, friendships are often stretched. Notably, during the Google web search interview, Ricciardo clarified the nature of his bonding with Verstappen. He said, "Daniel Ricciardo does like Max Verstappen. I would just draw the likes, I wouldn't say love's."
There is no formal relationship or anything. But yeah I have a good let's say friendly relationship with Mr. Max Verstappen."
DIVE DEEPER
Many of Verstappen and Ricciardo's fan bases are loaded with content from the time when they were teammates. Dare one of them to mention each other? They circulate it like wildfire. And if the two meet, that is a whole different story and a great day for the fans.
Amidst clashes and rivalries, they still had a friendship
ADVERTISEMENT
Article continues below this ad
It is very understandable why the two drivers are so loved together. Ricciardo and Verstappen arguably bought a likeability and charisma to the screens both individually and together. It was a different side to the drivers, and friendships like these are not often seen on the paddock. However, even their friendship wasn't without issues, and the first cracks emerged in 2017.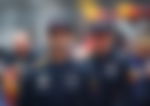 The drivers clashed at the 2017 Hungarian GP, ​​where Verstappen famously clattered into the Australian. The two for those seasons only awaited a championship-winning car, and things could've boiled over. Ultimately, Ricciardo also did not find a place for himself at the Austrian Outfit for the 2019 season and shifted to a different team.
ADVERTISEMENT
Article continues below this ad
Watch This Story: F1 Drivers Fighting on Track
However, whatever small or long time together, fans did love this easy-going partnership. Do you think it can happen ever again in their careers?