Risk
Ian Hart
Andrew Curtis, Group Health Safety & Wellbeing Manager for Vodafone, and a team of his colleagues have signed up to take part in the 2023 Talisker Whiskey Atlantic Challenge, a 3,000-mile unsupported rowing race from La Gomera in the Canary Islands to Antigua in the Caribbean. SHP caught up with Andrew to find out whether, as a safety and wellbeing professional, he may have a different approach to the challenge than others.
Andrew came into safety fairly late on in his working career, from the police – where he served for 14 years. He has since embarked on a career in health & safety, where he now has a global remit for health, safety and wellbeing for Vodafone.
Andrew told SHP, "I was doing a lot of work on planning for events including football matches and demonstrations and that was where I first came across this term 'risk assessment' and thought, 'what on earth is that about and where do I start ?'. When I left the police, I explored health & safety a bit more and eventually studied for my general certificate and then went on to complete my diploma. I have been asked how someone goes from the police into health & safety, but in my mind it's essentially all about looking out for people, I guess I moved away from policing criminal law, to policing safety law."
What is the challenge and who is in year team?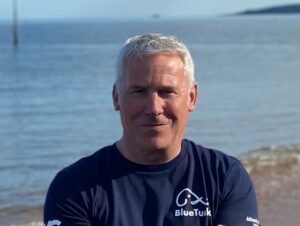 Andrew Curtis (AC): "It's called the Talisker Whiskey Atlantic Challenge, dubbed the 'world's toughest row'. It's a race from La Gomera in the Canary Islands, 3,000 miles across to Antigua in the Caribbean. We will set off in December 2023, so it still feels some way off, however it was only a moment ago that we were two years out and now it's only 18-19 months away, so time is racing by very quickly.
"Vodafone are the key engineers behind it through the Vodafone Foundation, they've previously participated in a number of endurance events and challenges, involving Vodafone employees, to raise money for charity. They've taken part in John O'Groats to Land's End bike rides and climbed Kilimanjaro. They announced at the end of last year that they were going to be entering the Talisker Whiskey Atlantic Challenge and started a selection process.
"There are two teams of four involved from Vodafone, a guy's team and a girls' team, and we'll be joining 30-40 other crews, which include a mixture of solos, doubles, trios, quads and a five-person crew . My team is made up of myself, David Tiplady, Aaron Kneebone and Chris Wood.
"It's an unsupported row, so once we set off, we cannot take any support along the way. We're required to carry all our food and provisions with us from the start and we don't get any other help along the way unless it's in case of an emergency. The organizers even make sure we bring all of our rubbish across with us and haven't thrown it into the ocean, otherwise we could be disqualified. This sustainability angle of the row is also an important element for me."
"The boat is a specialist ocean rowing boat,28-foot long, about 5-foot wide and around 6-foot in height, with crawl-in cabins at either end, which are the sleeping accommodation. We'll have two people rowing and two resting for two hours at a time, rotating around 24/7."
"The world record for a quad is 29 days, however times are very much reliant on the elements. We've seen images of some of the amazing marine life and scenery that previous participants have experienced and we're keen to make sure we seize the moment to enjoy these for ourselves, so right now we're setting our sights on finishing inside 40 days."
What is your background in sailing and how does being on the water help your mental wellbeing?
(AC): "As a family, we've always been involved with water sports, including rowing, sailing, scuba diving and even surfing, although for me that's mostly lying on a board looking at the waves. We've been sailing for about 10 years and routinely go on sailing holidays. I think the days of lying on a sun lounger by the pool are now long gone. We prefer more activity-based breaks.
"During lockdown I was routinely using my rowing machine at the end of the day to de-stress, unwind and clear my head. I still find it really helps after sitting in front of the computer for long periods."
"When I was much younger, I did a couple of endurance rows for charity. My daughter was rowing at a club for several years before COVID, she was doing well and was quite successful, so I've spent a lot of time in and around rowing clubs and have a real love of rowing.
"What I enjoy most about rowing is that togetherness, that unity, that precision of timing, which is so important, because if one person is slightly out of sync, then the boat doesn't move as well. You can get involved in individual or team sports where your efficiency and precision aren't quite as obvious and essential to the final outcome. Whereas, in a rowing boat, it's from one to four, or one to eight and everybody needs to be literally pulling together in unison."
How have the communication skills developed in the police and in health & safety helped with the teamwork element of rowing?
(AC): "Communication is key. I still recall the reference to the need for 'Accuracy, Brevity and Speed' on the radio in the police, and I think applying ABS in comms in performance teams is also true. I think in all teams you've got to communicate effectively, but then you also need to be aware of the situation and be able to pick people up, take them on that journey and make sure they're very much part of the team. Keeping the morale and the energy high, because again that's key to performance.
"I'd like to think that I can take those teamwork attributes into the row. We're learning now that it's as much a mental challenge as it is a physical challenge. I think how we operate and perform as a team, how we keep each other motivated and look out for one another, is going to be a vital part of our success in this challenge."
As a safety professional, do you look at the element of risk involved and do anything differently to prepare for a challenge like this?
(AC): "In terms of planning, I'm wary that you need to look after your personal health and hygiene and make sure all of the tools and equipment onboard are working properly.
"There are some basic rules that everyone needs to adhere to during the row, fundamental things like making sure the hatches on cabins at each end are closed at all times, because if you capsize, the boat will self-right, provided you've got the air pockets at either end in the cabins. Other things also, like making sure you are harnessed onto the boat at all times. Essentially, just like in any high-risk activity, failing to prepare or cutting corners is a recipe for failure.
"It's also about making sure you keep challenging yourself. There are risks in all walks of life but what I don't want to do is miss out on amazing experiences and be left thinking about the 'what ifs' and having any regrets. My approach is, that if I can nail this and get this right then really there aren't any insurmountable obstacles in life. If I can get through rowing across the Atlantic, I can kind of do most things…"
"Most of all I want to make sure that as a team we are well drilled and well prepared to ensure we get the most enjoyment and reward from the row. There is risk absolutely, but I think that some of these are risks that we can avoid. I know we all want to make sure that we're doing our best to look out for each other and to make sure we all get home safely."
How are you building that trust and relationship with any other members of your team before you embark on this?
(AC): "This whole experience is fascinating. Before selection, none of us knew each other. Although we all work for Vodafone, we'd never met. So, it's very much a social experiment. It's about how are we going to gel as a team. We've got a few team events planned, where we'll spend time with each other and do some essential training including survival and first aid at sea courses. That will be our first opportunity to really bond and start building those relationships. We also need to start training out on the water, including some longer overnight sessions on the boat. I'm sure by the end of all this we're going to know each other very well."
Who are you raising money for?
(AC): "There are two conservation charities. One is Tusk, which is an African wildlife conservation charity that the Vodafone Foundation already work with to protect the wildlife and local communities. The other was a team choice, the Blue Marine Foundation. One of their main aims is for 30% of the world's oceans to be conservation areas by 2030."
The team's name is BlueTusk, after the two charities."
Race facts
Each team will row in excess of 1.5 million oar strokes during a race.
The fastest row across the Atlantic was a four man team who finished in 29 days, 14 hours and 34 minutes.
The waves that the rowers experience can measure up to 20ft high.
Rowers burn in excess of 5,000 calories per day.
In the 2018 race, solo rower Kelda Wood (Row 2 Raise) was accompanied by a whale for 7 days.
And finally…
(AC): "I'm sure everyone agrees that the health of our planet and the wildlife is in a precarious state and the need to raise awareness and take positive action is now. We know that we're fortunate to have this wonderful opportunity, but the team still have a long way to go to both get us to the start line and to raise important funds for two very important charities. If there are companies or people that would like to get involved in supporting our endeavour please get in touch."
For more information please contact the team at [email protected]
To help BlueTusk raise funds to get them to the start line go to their Crowd Funding page, which can be accessed here.
If you'd like to support Andrew and his team, you can do so here.
You can find out more about the Talisker Whiskey Atlantic Challenge, here.
Click here to follow Andrew's journey with Team BlueTusk, on SHP…
When SHP met Louis Theroux…
The Safety & Health Podcast brings you the full recording of Louis Theroux's keynote session at Safety & Health Expo.
Louis sat down with SHP Editor Ian Hart, in front of a packed Keynote Theater audience, to discuss all things, from communicating effectively and working in hostile to health and health and wellbeing.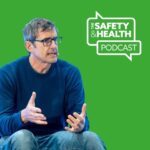 Related Topics