Arnold Schwarzenegger is a man who has worn many hats throughout his life. Starting with being a champion bodybuilder, he has rocked the role of being the ideal action hero, too. Transitioning into a new phase, Arnold joined politics and found success there too, as he served as the Governor of California for two terms. If all this was not enough, Schwarzenegger has also been a real estate mogul.
ADVERTISEMENT
Article continues below this ad
The latest in a long list of roles for Arnold is that of a grandfather. While he is rarely seen with his granddaughters, Katherine Schwarzenegger posted a photo of Arnold with Lyla in his arms.
ADVERTISEMENT
Article continues below this ad
Rare photo of Arnold Schwarzenegger with his granddaughter
While most show appreciation to their fathers on Father's Day, the internet era has unified people in one way – posting a photo on social media to wish our fathers. Keeping up with this 'modern tradition', Katherine Schwarzenegger posted a series of photos on her Instagram.
The caption on the post read, "My Guys! Happy Father's Day to my wonderful dad/fun-filled Opa, and to my amazing and loving husband. I am so grateful. We are all so lucky to have you both!" In the string of photos was a picture of Grandpa Arnold holding baby Lyla in his arms, close to his chest. The photo shows how close Arnold Schwarzenegger and Lyla are.
Another noticeable thing about the post is how Katherine is not freaking out about Arnold Schwarzenegger holding Lyla. The famed author has previously voiced her fright over him holding her babies. The father-daughter duo engage in friendly banter over properly holding babies almost every time Katherine comes over with her babies.
DIVE DEEPER
The post contained a photo not only of Lyla and Arnold but others as well. There were photos of Arnold with Chris Pratt and baby Katherine. Also in the post were photos of Pratt with his daughters, Lyla and Eloise.
The easiest role in Arnold's life
Schwarzenegger has arguably been the definition of being the best at everything. Whatever Arnold has touched has tended to turn to gold. The 'Austrian Oak' has found immense success in all his endeavors. But, amongst all the roles Arnold has undertaken, being a grandfather has been the easiest, according to him.
ADVERTISEMENT
Article continues below this ad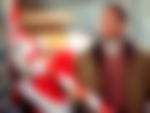 With five children of his own, Arnold knows his way around a baby. While taking care of a baby is an enormous responsibility, Schwarzenegger views it as more of a fun activity. Arnold once said it was the easiest thing to be a grandfather.
Talking about spending time with Lyla, Arnold said whenever she comes over, he plays with her for an hour or two. Puts her on the horse, puts her on the dog, and after a couple of hours, everyone leaves. "It's fantastic," said Arnold.
ADVERTISEMENT
Article continues below this ad
But now that Arnold has become a grandfather to two baby girls, will it still be the easiest thing for him to do?