As the pre-Broadway production of "The Karate Kid: The Musical" plays out on stage at the Kirkwood Performing Arts Center, Tracy's Karate Studio in Kirkwood and Robinson's Karate in Crestwood have long-running histories of their own to share.
Founded in 1969, Tracy's Karate Studio has seen many students grow in skill and self-confidence both on and off the mat. Led by a father-son team, Tracy's Karate is based on the principle that everyone deserves a chance to be trained in the art of self defense.
Tim Golby is the owner and Dan Golby is the manager of Tracy's Karate Studio. Both father and son have emotional ties to the studio, having both learned and taught karate at the facility located at 10220 Manchester Road.
Tim and Dan Golby bring a family element to their place of work, which adds to the uniqueness of their studio. Dan Golby said that as a child, he took his first steps within the walls of the building located in the same place it stands today.
"I grew up here. For me, it's just been something that I always had and I always loved," said Dan Golby.
Both father and son believe karate should be available for all willing participants, which is why their studio is one of the few that offers private instruction as well as group classes that are open to everyone, training students ranging from ages 5 to 80. Those who choose private tutoring will appreciate the opportunity to learn in a personal environment.
"The advantage there is that everybody learns at different levels. Instead of putting them all in a group where the strong survive and the weak perish, everybody can be successful when you are able to do it one-on-one," said Tim Golby.
He added that one of the studio's main goals is to promote self confidence among all students. He said earning the ability to defend themselves gives people self assurance and more confidence.
"It's the kind of thing where if you work at something really hard and you perfect your skills, it does give you a lot of self confidence, and it enables you to do things in other aspects of your life as well," said Tim Golby .
Tracy's Karate also aims to emphasize the importance of self-defense skills. Tim Golby believes that people must always be aware and alert, as being attacked is a possibility at any time. He said being able to defend yourself is an important skill that he encourages everyone to learn.
"Learning karate is a great step to believe in your own abilities and keeping yourself and the people around you safe," he said. "You need to be safe in the water, but you don't need to be an Olympic swimmer. It's the same thing with karate. All people should probably train for six to 10 months to really make sure that they can protect themselves in a self-defense situation. I think that should be more universal than it is."
Mark Smith, who has trained at Tracy's Karate for the past six years, is glad he's learned self-defense tactics through karate.
"The discipline that you receive and the physical activity makes you feel like you can handle any situation," Smith said.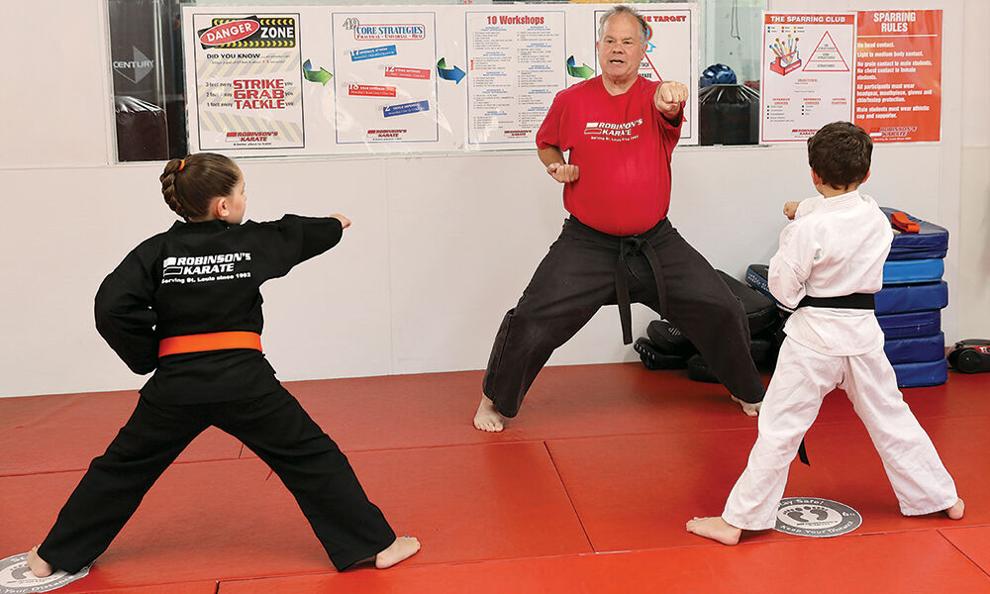 Robinson's Karate
Robinson's Karate, another long-standing studio in the area, has been educating patrons of their studio for decades. Located at 8738 Watson Road, the studio is celebrating its 30th anniversary this month. Robinson's Karate is open to a variety of ages and accepts students ages four and older.
Stephen Robinson, who owns the studio, has earned his black belt in karate and takes pride in passing on his knowledge, not only of the physical martial arts, but of life lessons to anyone who walks through his doors. He says that through the programs, students become more aware of the importance of hard work and perseverance.
"When you apply yourself, you get better at it. When you get better at it, you get more confident, you get more disciplined, and you have to have discipline to get good at something," said Robinson.
The studio's numerous self-defense classes aim to match all levels of students from white belts to black belts, and are designed to meet the needs of every student with multiple programs specifically designed for women and young children. In addition to training, Robinson's also periodically brings in a licensed psychologist who helps teach children ways to deal with bullying, as well as a street self-defense class for women.
Like the Golbys of Tracy's Karate, Robinson said his studio is dedicated to ensuring its students reach the end of their program with greater self confidence. He said the most gratifying part of his career has been watching generations of students learn and grow while forming personal relationships with them along the way.
"When a child enjoys something and there is a good relationship between the student and the instructor, you can really see an individual, a child or an adult gain a lot of confidence," he said. "An individual goes from a white belt to yellow belt, yellow belt to orange belt, and the more they progress, the more confidence you're going to see."
That has certainly been the case for Anne Williams and her daughter, Olivia, who both train at Robinson's Karate.
"Learning a new skill at my age has been really fun and encouraging, and I know that it's helping my body," Williams said. "I'm definitely not a ninja, but I feel like I could defend myself better than I ever could before, if I needed to."
Williams also loves watching her fourth grade daughter, who is already a black belt, grow through karate.
"For her, it's that intrinsic motivation, that 'I want to keep going, I want to get to that next level,'" Williams said. "I think it's been good for her mentally that way, just that motivation and encouragement to keep going and keep doing her best."
One of the most important lessons Robinson has learned through karate and hopes his students will come to understand is the importance of learning
to overcome obstacles and challenging themselves. He said he learned that lesson in the process of earning his brown belt — the belt he earned before finally being awarded his black belt, the highest achievement in karate.
"When I earned my black belt I knew what I was up against, but my brown belt, it kind of pushed me over the edge." Robinson said.
A Little Inspiration
For those looking for a little inspiration or a night of entertainment, the production of "The Karate Kid: The Musical" runs through Sunday, June 26, at the Kirkwood Performing Arts Center.
"Somebody told me about it and I was like, 'Oh that would be the perfect thing for Olivia and I to go to together', so we definitely have plans to go see it," Williams said.
Annie SanFilippo is a journalism student at the University of Missouri-Columbia and an intern for the Webster-Kirkwood Times.
,