We had a bad feeling, probably because the second day had been great in terms of quality. Fortunately it was just that, an unwise premonition, because the third and final day was a masterpiece. Sometimes it's good to be wrong.
The Georgian performance also did not change, with representatives in all the men's finals of the day. This is what happens when you prepare things well.
-90kg Stats don't lie
Beka Gviniashvili was going to be a judo star, until the figure of Lasha Bekauri emerged. With the Olympic champion absent, Gviniashvili led the pack of four Georgians. This is a category that they are good at, but the only one who reached the last step was Gviniashvili, who crushed all his opponents. Krisztian Toth is a seasoned veteran of a thousand battles and he still has plenty of rope left. In Tbilisi he avoided all the pitfalls and appeared in the final against Gviniashvili.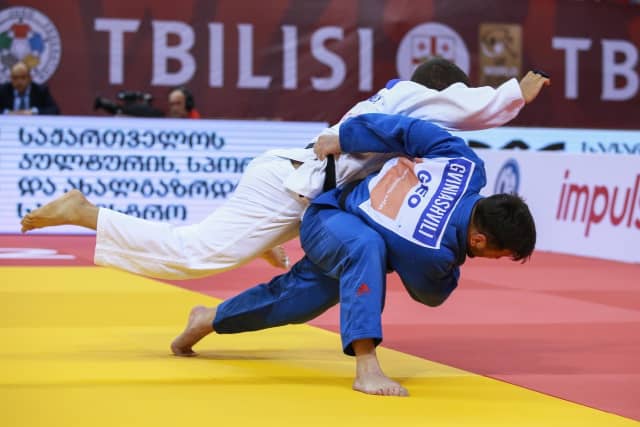 Beka Gviniashvili defeating Krisztian Toth
Gviniashvili and Toth have met 9 times in the junior category, with 8 wins for the Georgian. Since they have been on the World Judo Tour they have met eight more times and Toth has lost them all. Stats being what they are, although Toth probably wasn't thinking about it too much, there was no miracle for the Hungarian. Gvniniashvili scored waza-ari and was far superior. It is clear that he has the measure of Toth and he knows it. Toth ended up desperate and with three shido. Gviniashvili won his third grand slam gold.
From left to right Beka Gviniashvili and Krisztian Toth
Frenchman Maxime-Gael Ngayap Hambou won bronze beating Georgian Giorgi Papunashvili. Ngayap Hambou dominated the entire match, scoring waza-ari and waiting for the time to run out. Papunashvili had no chance of victory. The fight for the second bronze pitted the Italian Gennaro Pirelli against the Japanese Mukai Shoichiro, who did not have a particularly brilliant day. Here though, Mukai had his best match of the day. First he scored waza-ari and then he dedicated himself to managing his advantage until the time ran out.
Medals, checks and flowers were presented by President of Georgian Judo Federation, Mr. Giorgi Atabegashvili and IJF Director of the New Technologies and High Performance Commission, Mr. David Kevkhishvili
-78kg Getting stronger
Ever since she recovered from her serious injury and later from depression, Anna-Maria Wagner is as constant as a star in the sky. World champion and a bronze medallist at Tokyo 2020, the German arrived in Georgia with the status of a great favorite. She did not tremble in any fight and won them all by ippon until reaching the final to face a woman with a huge record. The Brazilian Mayra Aguiar has also had serious physical problems that she has overcome patiently. In Tbilisi she offered seriousness and concentration, plus good judo, which helped her to eliminate the French former world champion Audrey Tcheumeo in the semi-finals.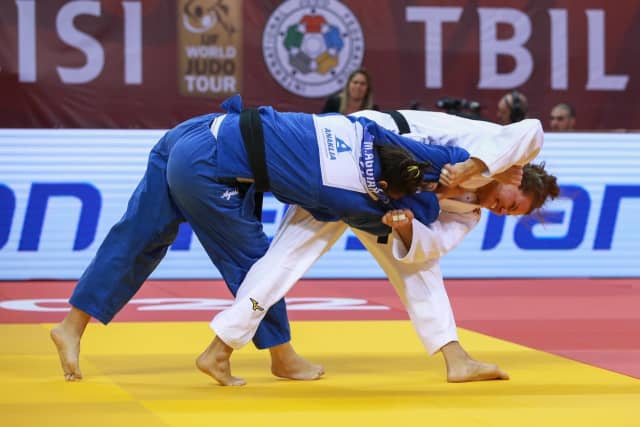 In white judogi Anna-Maria Wagner defeating Mayra Aguiar
Wagner (GER) is getting stronger every day, with more and more confidence. In the final she came out in a rush and at 45 seconds she scored waza-ari. Aguiar (BRA) reacted but something was missing to translate it into points. She worked hard to find her way but was almost on the receiving end of another score and that shook her resolve and she lost the initiative. Wagner controlled the end of the match by working on the ground. It is her second victory of the year in as many tournaments, after winning in Antalya.
Natalie Powell and Tcheumeo could have seen each other in the final because they have the level for it. They fought for the first bronze instead. The British fighter scored ippon and from the French from the podium.
The Ukrainian Yelyzaveta Lytvynenko surprised everyone with excellent judo, despite her 18 years and her position of 127 in the world ranking. She won her first fight, made it very difficult for Tcheumeo and won the honor of fighting for bronze. To win that she had to defeat the Dutch Karen Stevenson. It was not a beautiful fight but we had to go assign the medal. The one who found it was Stevenson, with twenty seconds to go; waza-ari and medal! Lytvynenko could appreciate how far she still has to go to the top, but she keeps climbing.
Medals, checks and flowers were presented by IJF Events Director, Dr. Lisa Allan and Double World Champion and Silver Olympic Medallist, Mr. Tengizi Khubuluri
-100kg 19 seconds
Here Georgia acted as a bully because he neutralized any hint of resistance. Giorgi Beriashvili and Onise Saneblidze reached the final to be certain of adding another gold to the official medal table and allow the public to enjoy a stress-free fight, knowing that the country's anthem would sound at the end. Along the way were the Uzbek Otabek Turaboev and the Georgian Ilia Sulamanidze, from whom much more was expected. Saneblidze disposed of Turaboev with amazing ease. Beriashvili had a more complicated road against Sulamanidze. Only when the referee awarded both two shido did Beriashvili go on the attack, scoring ippon.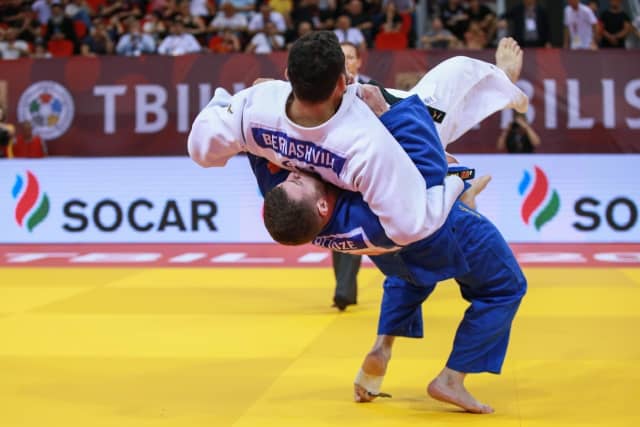 In blue judogi Onise Saneblidze defeating Giorgi Beriashvili
Saneblidze was great! First he slipped and fell to the ground. Then he got up, attacked with a spectacular ura-nage and landed Beriashvili with a crash to the madness of the crowd; all that in 19 seconds. On days like this, it's wonderful to be wrong.
Turaboev successfully fought for bronze by defeating Kazakh Aibek Serikbayek. German Daniel Herbst had to dance with Sulamanidze and you already know that Georgian rock and roll is not made for beginners. It seems that Herbst has learned quickly. The German won by strangulation and snatched a medal from Georgia that some took for granted ahead of time.
Medals, checks and flowers were presented by Vice President of the Georgian Judo Federation, Mr. Tamaz Naveriani, and Acting President of the Kazakhstan Judo Federation
+78kg No surprise
Everything pointed to a final between the French Julia Tolofua and Léa Fontaine, due to the absence of the Japanese and Raz Hershko. Tolofua respected the omens and qualified for the final. Fontaine failed and narrowly missed out on the final when she was clearly beaten by Tunisia's Nihel Cheikh Rouhou, who scored waza-ari twice.
In white judogi Julia Tolofua defeating Nihel Cheikh Rouhou
Tolofua started ahead in the predictions but Cheikh Rouhou had an inspired day. The Frenchwoman is taller and more mobile, that's why the Tunisian judoka was looking for a melee. When golden score was already poking their noses, Tolofua scored a golden waza-ari and took a victory in a grand slam. Georgian Sophio Somkhishvili won the bronze due to Fontaine's injury. It's not the nicest way to win, nobody likes it, but you have to congratulate her because it's her first grand slam medal. The other bronze went to the Dutch Marit Kamps, executioner of the Kazakh Kamila Berlikash.
Medals, checks and flowers were presented by IJF Education and Coaching Director, Mr. Mohamed Meridja and IJF Member of Sport Commission, Mr. Imre Csosz
+100kg
The heavyweight category was the opportunity that Uzbekistan had been waiting for since Friday. Alisher Yusupov defeated two Georgians and a Frenchman for the right to fight for gold. The problem was that there was, of course, another Georgian opposite him, Gela Zaalishvili.
In blue judogi Gela Zaalishvili defeating Alisher Yusupov
It was a brute force opposition, to see whom of the two could produce more kilowatts. It looked like wrestling, but it was judo, without subtlety, like beasts; it has its charm when the bodies go boom. Yusupov sought the bear hug and ended up embedded in the tatami. Zaalishvili capped off a splendid tournament with two identical waza-ari. Uzbekistan closed an excellent third day with the bronze medal for Shokhruh Bakhtiyorov, who defeated Frenchman Joseph Terhec by shido. However, speaking of excellence, Georgia, with Matiashvili's bronze, stopped the medal counter at 14, eight more than France.
Medals, checks and flowers were presented by IJF Head Referee Director, Mr. Armen Bagdasarov and European Champion, Mr. David Bodaveli
We said it on Friday, you can't come to Georgia on holiday during judo times. It's a Herculean challenge and the results speak for themselves. The Georgian team, already prepared for any contingency, is relentless in front of their own. A few, especially women, have managed to sneak in among the winners. The rest have suffered the law of the strongest because this is Georgia!
,