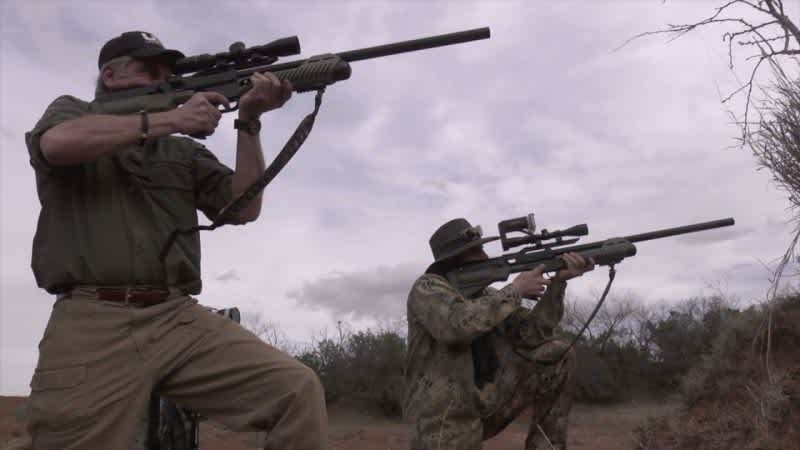 ,
,
Table of Contents

1. AirForce Texan
SALE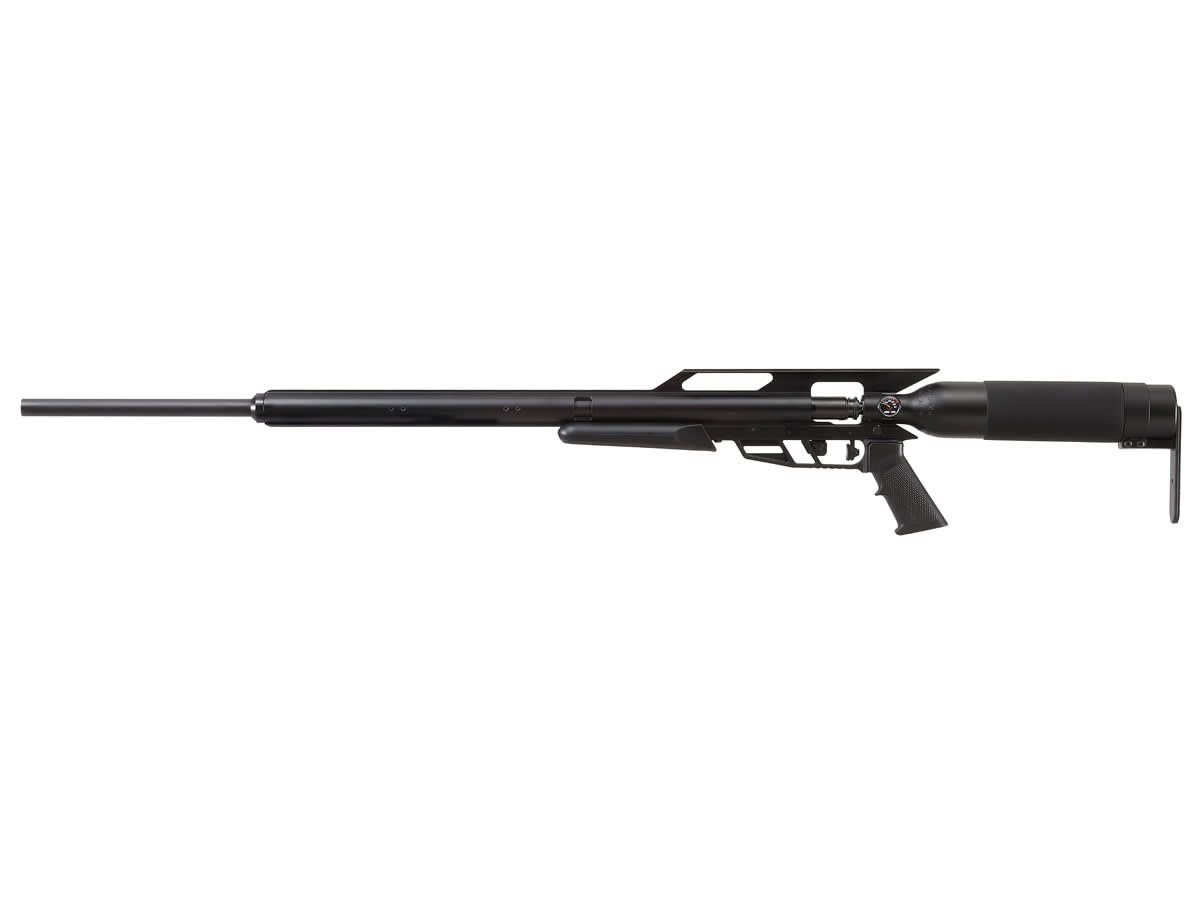 The AirForce Texan delivers more power than any other production air rifle: .45-caliber bullets leave the muzzle at 1000 fps (up to 500+ ft-lbs. of energy). Load, cock, aim, squeeze and deliver jaw-dropping power. An entire world of hunting opportunities has just opened up to you!
Pros,Avaialble in sizes from .50 cal all the way down to .257
Cons,Non-adjustable stock
Bottom Line,One of the biggest and best names in the Big Bore Airgun business
2. Hatsan Piledriver
SALE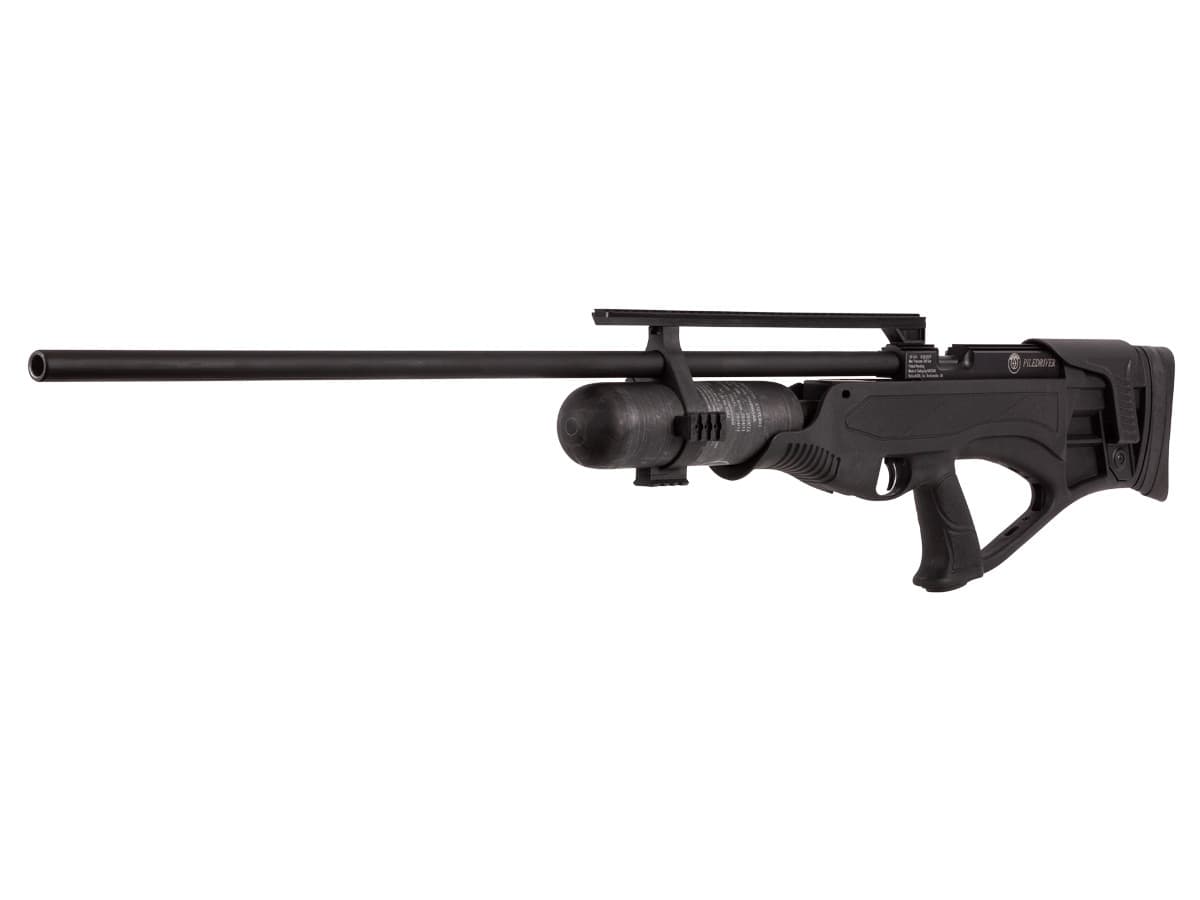 Although the Hatsan PileDriver is fairly heavy at 10 pounds, that weight is mostly centered thanks to the bullpup design. It has a 480cc carbon fiber tank that fills to 300 BAR, which gives you 4-6 shots in the .45 inch and 3-5 shots in the .50 inch before velocity and POI are suboptimal. The PileDriver PCP has an elevation and angle adjustable buttpad to go with its elevation adjustable locking cheek piece, giving you maximum comfort and repeatable sight alignment. It also features an ergonomic synthetic advanced polymer thumbhole stock with an all-weather pistol grip. Hatsan has included their two stage adjustable Quattro trigger, so whether you're out in the field shooting big game or out at the range shooting paper, this rifle gives you precision to go along with best in class power.
Pros,Fully Adjustable stock
Cons,Heavy
Bottom Line,For the serious big game hunter
3. FX Dreamline Classic
SALE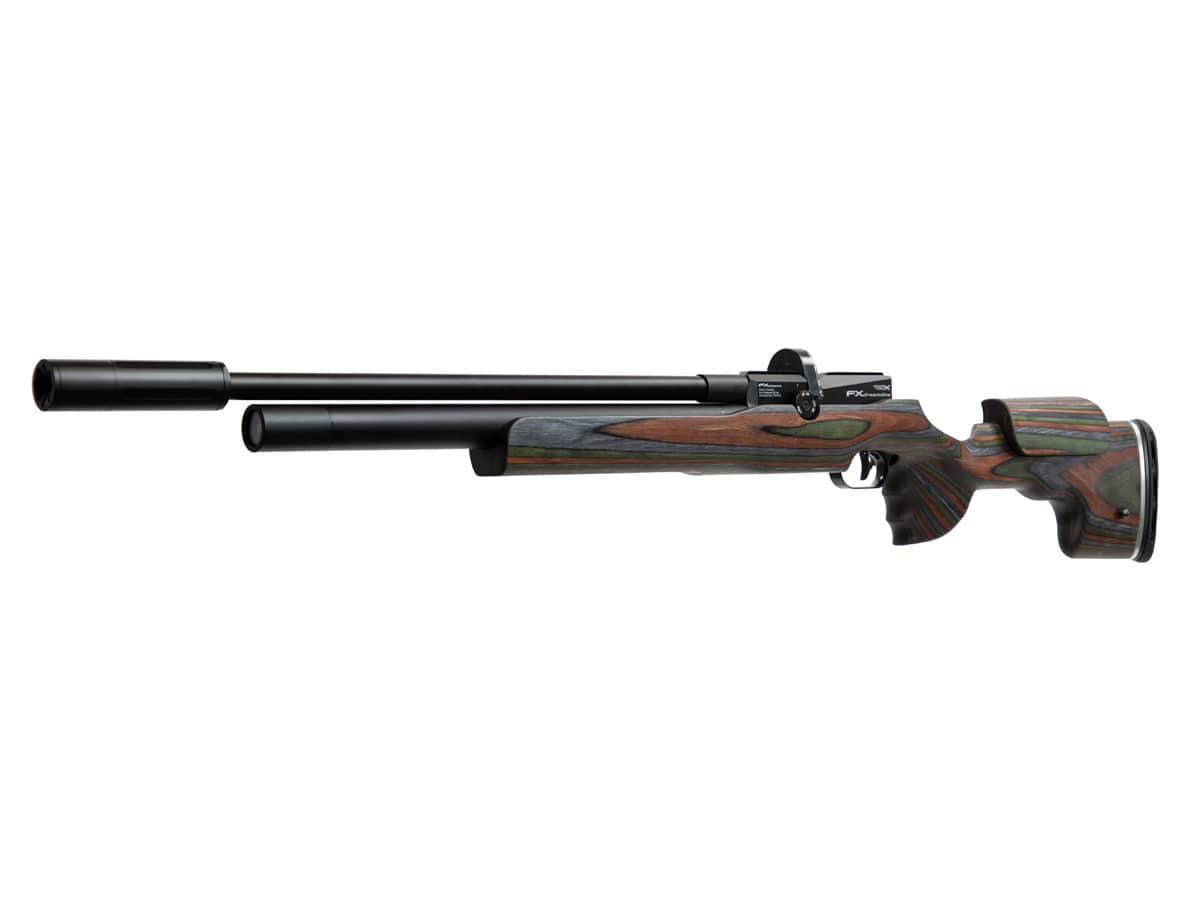 This Dreamline Classic brings you a new choice in stocks, the GRS Green Mountain Laminate, with tons of options for maximum adjustability and innovation. This custom stock is one of the first ever built for air rifles by the legendary Norwegian company and gives you features like a large forearm with UIT rail (Anschutz rail), tool free adjustments, built in sling studs, an angled and offset grip (right or left handed), plus an adjustable buttpad and cheek comb.
Pros,Modernized stock and completely ambidextrous
Cons,Expensive
Bottom Line,If you're looking for an endlessly adjustable and accurate air rifle with a new option for the stock, get an FX Dreamline Classic
4. Seneca Double Shot
SALE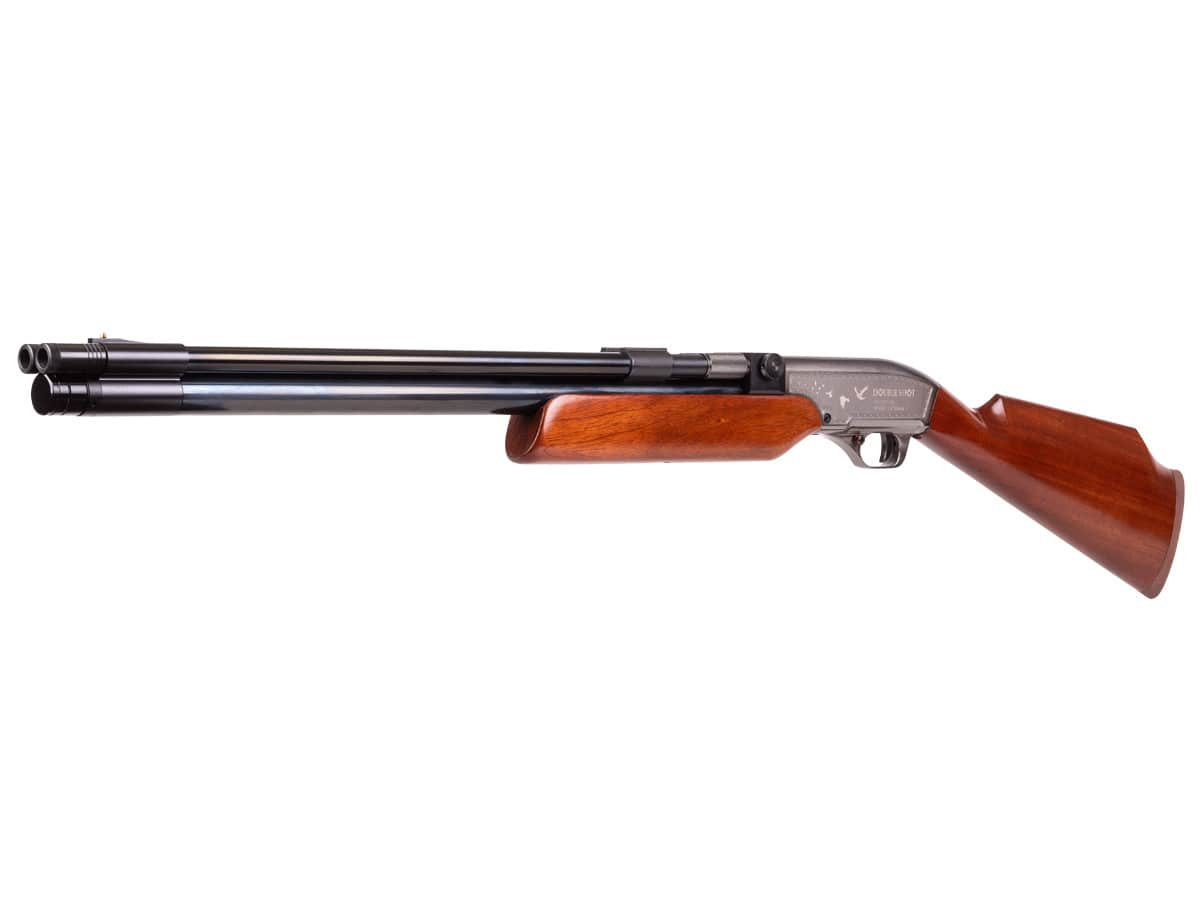 This innovative PCP uses a 244cc cylinder, filled to 3000 psi, that provides 5 full-powered shots per fill. This high pressure translates to incredible velocities with up to 1,130 fps with shotshells. The options don't stop there, however, as the Double Shot can sling .50 caliber big bore ammo and the revolutionary Air Venturi Air Bolt, an arrow-slinging system that can put 170 FPE on target. Each Double Shot features the trademarked etched actions and finely grained hardwood stocks you've come to expect from a brand that pays homage to the golden age of the hunt. Put simply, the Seneca Double Shot is the most versatile big bore PCP shotgun on the market today that doubles down on big bore power. If you want a PCP shotgun that can sling .50 caliber rounds downrange one shot after the next, grab the Double Shot and track your game.
Pros,Affordable and Versatile
Cons,No optics mounting solution
Bottom Line,One of the most versatile and affordable hunting airguns out there
5. Benjamin Bulldog Bullpup
SALE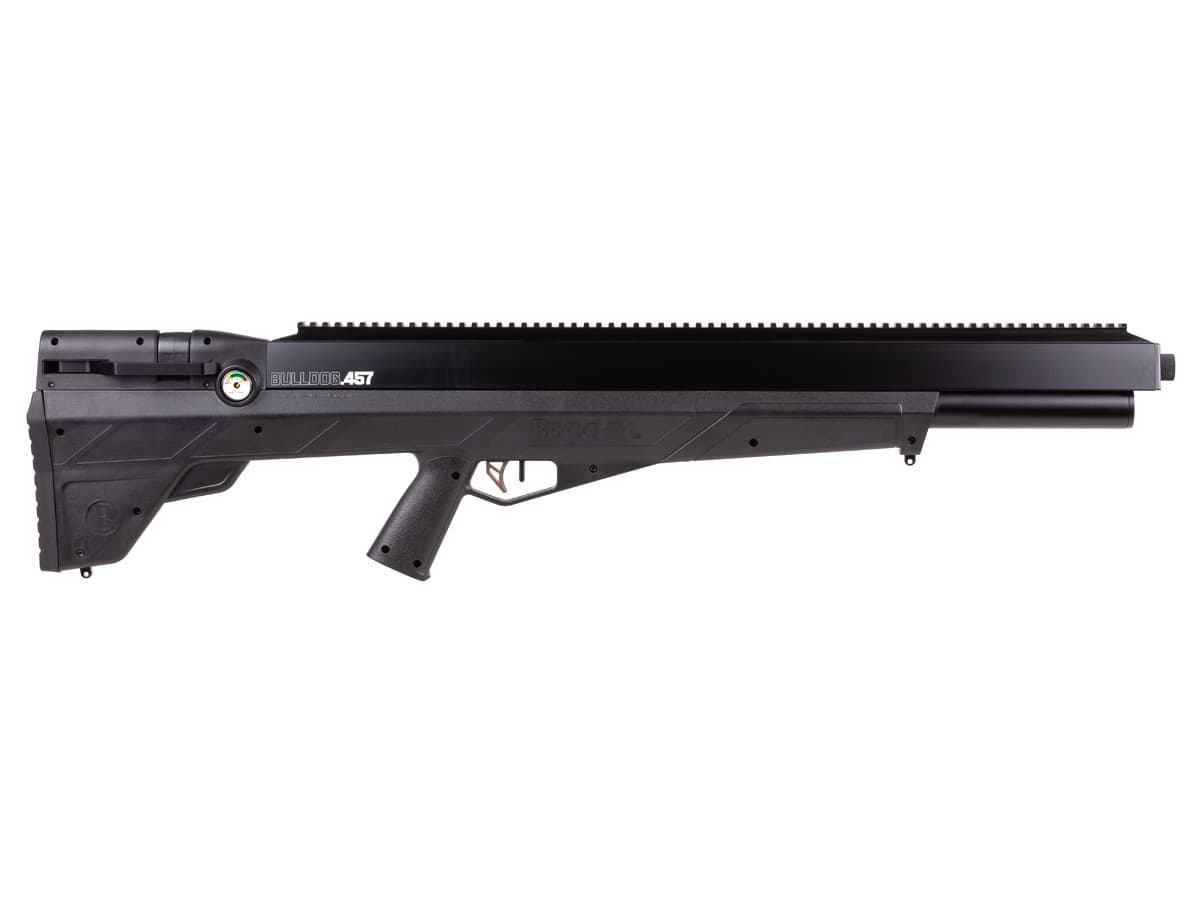 The Benjamin Bulldog .457 gives you even more of what you loved from the popular Bulldog series so you can take bigger game than you could before. You get speeds up to 760 fps and power up to 450 fpe with this upgraded version because it uses .457 slugs or pellets, meaning you'll have over twice the power of the smaller caliber version.
The added power of this air rifle comes from the longer air cylinder it uses, but you'll still get up to three shots at lethal power, and the overall length of the gun is still very maneuverable at 36.38″, which is less than half an inch longer than the .357. You'll also appreciate the accuracy of this rifle, because it uses a precision rifled barrel.
Pros,Modern Design with a more manuverable frame for confined hunting spaces
Cons,Quite bulky despite its shortened length
Bottom Line,A great addition to the already legendary Benjamin airgun lineup
How Far Will An Airgun shoot?
This is going to largely depend on the specific design of your air rifle as well as the bullet weight you choose to field and the relative condition of your gun's charge level. However, most airgun pellets can travel several hundred yards before they impact the dirt but at those ranges, the projectile would have lost most of its energy by then.
Can I legally Pest Control with my Air Rifle?
Pare of the reason airguns are so popular these days is due to their ability to be fired within city limits without alerting nearby neighbors or more importantly posing a significant risk to others. This makes PCP airguns popular choices for pest control around the house and they also have the benefit of being 50 state legal.
Can airguns really be used to hunt big game?
Yes! Although most people choose to hunt smaller game, the larger game can be hunted easily with the right air rifle. Larger game like whitetail, mule deer, elk and even bison can be hunted with the right airgun but you'll need to check with your local game warden first to see if your airgun meets the requirements for hunting any specific animal. In general though, almost any game that can be hunted with a centerfire rifle can be hunted with an airgun.
We are committed to finding, researching, and recommending the best products. We earn commissions from purchases you make using the retail links in our product reviews. Learn more about how this works.