Sabrina Filzmoser is being written about a lot at the moment and with her achievements and passions as they are, it is no surprise. In the second Nepal blog we quoted Jigoro Kano Shihan, "The purpose of the study of judo is to perfect yourself and to contribute to society." One of Sabrina's great contributions to society is her work in the education of remote judo communities around the world about the serious issue of climate change. She is an IJF Climate Ambassador and she has made it her mission to live true to that role.
With her now vast experience in Nepal, she has seen first hand the impact of climate change, "I was at Everest Base Camp from 23rd March for 50 days and every morning I could see the river passing through the camp. This is the evidence of climate change. It shouldn't be like that. If it continues at this pace we will see just rocks and no glacier in not so many years from now. This is heart-breaking."
We saw footage of Sabrina collecting rubbish from Mount Everest and publicizing the need for a clean-up and more importantly for all expeditions and individuals to dispose of their waste more conscientiously. The good news is that she isnt the only person with this mindset in the region.
Collecting rubbish just below Everest Base Camp
Just a short hike south of Khumjung, where the highest school, hospital and judo club are in the region, is a newly built environmental centre. It is the brain-child of an Indian family with strong links to the hotel and tourist industry and their investment combined with the commitment of the project manager, Tommy Gustafsson, is producing something quite extraordinary.
Tommy is a Swedish native but he has lived in Nepal for 40 years and it is well and truly his home. With Khumjung being on the main route for both locals and tourists, their centre, Sagarmatha Next, is in a prime location to catch the attention of thousands of people each year.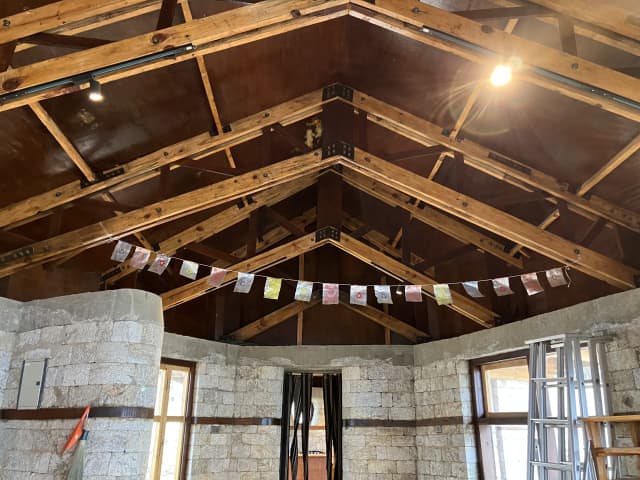 The inside of Sagarmatha Next with prayer flags made from recycled beer cans
Tommy explains, "In 2012 we started installing waste bins along the paths. The trails now are very clean compared to ten years ago. The problem is that the usual practice is still to put it all in landfill to burn and then cover but now we are trying to work with the Sagarmatha Pollution Control Committee to educate people to reuse waste."
It is a multi-dimensional plan, "We are encouraging artists to come and make art works with refuse. Now we have a studio for the artists to create their pieces and so this place is becoming a showcase. We can sell the art and show that money can be made. It is happening already."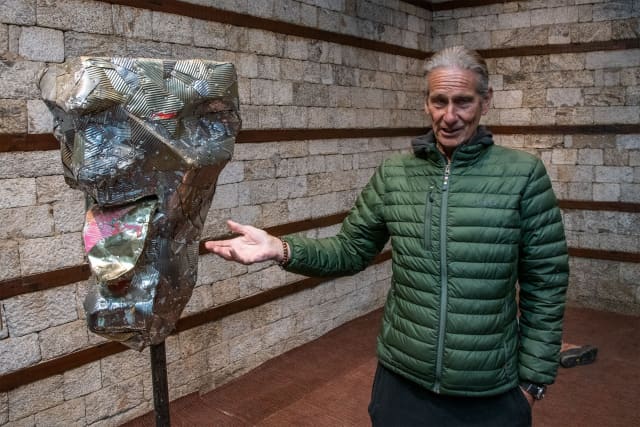 Tommy showing one of the gallery pieces already sold.
"We also work with designers to make souvenirs and again raise revenue instead of increasing landfill. We save everything for all types of artists to use, from drinks bottles to carpets to cardboard, everything. Recently we had a German group here who made 1000 prayer flags from beer cans.
There is also a new museum and this whole installation is called Sagamartha Next. The building was designed by a company called Sustainable Mountain Architecture, with a team of 35 landscape architects helping on the project. Lots of traditional Sherpa building techniques are being used but are enhanced with some modern techniques. We used a natural mud mortar made from dung, egg shells, natural oils and other things and again it's a completely sustainable mix."
Tommy is very clear about the mission, "Waste is not garbage, it's a resource and if it's treated well it can be a valuable one. That's the main point of education here."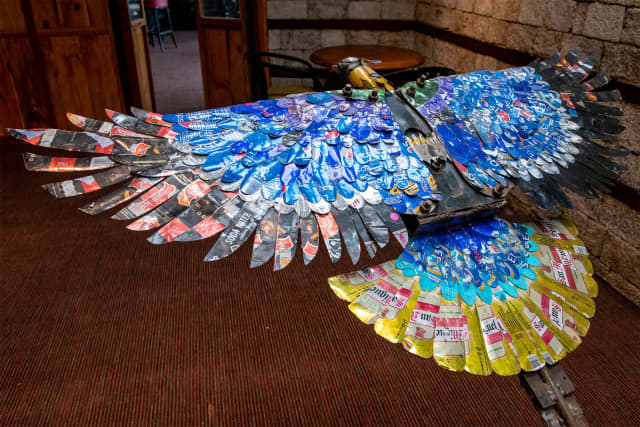 Artwork created using recycled waste
Simple measures to upcycle and recycle seem like common sense to many of us, but Sabrina agrees with Tommy that education is really the key, "It's important to show local people how this can be done. I have shown our Everest judo kids how to separate waste and have even made games out of it so that it becomes fun."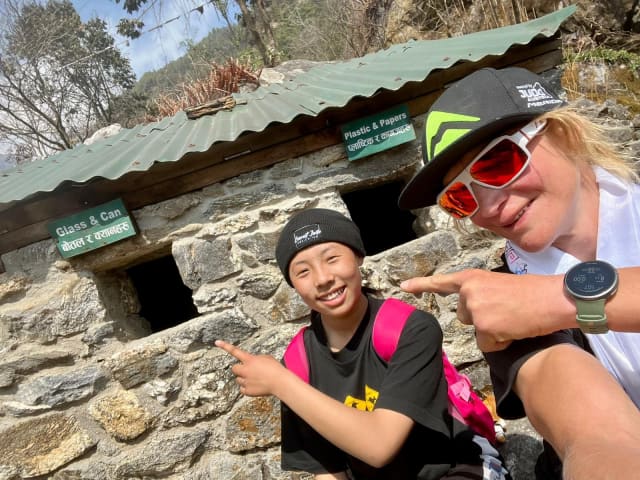 Tommy is doing similar with trekkers, "The 'carry-me bag' is our crowd-sourced way of moving the rubbish, 1kg at a time. Anyone and everyone can join in. Imagine if the thousands of hikers traveling through here each year, collected just a kilogram each; the region would be totally clean!"
Sabrina makes a serious point, "From the younger ones we work with upwards, the local community begins to understand. The children educate their families and friends. We have also tried to do the same in EBC. We see a lot of people, including Sherpas, throwing rubbish on the ground, not because they are trying to do something bad but because there has never been education about these things and perhaps not the mechanisms to deal with it better. Once Sherpas are shown how they can have an impact on the environment by simply clearing rubbish, they are really proud to do it. Now Mingma David Sherpa, a giant in the climbing world, has his own clothing brand showing slogans such as 'Save the Planet.' This has an enormous reach here."
At Sagarmatha Next there is even a mini-theatre screening two information films about the region and its climate issues. It is a great record of the history and evolution of this area's demographic and how people here have lived in the past and how that has moved forward into the modern era. Tourists can watch the films, enjoy the on-site art gallery, buy recycled souvenirs and learn about how this region can be supported better.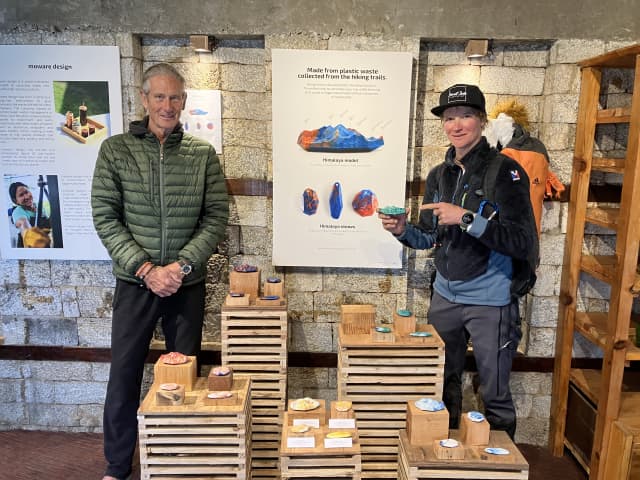 Souvenirs made from bottle tops are sophisticated and desirable and can fund the continuation of the Sagarmatha Next education center
Tommy continues, "Tourism brings waste as well as employment. The SPCC has been collecting the rubbish for the last 20 years, keeping the trails clean. Here we are now changing the very perception of waste. We hope to inspire people to look at waste in a completely new way."
Sagarmatha Next is an impressive structure in the rural landscape and its purpose is noble. The project's multi-faceted approach is it's mastery, with a solution to every refuse challenge. To read more or even contribute, you can visit the Sagarmatha Next website here.
,