We feel a bit guilty for putting our colleagues to work before the holidays. While most prepare special lunches and dinners, we ask them to look back one more time before the year is out. They are our photographers and they keep the memory of judo, in its most difficult year, in their cameras. This time we are not asking them to inform, but to get involved. We want them to choose their best compositions and explain to us their reasons because they are professionals and artists. They rarely reveal their opinions but this time they do. Therefore, although we feel guilty, we do not ask for forgiveness.
Emmanuele Di Feliciantonio
You will be able to verify that they are not the most beautiful photos, nor the most spectacular. Of these they have thousands, that we publish throughout the year, accompanying and improving our articles. It is not about that now; This time we want to dive into the soul of some silent workers. For once they talk and we are not going to spoil it.
We started with Lars Moeller because he was the first to respond. He doesn't need big speeches to explain his choice.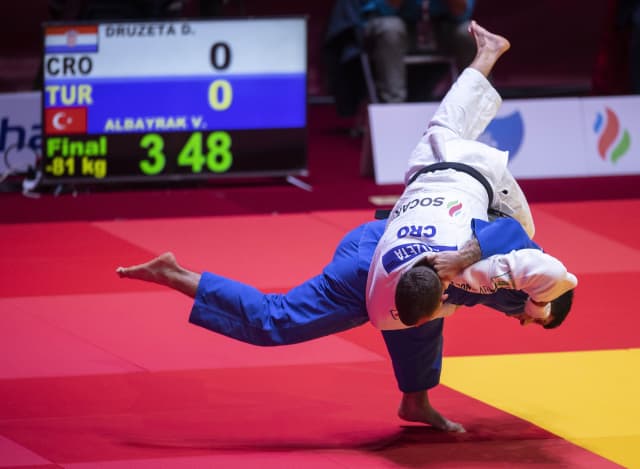 Photo made by Lars Moeller
Photo 1
"Ippon in 12 seconds! What judo action photography is all about: being awake and alert and getting the only shot from that fight. There's a nice detail with the time in the background."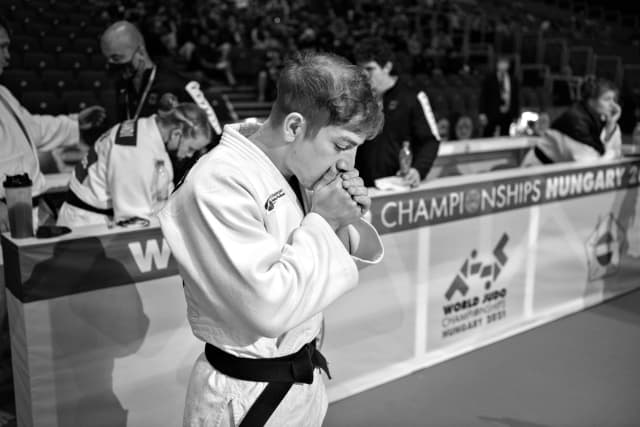 Photo made by Lars Moeller
Photo 2
"Intense preparation in the German team at the World Championships in Hungary. Judo is an action packed sport and the action images are the overwhelming majority. I like this shot because it is not judo action but is equally intense."
Emmanuele Di Feliciantonio speaks a little more; he is Italian for a reason.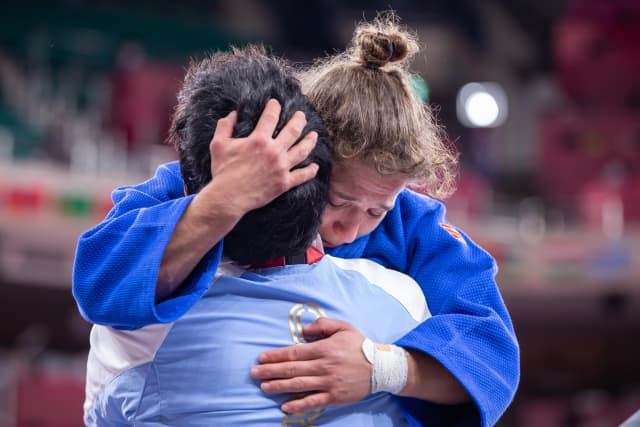 Photo made by Emmanuele Di Feliciantonio
Photo 1: Paula Pareto, Olympic repechage, –48Kg
"This is the hug that gathers all the sacrifices of a career; this is the hug that makes an athlete free. It is an expression of joy, sacrifice, goals achieved and defeats. It is also the sunset of a wonderful sporting and human history and with this shot it is right to say thanks to a legend of judo."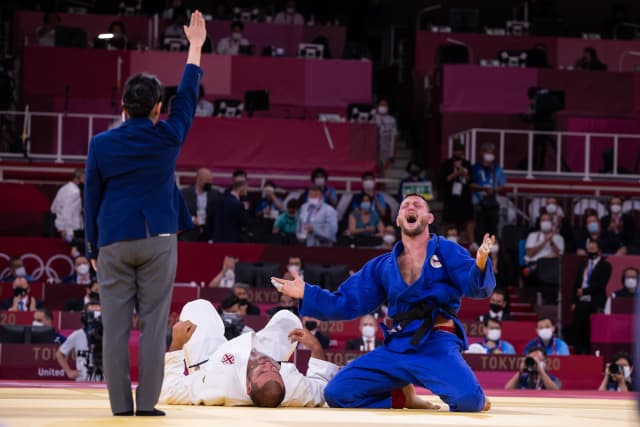 Photo made by Emmanuele Di Feliciantonio
Photo 2: Lukas Krpalek, Olympic final, +100Kg
"Work pays off and so does consistency. At this exact moment all the sacrifices of this great athlete have delivered the desired result. At this moment Lukas became a legend. The hardest part is not winning the medal, the hardest part is winning it again. And if you win it in another category, it has a completely different flavour. Being there and taking this photo makes my job really priceless."
Four photos are still missing, two of Marina Mayorova and another two from the head of the group, Gabriela Sabau. We start with Marina.
Photo made by Marina Mayorova
Photo 1:
"Jorge Fonseca is a person who demonstrates willpower every day, a thirst for life, a love of life and the ability to enjoy the moment. He's a great athlete and a great artist, capable of making a show out of any situation."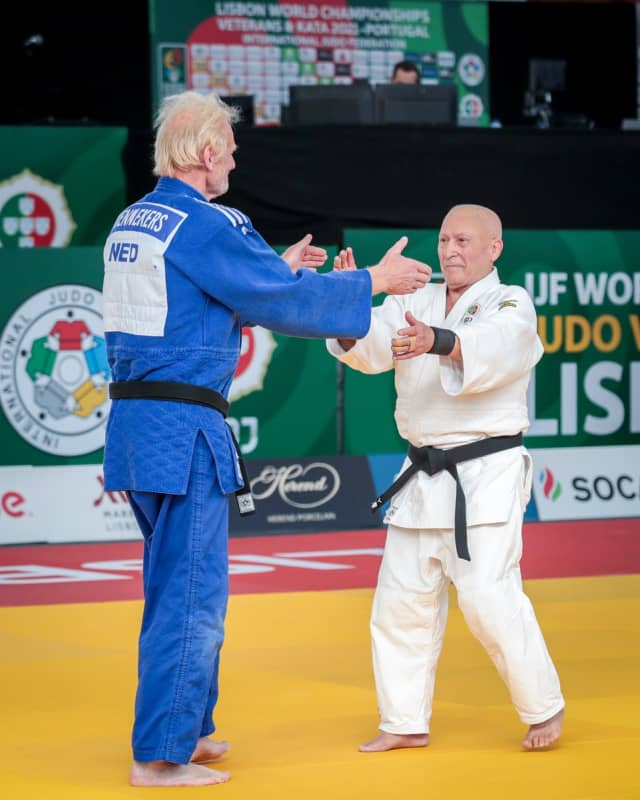 Photo made by Marina Mayorova
Photo 2:
"Veterans among veterans! Especially in the oldest groups, it is the most emotional event in the world of judo. These grey-haired athletes who have retained the desire to compete, are the most able to enjoy opportunities to really live, to travel, communicate with friends, fight and win. The most important aspect of all of all is to enjoy all of this and so I am always vigilant for them."
It is now Gabriela's time.
Photo made by Gabriela Sabau
Photo 1:
"This picture of Saeid Mollaei and the Israel Judo Federation President Mr Moshe Ponte was taken during the Tel Aviv Grand Slam 2021 after Saeid won the silver medal at -81kg. After the awarding ceremony Saeid came down from the podium and put his medal around the neck of Mr Ponte."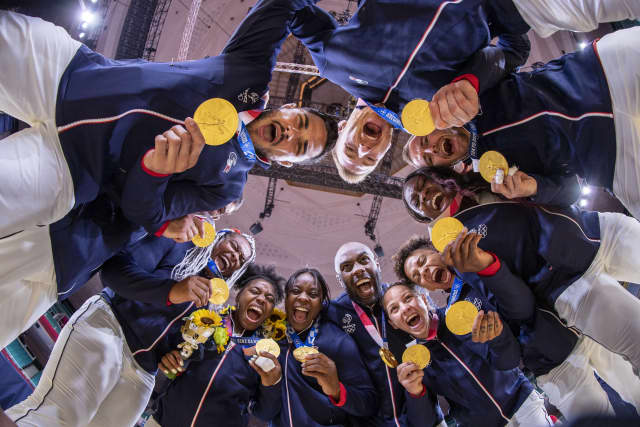 Photo made by Gabriela Sabau
Photo 2:
"My second choice for 2021 is the picture with the winning team of the first ever mixed team competition at the Olympic Games. It is a picture that illustrates the joy after the hard work of a long journey, of years of always being the second team. In the most important competition they won and the world saw that judo can also be a team sport. I chose this specific angle because for me it captures the spirit and the unity of the team perfectly.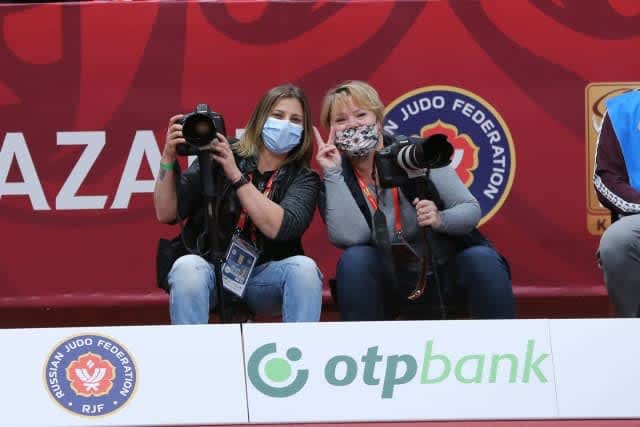 Gabriela Sabau and Marina Mayorova
All four are used to express themselves through their images, while being neutral. Nobody knows what they think of this or that. That is why we wanted to get to know them a little better and for them to teach us a little about what they have inside. Next year we will feel guilty again and we will do it again anyway.
,