Second-graders in Haley Broussard's class at Dozier Elementary in Erath are just as likely to witness plant and animal life cycles in real-time as they are to read about them.
Broussard, the daughter of a sugarcane farmer, decided to shake up her classroom approach this school year by weaving hands-on agricultural activities into her lessons, like incubating and hatching chicks, growing sugarcane and rice, and tending a varied school garden.
The 28-year-old educator uses the hands-on activities as a tie-in to the curriculum but also as an opening to bigger life lessons.
Students learn planning skills, the responsibility of caring for another living thing and the economics around agriculture. In one lesson, students turned their harvested lettuce into salad kits that they priced themselves and marketed to teachers at school for sale.
"I don't want them to go into the world and do not know anything but textbook material," she said.
For Broussard, a sense of pride and appreciation for the agriculture industry has always come naturally. Raised in Henry, a community south of Erath, Broussard and her two sisters grew up running through the sugarcane fields, taking combine rides with their father during harvest season and showing livestock.
As a child, Broussard realized her school peers didn't know that farmers like her dad were responsible for helping produce the food on their table.
In the 2017 Census of Agriculture, Vermilion Parish was reported to have roughly 1,300 farms that yielded products with a market value over $117 million. The agricultural census, managed by the US Census Bureau and the US Department of Agriculture, is conducted every five years.
Though a significant industry in the parish, Broussard learned her peers didn't have the same appreciation for the labor needed to turn raw agricultural products into the finished food at their tables, or for the laborers themselves.
"I kind of felt like I wasn't like the other kids sometimes. I didn't go home and do cheerleading and we weren't into sports — we literally grew up in the fields. I think we kind of have a sense of pride. I love that and I would never change where I grew up or anything about our upbringing. I think it shaped who we are, my siblings and I," the Dozier teacher said.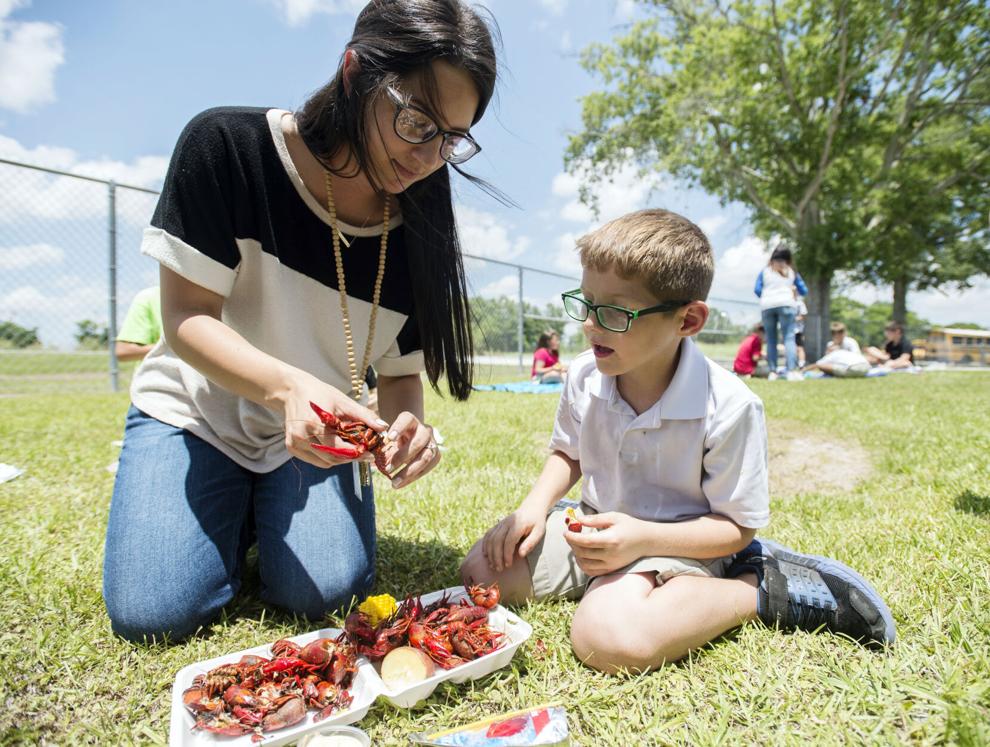 Broussard said she stuck strictly to the curriculum guides for the first four years of her teaching career, until a friend recommended she use her agricultural background to expose the children to something new. She looked to Louisiana Ag in the Classroom, the state branch of the USDA's national program that's run by the Louisiana Farm Bureau Federation, to get started.
This year, she was recognized as the Louisiana Ag in the Classroom Teacher of the Year.
While a joy-filled journey, integrating the agricultural lessons into the classroom wasn't without its challenges and effort, Broussard said.
The approach required developing new lesson plans and tie-ins to the course curriculum, securing materials and developing a schedule for caring for the plants and living creatures, but seeing the students' enthusiasm was worth it, she said.
"I was laughing with my mom the other day and I said, 'Mom, this was stressful but I know now that I can't stop because they love it so much.' The first-graders already pass by and say, 'Hey, when are we going to do crawfish?' or 'Hey, when are we going to go in the garden?' Now that I've started I can't stop. It's made such a huge difference because I feel like they want to come to school," Broussard said.
Eight-year-olds Chett Vargas and Camille Baudoin both tend vegetable gardens at home with their families and said they liked seeing activities they do at home adopted in their classroom. The students said they felt like they'd become better gardeners by maintaining their class garden, learning how to plant, tend and harvest new things and picking up new techniques.
Working in the garden and completing Broussard's other activities, like raising chicks, also taught them the value of patience and made them feel proud and accomplished, they said.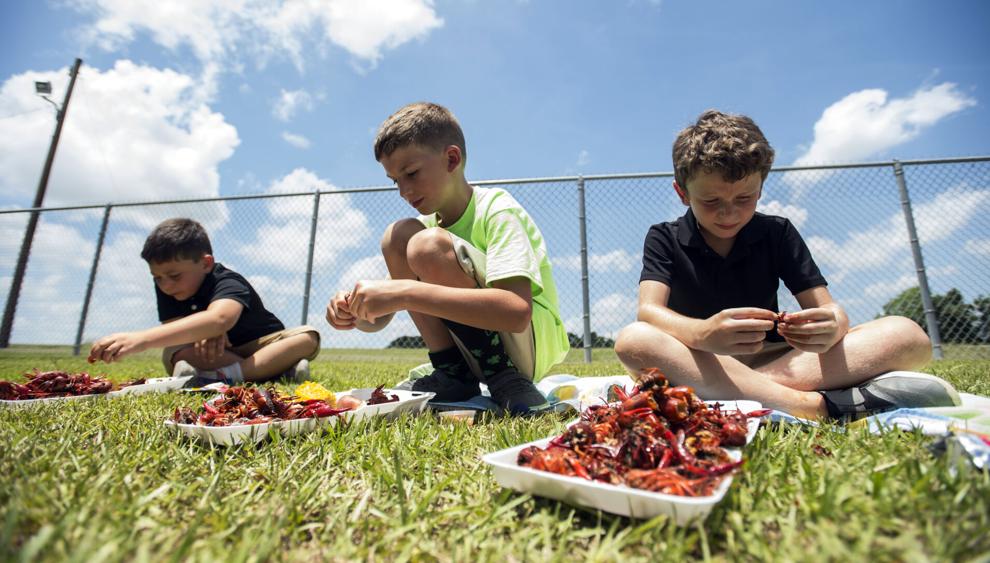 ,[I like it] because we get to have fun with our teacher and do fun stuff with her," Camille said.
While Broussard spearheaded the agricultural initiative, she said she wasn't alone in bringing the wonders of agriculture to her students; local farmers and ranchers, members of her family, feed supply businesses, representatives with the LSU AgCenter and others stepped in to give demonstrations and donate materials or their time and expertise.
Kyle Bostick, an interventionist at Dozier Elementary, started at the school in January and quickly stepped in to assist with Broussard's class garden. A home gardener himself, Bostick said he teaches his three sons the value of knowing how food comes to be and providing for yourself.
While tending the garden is a normal chore for his sons, the second-graders at Dozier Elementary respond like time in the garden is a gift, he said.
"They are different kids outside than they are inside. The ones that struggle inside thrive outside…I like seeing the kids light up that don't normally light up," Bostick said.
The interventionist is fresh to the education field. Bostick spent 10 years working as a welder, before spending five as a stay-at-home father to his three sons. He said as he was returning to the workforce he felt a call to education and to serve children.
As a former laborer, Bostick said he sees the benefits of giving children positive experiences working with their hands. It's also important to show them that every type of work is valuable and that excelling outside the traditional classroom setting is something they can be proud of and draw confidence from, especially for children who may not be academically gifted, he said.
Broussard agreed, noting she makes a point to highlight the many people, from farmers to truck drivers to market owners to soil scientists, with jobs in and around agriculture so her students can see how many options lay before them if agriculture is something they're interested in for their futures.
"I think as much as it's important to promote reading, it's also important to promote doing things with your hands because half of them are going to be blue collar [workers]," Bostick said.
,