Kevin Philion and Troy Thompson join forces at The Gym Fitness Center in Sudbury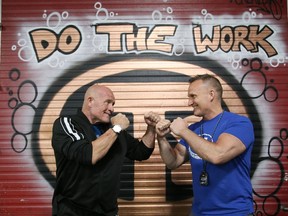 Article content
Kevin Philion jokes that he didn't return to Sudbury for the weather, though this mid-week heat wave may have suited the Sudbury native who spent some 30 years as a highly sought-after personal trainer and coach in Miami.
Article content
His motivations for returning were personal — specifically, an illness in his family, along with some admitted homesickness — but one that ought to be a boon for those who frequent The Gym Fitness Center at 1283 Sparks St. in New Sudbury.
Back in the Nickel City for a little more than a month, Philion has brought a career's worth of knowledge in powerlifting, bodybuilding, fitness training and even self-defense to his new role as a coach for T2 Training Systems, alongside The Gym owner Troy Thompson.
While it's a new partnership, their collaboration was many years in the making. Philion founded Gold's Gym in Sudbury and built up that business for a decade before relocating to Florida, where he continued to learn, to hone his craft and to develop new training programs. His former gym in Sudbury changed hands on a couple of occasions in the meantime, with Thompson, a highly accomplished bodybuilder and award-winner trainer himself, eventually taking the reins.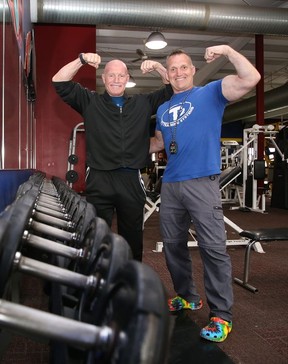 "He's the successor because he bought the gym off the guy who bought the gym off of me," Philion said. "So it kind of went down the line, which is great, because it's not one of those things where you buy, you sell and it's gone, it's over with. They kept it going, so they kind of kept my name going at the same time, which was really cool."
What really inspired him, however, was Thompson's passion and proficiency as a coach.
"We finished a program just now and we had 20, 30 people and you see everyone in that program, how much they like him," Philion suggested. "Just look at the pictures on the wall.
Article content
"You go where the coaches are. You want to play college football, where do you go? You go to Alabama, because of the coaches. So that's what I wanted to do, to team up with Troy. It's like Amazon and Microsoft getting together and creating an alliance, for a better and more successful operation. We want to expand and we want to make the program work more and more, and I'm honored just to be here. My coaching skills, added to his coaching skills, it's a good team."
Thompson wholeheartedly agrees, and he was eager to announce Philion's return with a meet and greet last month.
"It was almost a dream come true, because when I first walked in the doors here in 1986, I walked up the stairs to the gym, formerly Gold's, to this guy, standing there, jacked up," Thompson recalled. "He put me on my first programs and everything.
"Knowing that Kevin was coming back to Sudbury and we had the opportunity to have him here, to bring his expertise, it was exciting. It's hard to find a good coach, especially a coach with experience, real experience. This guy has done everything, from powerlifting to bodybuilding to triathlons — you name it. He hasn't just done it for himself, he has done it for tens of thousands of people in his lifetime. I don't have to train him, take him through the steps, because he knows what he's doing. He's got a great personality, charisma and his results speak for themselves."
One of Philion's specialties — and now one of The Gym's most popular, with full classes this past weekend — is Bodyforging, a full-body workout to flexibility, strength and fat burning. He aims to make his classes accessible and non-intimidating, to create an environment that's friendly for beginners, for older people or those making a return to training.
Article content
"I work with more of an older crowd now, so I want to bring that crowd back in," he said. "I find there's a big void among people 50-plus. You don't see them at these corporate clubs, these big clubs, because they're intimidating. You go to a hardcore club and they're intimidated there, too. Where do the 50-year-old, 60-year-old guys go? So we want to put in a couple of programs for them, ones I have developed in Florida and brought here, and one is Bodyforging, which is bodyweight-only training, no apparatuses needed, and there's no high impact."
His methods and philosophies align well with those of Thompson, who prefers relatively short, 30-minute sessions of high-intensity training that allow even the busiest pupils to stay consistent and that also prioritize the safety of participants.
"He developed a safe program," Philion said. "I have been watching him here for a month now and I'm really impressed."
Philion was thrilled to reconnect last month with former students and fellow veterans of the local fitness industry, some of whom he had not seen in 40 years. He is back in Sudbury to stay and has no plans to return to the Sunshine State.
"To be honest, I was just over Florida — in 30 years, you can only see so many beaches," he said with a laugh. "With the melting pot there, it was a real good learning experience for me, because you get to meet all kinds of people from all over the world and that makes you more diverse as a trainer, makes you stronger as a trainer, too. Like Troy said, you have to have a good personality, because if they like you, they'll come back. If they don't like you, they won't come back.
Article content
"You have to have a likability factor, you have to have a knowledge factor and you have to be able to make it happen. Just look at the wall of Troy's club — it's full of all kinds of successful athletes. Not just bodybuilders, all kinds of athletes, all kinds of people."
Thompson, who is no stranger to 16-hour workdays, is glad to have someone like Philion who cannot only share a workload, but also deliver polished programs such as Bodyforging alongside the club's other offerings.
"I believe in flexibility, I believe in meditation, I believe in mind-to-muscle connection, and that's exactly what this is," Thompson said. "Put that together with my safe, high-intensity training, with the proper sequence of exercises, to minimize people's time here, with his self-defense courses, and potentially bringing in spin bikes, we can build this gym community, a whole world in this 12,000 square feet. I'm only utilizing a little bit of it. We have rooms everywhere and we can fill those rooms, helping people.
"We have an aging society, they need help and we cater to everyone, but right now, we're targeting people who feel like they have been forgotten. I have a lot of 50-ish women, but the 50-ish men, we're going after them and Kevin is going to focus on re-introducing fitness into people's lives, helping them not overdo it and jump into something that's too intense at first, but getting them to that level, so they can get as intense as they want eventually. Sometimes getting off the couch, getting up the stairs, that's the challenge."
In what has been a tough time for many, Philion hopes to help his students reduce their stress levels through the move to a healthier, more active lifestyle.
"I don't know how many stories Troy and I have heard — I'm off my blood-pressure medication, I'm off stress medication, thank you, thank you," he said. "That's why this is a great job. Every day, you're thanked for changing people's lives."
For more information on T2 Training Systems and The Gym, visit www.t2trainingsystem.com, call 705-560-9000 or email t2trainingstsyems@yahoo.com.
bleeson@postmedia.com
Twitter: @ben_leeson