Daniel Ricciardo, the Australian with a sunny disposition, is currently racing with some dark clouds over his F1 seat. The situation has been like this for a while now as he has consistently underperformed in the Mclaren single-seater.
ADVERTISEMENT
Article continues below this ad
The Woking-based team fights for a third-place finish season after season. Although this is not very ambitious for 8-time constructors champions, this can still become impossible if the drivers are failing to score points.
ADVERTISEMENT
Article continues below this ad
However, the Honey Badger was not always in this position. Once upon a time, Ricciardo was fighting for podiums and wins, not just points.
Daniel Ricciardo and his good old days with Red Bull
And with the Azerbaijan Grand Prix coming up, we thought of revisiting one of Ricciardo's best wins in his career. Under the "Europe Grand Prix" tag, Baku had already hosted a race in 2016, but Azerbaijan GP officially hosted the first race in 2017. And Ricciardo won the race in his Red Bull RB13 in incredible fashion.
The Honey Badger crashed his car in qualifying and started the race at P10, but after just five laps had to pit. Initially thinking his race was over, he was sent back out to race. He rejoined at P17 and went out and created history by winning the race while making the most audacious overtaking maneuver on course to his victory.
The triple overtake reminded us of why Ricciardo is still one of the best on the grid.
And revisiting the incident, the Australian confessed, "Did I think I would carve our way all the way up to first? No, absolutely not!" He elaborated"Everyone in front was dropping like flies, I was making some good overtakes and it was kind of just all this like momentum and it was crazy."
DIVE DEEPER
"It was fun and it was chaotic but crossing the line. I was kind of confused like how did we just win that race?"
Zak Brown's comments indicate an uncertain future for Ricciardo
ADVERTISEMENT
Article continues below this ad
Ricciardo's poor form, especially in the current season, has raised a lot of doubts about his future. And McLaren's team boss Zak Brown's comments put fuel into the fire. He said, "I don't want to get into the contract [details], But there are mechanisms in which we are committed to each other and then there are mechanisms in which we are not."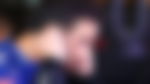 The talks of an early exit will surely be on Ricciardo's mind, but hopefully, he can push past it and focus on Baku.
ADVERTISEMENT
Article continues below this ad
Watch This Story: Mercedes Brings Formula One To The Streets With Its Latest Innovation
This weekend he can show McLaren exactly what is he capable of while staking a claim on his contracted seat for 2023.