Odds and ends from the local arts and entertainment scene, including a new project by Wolf Willow and multiple upcoming concerts in Regina.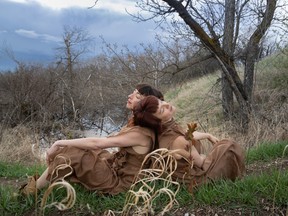 Reviews and recommendations are unbiased and products are independently selected. Postmedia may earn an affiliate commission from purchases made through links on this page.
Article content
Regina-based roots band Wolf Willow is set to unveil its latest project — Holloway — after joining forces with a local company to write and record the music for a new contemporary dance show.
Article content
Two songs from Holloway are to be released today via Bandcamp.com. It's a soundtrack collaboration for the Trails Ensemble project by FadaDance, celebrating the landscape of southern Saskatchewan.
According to a media release, Holloway is a site specific contemporary dance work that will take place on a walking trail near Last Mountain Lake from June 24-25.
The work includes musical contributions from Orion Paradis, Kacey Lee Anderson and Patrick Moon Bird.
"The audience will be immersed in the performance by being active participants, walking along the trail as the performance moves," said the release. "The piece invites participants to explore the 'erosion and repair of whispered trails and forgotten ties.'"
The new release commences a busy summer for Wolf Willow, which also unveiled a new album in the fall: Old Guitars and Shooting Stars. The band is set to appear at multiple festivals this summer, including Sled Island in Calgary, Ness Creek (near Prince Albert National Park), and the Regina Folk Festival.
,
The Glorious Sons are set to visit the Conexus Arts Center in Regina on Sunday night, with special guest JJ Wilde.
The Ontario band has won two Juno Awards for rock album of the year and released a new EP in January — The Young King Sessions — before embarking on the Unfinished Business Tour.
"The Glorious Sons have amassed a catalog of lyrically driven, unpredictable thought provoking anthems for the socially conscious that resonate with fans and wield their signature energy and spirit, complemented by jarring theatrical delivery and a mesmerizing live show," said a media release.
Article content
In addition to playing with The Rolling Stones and Twenty-One Pilots and touring across the US with The Struts, The Glorious Sons were recently called "Canada's Best Export" by the Washington Times.
Tickets at conexusartscentre.ca.
,
Wannabe — A Tribute to the Spice Girls — is scheduled for Oct. 14 at the Casino Regina Show Lounge.
Tickets go on sale today through Casino Regina.
Meanwhile, Lawrence Gowan, a platinum-selling pop/rock solo artist and former vocalist/keyboardist with Styx, is scheduled to visit the Show Lounge next Thursday (June 23). That's followed on Friday by War Club Live by DJ Shub, a pioneer of the electronic music scene.
The Ontario-born performer's show is a celebration of Indigenous music and culture, featuring special guests Phoenix Pagliacci and Boogát. The show is accompanied by visuals and Indigenous dancers.
DJ Shub's album, War Club, "blends traditional Indigenous drums with modern day electronic beats and hip hop sensibility," according to a media release. "Each song is a master course in technical skill and DJ turntablism, bringing a message of protest and power. Filled with heavy hitters, the album intends to provoke thought and shed light on the many ways artists are fighting back in today's political climate."
More info and tickets are available at casinoregina.com.